Now Playing Onstage in New Hampshire - Week of 11/10/2013
View All Show Listings for New Hampshire
Click Here to View BroadwayWorld.com New Hampshire Calendar
SPRING AWAKENING
KEENE STATE COLLEGE-DEPT OF THEATRE & DANCE
11/13-11/16/2013
Winner of 8 Tony Awards, including Best Musical, SPRING AWAKENING is a rock musical adaptation of
Frank Wedekind
's 1891 expressionist play about the trials and tribulations, and the exhilaration of the teen years.It's Germany, 1891. The beautiful young Wendla explores her body and asks her mother where babies come from. Elsewhere, the brilliant and fearless young Melchior defends his buddy Moritz -- a boy so traumatized by puberty he can't concentrate on anything. One afternoon in the woods, Wendla and Melchior discover a desire unlike anything they've ever felt. SPRING AWAKENING explores the confusion and desperation that ensue when the onrushing tide of hormones meets the ignorance of children. SPRING AWAKENING celebrates the unforgettable journey from youth to adulthood with a power, poignancy, and passion that you will never forget.This celebration of rebellion provides the perfect opportunity to feature performers of all types, as well as the flexibility to creatively use costumes, set pieces, and lighting. Featuring a pop-rock score, this is an ideal show for talented vocalists with strong acting abilities.
Click Here for More Information
THOROUGHLY MODERN MILLIE
PITTSFIELD PLAYERS
11/8-11/16/2013
THOROUGHLY MODERN MILLIE is a high-spirited musicalromp that has all of New York dancing the Charleston. It's the zany new1920's musical that has taken Broadway by storm, winning the TONY Award for BEST MUSICAL!Taking place in New York City in 1922, THOROUGHLY MODERN MILLIEtells the story of young Millie Dillmount, who has just moved to thecity in search of a new life for herself. It's a New York full ofintrigue and jazz - a time when women were entering the workforce andthe rules of love and social behavior were changing forever. Based onthe popular movie, the stage version of THOROUGHLY MODERN MILLIE includes a full score of new songs and bright dance numbers.Filled with frisky flappers, dashing leading men and a dragon-lady of a villainess audiences will love to hate, THOROUGHLY MODERN MILLIEis a perfectly constructed evening of madcap merriment. And with therole of Millie Dillmount, musical theatre has found a new heroine forthe ages in THOROUGHLY MODERN MILLIE!
Click Here for More Information
FIDDLER ON THE ROOF
VILLAGE PLAYERS
11/8-11/17/2013
In the
Little Village
of Anatevka, Tevye, a poor dairyman, tries to instill in his five daughters the traditions of his tight-knit Jewish community in the face of changing social mores and the growing anti-Semitism of Czarist Russia. Rich in historical and ethnic detail, FIDDLER ON THE ROOF has touched audiences around the world with its humor, warmth and honesty. The universal theme of tradition cuts across barriers of race, class, nationality and religion, leaving audiences crying tears of laughter, joy and sadness.The show features a star turn in Tevye, among the most memorable roles in musical theatre. Original director/choreographer
Jerome Robbins
' staging is legendary, and available from MTI in a comprehensive choreographic guide. Its celebrated score by
Jerry Bock
and
Sheldon Harnick
, features songs loved the world over: "Sunrise, Sunset," "If I Were A Rich Man" and "Matchmaker," to name a few. FIDDLER ON THE ROOF is simply Broadway at its very best.
Click Here for More Information
LES MISERABLES
ACTORSINGERS OF NASHUA, INC
11/8-11/17/2013
This international smash-hit may be the most popular musical in the world. In 19th century France, Jean Valjean is released from 19 years of unjust imprisonment, but finds nothing in store for him but mistrust and mistreatment. He breaks his parole in hopes of starting a new life, initiating a life-long struggle for redemption as he is relentlessly pursued by police inspector Javert, who refuses to believe Valjean can change his ways. Finally, during the Paris student uprising of 1832, Javert must confront his ideals after Valjean spares his life and saves that of the student revolutionary who has captured the heart of Valjean's adopted daughter. His world-view shattered, Javert commits suicide, and Valjean at last attains the peace he has sought for so long.Epic, grand and uplifting, LES MISÉRABLES packs an emotional wallop that has thrilled audiences all over the world. The sung-through pop opera is ideal for a cast of exceptional singers and overflows with melodies that are already standards. A spectacle on Broadway and in London, LES MISÉRABLES is equally effective with a minimal set; it is its powerful affirmation of the human spirit that has made LES MISÉRABLES a popular masterpiece.
Click Here for More Information
LEGALLY BLONDE
BEDFORD HIGH SCHOOL THEATRE COMPANY
11/14-11/17/2013
Harvard's beloved blonde takes the stage by pink storm in this fun, upbeat musical about self-discovery. Based on the adored movie, LEGALLY BLONDE: THE MUSICAL stays true to form with a peppy score and playful book. This musical is ridiculously enjoyable from start to finish.Elle Woods appears to have it all. Her life is turned upside-down, however, when her boyfriend dumps her so he can start getting serious about his life and attend Harvard Law. Determined to get him back, Elle uses her charm to get into Harvard Law. At school, she struggles with peers, professors, and Warner Huntington. With the help of Paulette and Emmett, though, Elle quickly realizes her potential and sets out to prove herself to the world.This musical is relatively new to the theatre world, catering to the present-day's generation and culture. LEGALLY BLONDE: THE MUSICAL is perfect for high school and community theatre, featuring a large ensemble and several big song-and-dance numbers.
Click Here for More Information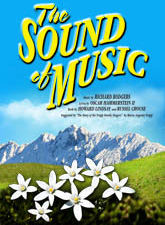 THE SOUND OF MUSIC
Boys & Girls Club of Souhegan Valley
11/8-11/17/2013
The Sound of MusicThe final collaboration between Rodgers & Hammerstein was destined to become the world's most beloved musical. When a postulant proves too high-spirited for the religious life, she is dispatched to serve as governess for the seven children of a widowed naval Captain. Her growing rapport with the youngsters, coupled with her generosity of spirit, gradually captures the heart of the stern Captain, and they marry. Upon returning from their honeymoon they discover that Austria has been invaded by the Nazis, who demand the Captain's immediate service in their navy. The family's narrow escape over the mountains to Switzerland on the eve of World War II provides one of the most thrilling and inspirational finales ever presented in the theatre. The motion picture version remains the most popular movie musical of all time.
Click Here for More Information
SHREK
PEACOCK PLAYERS
11/15-11/24/2013
SHREK THE MUSICAL, based on the Oscar® winningDreamWorks film that started it all, brings the hilarious story ofeveryone's favorite ogre to dazzling new life on the stage. Ina faraway kingdom turned upside down, things get ugly when an unseemlyogre "" not a handsome prince "" shows up to rescue a feisty princess.Throw in a donkey who won't shut up, a bad guy with a SHORT temper, acookie with an attitude and over a dozen other fairy tale misfits, andyou've got the kind of mess that calls for a real hero. Luckily,there's one on hand...and his name is Shrek. Full of all-new songs, great dancing and breathtaking scenery, SHREK THE MUSICAL is part romance, part twisted fairy tale and all irreverent fun for everyone!**AVAILABLE FOR LICENSES FOR PERFORMANCES BEGINNING JUNE 2013**
Click Here for More Information
View All Show Listings for New Hampshire
Click Here to View BroadwayWorld.com New Hampshire Calendar
Related Articles
From This Author BWW