Now Playing Onstage in Vermont - Week of 6/15/2014
View All Show Listings for Vermont
Click Here to View BroadwayWorld.com Vermont Calendar
Ziggy Marley
: The Fly Rasta Tour in Broadway" border="0" bheight="100" width="100" align="right">
ZIGGY MARLEY: THE FLY RASTA TOUR
The Paramount Theatre
6/17-6/17/2014
A six-time Grammy winner, Emmy Winner, humanitarian, singer, songwriter and producer,
Ziggy Marley
has released twelve albums to much critical acclaim. His early immersion in music came at age ten when he sat in on recording sessions with his father,
Bob Marley
. As front man to
Ziggy Marley
and The Melody Makers, the group released eight best-selling albums that garnered three Grammys, with such chart-topping hits as "Look Who's Dancing," "Tomorrow People" and "Tumbling Down." His 2012 live album "
Ziggy Marley
In Concert," recently earned him his 6th Grammy award for "Best Reggae Album." *The ticket price includes a $1 donation that goes to
Ziggy Marley
's charity U.R.G.E Foundation "U.R.G.E. seeks to make enduring contributions to the lives of children in Jamaica, Africa, and throughout the world. U.R.G.E acts to support education, health, the environment, in efforts to improve the communities where children live and grow, as they are our future's unlimited resource."
Click Here for More Information
LA CENERENTOLA (CINDERELLA)
Barre Opera House
6/20-6/22/2014
La Cenerentola is Gioachino Rossini's version of the popular Cinderella story, an exciting mixture of comedy, pathos, coloratura fireworks and masquerade. GMOF presents some of the most exciting Rossini singers of their generation in this highly theatrical presentation. Act I The fairy-tale past. In the run-down castle of Don Magnifico, his daughters Clorinda and Tisbe are in the middle of one of their usual arguments. Their stepsister Angelina, called Cenerentola, who serves as the family maid, sings her favorite song about a king who married a common girl ("Una volta c'era un re"). There is a knock on the door and Alidoro, tutor to the prince Don Ramiro, enters, dressed as a beggar. The stepsisters want to send him away, but Cenerentola gives him bread and coffee. Courtiers arrive to announce that Ramiro will soon pay a visit: he is looking for the most beautiful girl in the land and will hold a ball to choose his bride. Magnifico hopes that it will be one of the stepsisters: marriage to a wealthy man is the only way to save the family fortune. When the room is empty, Ramiro enters alone, dressed in his servant's clothes so he can freely observe the prospective brides. Alidoro has told him that there is a girl in the house worthy to be a princess, and Ramiro is determined to find out who she is. Cenerentola returns and is startled by the presence of a stranger. The two are immediately attracted to each other (Duet: "Un soave non so che"). He asks her who she is, and Cenerentola stammers a confused explanation, then runs away. Finally, the "prince" arrives-in fact Ramiro's valet, Dandini, in disguise. To Ramiro's amusement, Magnifico, Clorinda, and Tisbe fall over themselves flattering this prince, who invites them to the ball. Cenerentola asks to be taken along but Magnifico refuses (Quintet: "Signor, una parola"). Ramiro notes how badly Cenerentola is treated. Alidoro reenters with information that there is a third daughter in the house but Magnifico claims she has died. Left alone with Cenerentola, Alidoro tells her he will take her to the ball and explains that God will reward her good heart ("La del ciel nell'arcano profondo"). At Ramiro's country house, Dandini shares with the prince his negative opinion of the two sisters. But both men are confused, since Alidoro has spoken well of one of Magnifico's daughters. Clorinda and Tisbe appear again, having followed Dandini who still poses as the prince. When he offers Ramiro as a husband to the sister the prince does not marry, they are outraged at the idea of marrying a servant. Alidoro enters with a beautiful unknown lady who strangely resembles Cenerentola. Unable to make sense of the situation, they all sit down to supper, feeling as if they are in a dream. Act II Magnifico fears that the arrival of the stranger could ruin his daughters' chances to marry the prince ("Sia qualunque delle figlie"). Cenerentola, tired of being pursued by Dandini, tells him that she is in love with his servant. Overhearing this, Ramiro is overjoyed and steps forward. Cenerentola, however, tells him that she will return home and doesn't want him to follow her. If he really cares for her, she says, he will find her. The prince resolves to win the mysterious girl ("Si, ritrovarla io giuro"). Meanwhile Magnifico, who still thinks that Dandini is the prince, confronts him, insisting that he decide which of his daughters he will marry. Dandini first advises him to be patient, then reveals that he is in fact the prince's servant (Duet: "Un segreto d'importanza"). Magnifico is furious. Magnifico and the sisters return home in a bad mood and order Cenerentola, again in rags, to prepare supper. During a thunderstorm, Alidoro arranges for Ramiro's carriage to break down in front of Magnifico's castle so that the prince has to take refuge inside. Cenerentola and Ramiro recognize each other as the various parties comment on the situation (Sextet: "Siete voi?"). When Ramiro threatens Magnifico and his daughters who are unwilling to accept defeat, Cenerentola asks him to forgive them. At the prince's palace, Ramiro and Cenerentola celebrate their wedding. Magnifico tries to win the favor of the new princess, but she asks only to be acknowledged at last as his daughter. Born to misfortune, she has seen her life change and invites her family to join her, declaring that the days of sitting by the fire are over ("Non piu mesta").
Click Here for More Information
YOUNG FRANKENSTEIN
Saint Michael's Playhouse
6/17-6/28/2014
An ingeniously theatrical version of the Academy Award-winning comic film. The story follows young Dr. Frankenstein (that's Fronkensteen) and his assistant Igor (that's Eye-gore) as they attempt to bring a corpse back to life, with hilarious complications and show-stopping musical numbers including the classic "Puttin' On The Ritz."You'll have a monstrously good time. IT'S ALIVE!
Click Here for More Information
DURANG BANG
Lost Nation Theater
6/12-6/29/2014
Comedy Gold recipe: showcase several Durang short plays, take people & plots from Chekhov, Williams, et al, add dash of Greek Tragedy, put in blender with a shot of Here & Now and mix! From the 2013 Tony Winner for Best Play. Durang's off-beat, outrageous & hilarious work is simply:
Click Here for More Information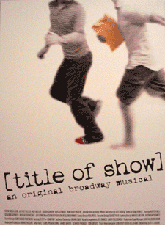 [TITLE OF SHOW]
Stowe
Theatre Guild
6/18-7/5/2014
Jeff and Hunter, two struggling writers, hear about a new musical theatre festival. However, the deadline for submissions is a mere three weeks away. With nothing to lose, the pair decides to try to create something new with the help of their friends Susan, Heidi and Larry on the eighty-eights. With the cast in place, Jeff and Hunter begin a conversation about what to write about. Eventually, Jeff suggests they write about what to write about. They make a pact to write up until the festival?s deadline and dream about the show changing their lives. [title of show]?taken from the space on the festival?s application form which asks for the [title of show]?follows Hunter and Jeff and their friends on their journey through the gauntlet of creative self-expression. In the span of 90 minutes they write and perform their show at the festival and learn lessons about themselves as people, friends and artists. [title of show] is, above all, a love letter to the musical theatre?a uniquely American art form?and to the joy of collaboration. The musical received a Tony AwardMusic and Lyrics by
Jeff Bowen
; Book by
Hunter Bell
Click Here for More Information
THE THREE LITTLE PIGS
Weston Playhouse Theater
6/19-7/12/2014
"Then I'll huff and puff and blow your house in." You know the story. Now come see Weston's talented Young Company of Broadway hopefuls in a delightful new musical version by the composers of Mary Poppins that is sure to bring down the house.
Click Here for More Information
View All Show Listings for Vermont
Click Here to View BroadwayWorld.com Vermont Calendar
Related Articles
From This Author BWW