Now Playing Onstage in Jacksonville - Week of 5/11/2014
View All Show Listings for Jacksonville
Click Here to View BroadwayWorld.com Jacksonville Calendar
CHER "D2K TOUR 2014?
Veterans Memorial Arena
5/14-5/14/2014
Tickets for the May 14th concert at Jacksonville Veterans Memorial Arena are on sale now. Tickets are available at the Tom Bush Family of Dealerships Box Office located at Jacksonville Veterans Memorial Arena, all Ticketmaster outlets, online at www.Ticketmaster.com or charge by phone at 1-800-745-3000. For additional ticket information and to sign up for tour updates please go to Cher.com. Cher's previous tour "The Farewell Tour" later dubbed "The Never Can Say Goodbye Tour" was one of the most successful tours ever by a solo artist and played for a record-breaking 325 dates and seen by over 5.5 million people.
Click Here for More Information
The Gipsy Kings
25th Anniversary Tour in Broadway" border="0" bheight="100" width="100" align="right">
THE GIPSY KINGS 25TH ANNIVERSARY TOUR
Florida Theatre
5/16-5/16/2014
The Gipsy Kings
, France's most successful group of all time, known for bringing their progressive and virtuosic flamenco pop to the mainstream, will perform at the Florida Theatre on Friday, May 16, 2014 at 8pm following the release of Savor Flamenco, their ninth studio album. Savor Flamenco is the group's first new recording in seven years and marks twenty-five years since the group first captured the world's imagination with their self-titled debut album, featuring worldwide hit "Bamboleo." The band's vigorous guitar work and passionate vocals are the trademark of an indigenous musical tradition known as Rumba Gitano. The Rumba - which originated in Africa - traveled from Zaire via the slave trade to Cuba and the New World, then back to Barcelona, where it was adopted by the Gypsies. There are no other examples of a non-English speaking band (the group's language is the Gypsy dialect of gitane) with such a consistent winning streak in the US, where the group is the biggest-selling French act ever. The platinum compilation The Best of the Gipsy Kings charted for more than a year and their music has been used in numerous motion pictures, including Peter Weir's "Fearless" and Joel and
Ethan Coen
's "The Big Lebowski".
Click Here for More Information
Gladys Knight
in Broadway" border="0" bheight="100" width="100" align="right">
GLADYS KNIGHT
Times-Union Center for the Performing Arts
5/16-5/16/2014
This seven-time GRAMMY Award®-winner has earned number one hits in Pop, R&B and Adult Contemporary, and has triumphed in film, television and live performance. She's best known for Grammy Award winning songs "Neither One of Us" and "Midnight Train to Georgia", and classic hits such as "I Heard It Through the Grapevine", (recorded first by
Marvin Gaye
but released a year later), "Friendship Train" "If I Were Your Woman", the "I've Got to Use My Imagination," and "You're the Best Thing That Ever Happened to Me". In addition to dozens of live performances throughout the year, Knight currently stars in the syndicated sitcom "The First Family," on BET/CENTRIC, where she plays the mother of the President.
Click Here for More Information
THE FOX ON THE FAIRWAY
Players by the Sea
5/2-5/17/2014
The latest farce from the popular author of Moon Over Buffalo and Lend Me a Tenor has them rolling in the aisles all over the country. There are 26 amateur and professional productions scheduled this year from Massachusetts to California. Let's hear it from the critics: "Three words best describe Ken Ludwig's The Fox on the Fairway …Hilarious, hilarious, and hilarious. The audience from the beginning to the brilliant ending was howling with joy."* If beleaguered club manager Henry Bingham doesn't beat arch-rival Crouching Squirrel Country Club in the traditional inter-club tournament, he'll lose his job and his wife. When his champion player jumps to the competition, things look hopeless, but then his eager young assistant Justin turns out to be an ace golfer. Except when he's stressed - and romantic ups and downs with his adorable fiancee Louise are making him really tense! In this light-hearted romp, there are machinations, plot twists and romantic complications galore, with lots of over-the-top laughs.
Click Here for More Information
THE LYONS
Players by the Sea
5/2-5/17/2014
Waiting at her husband's bedside, Rita Lyons flips through glossy magazines, planning to redecorate as soon as he's dead.
Ben Lyon
s is not going quietly. "I'm dying, Rita," he rages. "I know, dear," she replies, "Try to look on the positive side." Their grown children visit the hospital and are stunned to discover that their father on his deathbed; their parents have neglected to mention that little detail. ("Why burden you? You have your own problems.") Lisa, a recovering alcoholic, is driven from the room within minutes by her mother's relentless belittling, in search of the comfort of a drink. Curtis seems better-balanced, until we discover that the long-term boyfriend that he's chatting to on the phone is entirely fictitious. Yes, there's no lonelier place than the bosom of your own family, even - or especially - in times of crisis. A savagely funny exploration of the ways we find to torment and distance those we're supposed to love.
Click Here for More Information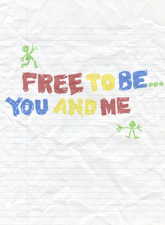 FREE TO BE... YOU AND ME
Players by the Sea
5/16-5/18/2014
Marlo Thomas
conceived a children's book that, instead of telling boys and girls who they should be, would open them to the possibilities of who they could be. She gathered many of her supremely talented friends from various worlds of the arts and the remarkable result is highly regarded as a modern classic of children's literature. Life-enhancing themes are imaginatively blended with music and humor to expand children's personal horizons, enabling them to invent their own futures without limitation, while dispelling some old constraints and worn-out conventions in the process. Parents, teachers and other grown-up friends will delight in sharing this extraordinary and memorable experience with the children in their lives.From the Book ; Conceived By
Marlo Thomas
& and Friends; Contributions by Judy Blume & Dan Greenberg &
Carol Hall
&
Sheldon Harnick
& Bruce Hart &
Edward Kleban
& Elain Laron &
Stephen Lawrence
& Betty Miles & Shelley Miller &
Carl Reiner
&
Mary Rodgers
&
Shel Silverstein
&
Peter Stone
& Charlotte Zolotow; Adaptation Written for the Stage by Douglas Love and Regina Safran
Click Here for More Information
BAY AT THE MOON
Atlantic Beach Experimental Theatre
5/9-5/25/2014
A down-home comedy by hometown success story Ian Mairs, who will be in town from New York to direct the show himself! An event not to be missed. Explores the ties that bind siblings and the boundaries they set to maintain some semblance of sanity.
Click Here for More Information
SOCIAL SECURITY
Alhambra Theatre
5/7-6/8/2014
When a well known art gallery owner and her husband receive a visit from her mother, all seems to be going smoothly... until they find out that the visist may not end. Panic and mayhem ensue as life takes a crazy turn in this hilarious comedy starring the enchantingly beautiful
Barbara Eden
.
Click Here for More Information
View All Show Listings for Jacksonville
Click Here to View BroadwayWorld.com Jacksonville Calendar
Related Articles
From This Author BWW