Now Playing Onstage in Ft. Myers/Naples - Week of 11/25/2012
View All Show Listings for Ft. Myers/Naples
Click Here to View BroadwayWorld.com Ft. Myers/Naples Calendar
ELF: THE MUSICAL
Barbara B. Mann Performing Arts Hall
11/27-12/2/2012
One of the most beloved Hollywood holiday hits of the past decade is born again – live on stage! ELF is an original musical that brings to life the heartwarming and hilarious tale of Buddy, an orphan who mistakenly believes he's really one of Santa's elves. Featuring an all-star creative team led by three time Tony-nominated director/choreographer
Casey Nicholaw
(The Drowsy Chaperone, Spamalot), Tony-winning book writers
Thomas Meehan
(The Producers) and
Bob Mart
in (The Drowsy Chaperone) and the Tony-nominated songwriting team of
Matthew Sklar
and
Chad Beguelin
(The Wedding Singer), ELF is the one present everyone wants this holiday season.
Click Here for More Information
A FUNNY THING HAPPENED ON THE WAY TO THE FORUM
Theatre Zone
11/29-12/9/2012
Broadway's greatest farce is light, fast-paced, witty, irreverent and one of the funniest musicals ever written-the perfect escape from life's troubles. A FUNNY THING HAPPENED ON THE WAY TO THE FORUM takes comedy back to its roots, combining situations from time-tested, 2000 year old comedies of Roman playwright Plautus with the infectious energy of classic vaudeville. The result is a non-stop laugh-fest in which a crafty slave (Pseudolus) struggles to win the hand of a beautiful but slow-witted courtesan (Philia) for his young master (Hero), in exchange for freedom.
Click Here for More Information
DICKENS' WOMEN
The Herb Strauss Theatre
12/4-12/9/2012
Award-winning British actress
Miriam Margolyes
, famous for roles in films such as Harry Potter and the Chamber of Secrets and Little Shop of Horrors, arrives stateside this season with her critically-acclaimed show, Dickens' Women. Margolyes, who also played Madam Morrible in the Broadway production of Wicked, will portray many of
Charles Dickens
' most colorful and entertaining literary characters, including those drawn from Oliver Twist, Great Expectations and Nicholas Nickleby. This tour is part of the worldwide celebration of 200 years of
Charles Dickens
in 2012.
Click Here for More Information
TALLEY'S FOLLY
Florida Repertory Theatre
11/27-12/16/2012
Winner of the Pulitzer Prize in Drama, Talleys Folly is a lyrical romance that follows the unlikely courtship of young Sally Talley and her much older Jewish suitor, Matt Friedman. Set in 1944, the play unfolds magically in a Victorian boathouse on the banks of the Missouri River. Matt arrives just at twilight to confess his love to a reluctant Sally, who believes she is no longer capable of loving, but in the play's final touching moments we see that these may be two kindred spirits.
Click Here for More Information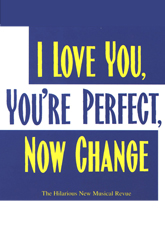 I LOVE YOU, YOU'RE PERFECT, NOW CHANGE
Broadway Palm Dinner Theatre
11/1-12/23/2012
This celebration of the mating game takes on the truths and myths behind that contemporary conundrum know as 'the relationship.' Act I explores the journey from dating and waiting to love and marriage, while Act II reveals the agonies and triumphs of in-laws and newborns, trips in the family car and pick-up techniques of the geriatric set. This hilarious revue pays tribute to those who have loved and lost, to those who have fallen on their face at the portal of romance, to those who have dared to ask, 'Say, what are you doing Saturday night?'Book and Lyrics by
Joe DiPietro
; Music by
Jimmy Roberts
For more information on Broadway Palm Dinner Theatre, click hereFor more information on I Love You, You're Perfect, Now Change, click here
Click Here for More Information
MIRACLE ON 34TH STREET
Broadway Palm Dinner Theatre
11/22-12/25/2012
The musical adaptation of a holiday classic comes to life on the Broadway Palm stage. A white-bearded man claims to be the real
Santa Claus
e and spreads a genuine wave of love throughout New York City bringing about an actual miracle on 34th Street. This dazzling musical is filled with humor, spectacle, beloved songs and is joyful entertainment for the entire family.
Click Here for More Information
View All Show Listings for Ft. Myers/Naples
Click Here to View BroadwayWorld.com Ft. Myers/Naples Calendar
Related Articles
From This Author BWW