Now Playing Onstage in Delaware - Week of 3/09/2014
View All Show Listings for Delaware
Click Here to View BroadwayWorld.com Delaware Calendar
SOLAS: SHAMROCK CITY
The Grand Wilmington
3/15-3/15/2014
Irish Central describes Solas as "magical and harmonious." The Irish-American band, whose name means light in Gaelic, has recorded ten albums and toured extensively under the leadership of mandolin and banjo player Seamus Egan. Solas's latest project is a musical multimedia story of Irish immigrant miners out West inspired by Seamus' own family history.
Click Here for More Information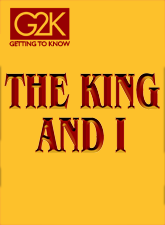 THE KING AND I
Caesar Rodney High School
3/13-3/15/2014
The 'G2K' Getting To Know Series: Uniquely adapted musicals specifically for youth performers. East versus West makes for a dramatic, richly textured and ultimately uplifting tale of enormous fascination. It is 1862 in Siam when an English widow,
Anna Leon
owens, and her young son arrive at the Royal Palace in Bangkok, having been summoned by the King to serve as tutor to his many children and wives. The King is largely considered to be a barbarian by those in the West and he seeks Anna's assistance in changing his image, if not his ways. With both keeping a firm grip on their respective traditions and values, Anna and the King grow to understand and, eventually, respect one another, in a truly unique love story. In this adaptation for pre-high school students, the content has been edited to better suit younger attention spans, but all the magic and beauty of the original are still in place. You and your students will be enchanted by the timeless story and the dazzling score, while at the same time learning about theater and its production. PLEASE NOTE: All schools wishing to peruse or perform a G2K musical should apply through theMusic by Rodgers, Richard; Book and Lyrics by
Oscar Hammerstein
II
Click Here for More Information
THE FULL MONTY
NEW CANDLELIGHT DINNER THEATRE
1/25-3/16/2014
Seeing how much their wives enjoy watching male strippers during their "Girls' Night Out," unemployed steelworkers in Buffalo, New York come up with a bold way to make some quick cash. In the process they find renewed self-esteem, the importance of friendship and the ability to have fun.As the guys work through their fears, self-consciousness, feelings of worthlessness and anxieties (over everything from being overweight to child custody, bigotry to being gay), they come to discover that not only are they stronger as a group, but that the strength they find in each other gives them the individual courage to face their demons and overcome them.There is great heart to THE FULL MONTY, and the ultimate themes expressed in the show, about taking charge of one's life and following one's dreams are great lessons for all of us. And truth be told, through creative directing and staging, the final impact of THE FULL MONTY can be achieved without ever losing your jockey shorts!
Click Here for More Information
CHEAPER BY THE DOZEN
Schwartz Center for the Arts
3/15-3/16/2014
Click Here for More Information
VENUS IN FUR
Bootless Stageworks
3/13-3/22/2014
VENUS IN FUR by
David Ives
STORY LINE: Thomas Novachek is the writer-director of a new play, an adaptation of the 1870 novel Venus in Furs which inspired the term Masochism. He is on the telephone lamenting the inadequacies of all the actresses who showed up that day to audition for the lead character, Wanda von Dunajew. Suddenly, at the last minute, a new actress, Vanda Jordan, bursts in, the exemplar of every fault he has decried: needy, crude, compliant, desperate. She convinces him to read through his play, she as Wanda and he as Severin von Kusiemski. During this reading, Vanda shows astonishing insights into the novel and her character and the balance of power shifts as the actress establishes total dominance over the director, exactly as in the novel. "To describe Mr. Ives's play as a sex comedy may conjure images of creaky old farces involving philandering bosses and naughty secretaries. But while it's as funny…is also something darker, stranger and altogether more delicious: a suspense-packed study of the erotics (and the semiotics) of power, in which the two participants prove to be seriously, almost scarily adept." - Charles Isherwood, The New York Times Winner: Tony Award for Best Actress (Leading Role) in a Play -
Nina Arianda
Winner: Theatre World Award - Best Actress (Leading Role) in a Play -
Nina Arianda
Nominee: Outer Critics Circle Award for Outstanding Actress in a Play -
Nina Arianda
Nominee:
Lucille Lortel
Award for Outstanding Lead -
Nina Arianda
Nominee: Drama League Award for Distinguished Performance -
Nina Arianda
Nominee:
Lucille Lortel
Award for Outstanding Director Nominee: Tony Award - Best Play Nominee: Drama League Award for Distinguished Production of a Play CAST Sean Gallager - Thomas Kelly Warne - Vanda (Appears Courtesy of Actors Equity Association) March 13 @ 7:30, March 14, 15 @ 8:00pm; March 16 @ 3:00pm; March 20 @ 7:30pm; March 21, 22 @ 8:00pm Adults - $20.00; Seniors - $18.00; Students & Military - $15.00 Venus in Fur is not suitable for young audiences. The play contains mature themes and language.
Click Here for More Information
SEUSSICAL
DELAWARE CHILDRENS THEATRE
3/1-3/23/2014
Now one of the most performed shows in America, SEUSSICAL is a fantastical, magical, musical extravaganza! Tony winners
Lynn Ahrens
and
Stephen Flaherty
(LUCKY STIFF, MY FAVORITE YEAR, ONCE ON THIS ISLAND, and RAGTIME) have lovingly brought to life all of our favorite
Dr. Seuss
characters, including Horton the Elephant, The Cat in the Hat, Gertrude McFuzz, lazy Mayzie, and a little boy with a big imagination--Jojo. The colorful characters transport us from the Jungle of Nool to the Circus McGurkus to the invisible world of the Whos.The Cat in the Hat tells the story of Horton, an elephant who discovers a speck of dust containing Whos, including Jojo, a Who child sent off to military school for thinking too many "thinks." Horton faces a double challenge--not only must he protect the Whos from a world of naysayers and dangers, but he must guard an abandoned egg, left to his care by the irresponsible Mayzie La Bird. Although Horton faces ridicule, danger, kidnapping, and a trial, the intrepid Gertrude McFuzz never loses faith in him. Ultimately, the powers of friendship, loyalty, family, and community are challenged and emerge triumphant.SEUSSICAL is fun for the whole family! Performers of all ages will be excited to portray the characters from the familiar
Dr. Seuss
fables. This musical provides wonderful creative opportunities for set, lighting, and costume design.More Ahrens and FlahertyFor complet
Click Here for More Information
FAUST
University of Delaware - Thompson Theatre, Roselle Center for the Arts
3/6-3/23/2014
Restless for knowledge and power, Faust makes a deal with the devil - his soul in exchange for total knowledge, absolute power, and the ability to perform the black arts. After sealing the pact with a drop of blood, Faust finds himself in the throes of a heady and hedonistic adventure of epic proportions. Beautiful women, fantastical travel, extraordinary alchemy. But at what cost? Combining the highest level of theatricality with challenging and thought provoking ideas, the REP brings this landmark in world literature to vivid and spectacular life with magic, monsters, electrifying effects, and a host of devilish delights.
Click Here for More Information
FAUST
Resident Ensemble Players
3/6-3/23/2014
Thompson Theatre:adapt: Heinz-Uwe Haus from Johann Wolfgang von Goethe; dir: Heinz-Uwe Haus.
Click Here for More Information
View All Show Listings for Delaware
Click Here to View BroadwayWorld.com Delaware Calendar
Related Articles
From This Author BWW