Now Playing Onstage in Birmingham - Week of 7/27/2014
View All Show Listings for Birmingham
Click Here to View BroadwayWorld.com Birmingham Calendar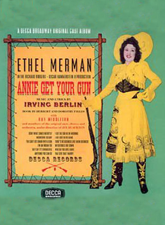 ANNIE GET YOUR GUN
Riverchase United Methodist Church
7/30-8/2/2014
Annie Oakley
is the best shot around, and she manages to support her little brother and sisters by selling the game she hunts. When she's discovered by Col. Buffalo Bill, he persuades this novel sharpshooter to join his Wild West Show. It only takes one glance for her to fall head over heels for dashing shooting ace
Frank Butler
, who headlines the show. She soon eclipses Butler as the main attraction which, while good for business, is bad for romance. Butler hightails it off to join a rival show, his bruised male ego leading the way, but is ultimately pitted against Annie in a final shoot-out. The rousing, sure-fire finale hits the mark every time in a testament to the power of female ingenuity.Music and Lyrics by
Irving Berlin
; Book by
Herbert Fields
&
Dorothy Fields
Click Here for More Information
THE MUSIC MAN JR
RED MOUNTAIN THEATRE COMPANY - YOUTH THEATRE
7/18-8/3/2014
Wicked, funny, warm, romantic and touching, THE MUSIC MAN JR. is a special adaptation of the classic masterful musical that is family entertainment at its best.The story follows fast-talking traveling salesman Harold Hill as he cons the people of River City, Iowa into buying instruments and uniforms for a boys' band he vows to organize - this despite the fact he doesn't know a trombone from a treble clef. His plans to skip town with the cash are foiled when he falls for Marian the librarian, who transforms him into a respectable citizen by the end.Perfect for community groups, summer camps, and schools, the cast features a soaring soprano ingenue and a leading role for a charismatic actor as well as over 20 roles for kids of every level. THE MUSIC MAN JR. is the perfect production for young people!
Click Here for More Information
LES MISERABLES
Red Mountain Theatre Company
7/8-8/3/2014
Recent review: http://www.al.com/entertainment/index.ssf/2014/07/les_miserables_epiclandmark_pr.html
Click Here for More Information
BARE
Renaissance Theatre
8/1-8/10/2014
Click Here for More Information
DISNEY'S ALICE IN WONDERLAND JR
SOUTH BALDWIN COMMUNITY THEATRE
8/1-8/10/2014
Join Alice's madcap adventures in Wonderland as she chases the White Rabbit, races the Dodo Bird, gets tied up with the Tweedles, raps with a bubble-blowing Caterpillar, and beats the Queen of Hearts at her own game! Roles are plentiful, including three Cheshire Cats and dozens of other wonderfully wacky characters. Disney's ALICE IN WONDERLAND JR. is a fast-paced stage adaptation of featuring updated dialogue and new arrangements of such classic Disney songs as "I'm Late," "The Un-birthday Song" and "Zip-A-Dee-Doo-Dah."
Click Here for More Information
MARY POPPINS
ALABAMA SHAKESPEARE FESTIVAL
7/16-8/17/2014
Click Here for More Information
View All Show Listings for Birmingham
Click Here to View BroadwayWorld.com Birmingham Calendar
Related Articles
From This Author BWW