Now Playing Onstage in Orlando - Week of 7/06/2014
View All Show Listings for Orlando
Click Here to View BroadwayWorld.com Orlando Calendar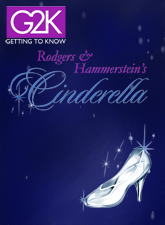 G2K CINDERELLA
Orlando Repertory Theatre
7/12-7/12/2014
The 'G2K' Getting To Know Series: Uniquely adapted musicals specifically for youth performers. The timeless enchantment of a magical fairy tale is reborn with the
Rodgers & Hammerstein
hallmarks of originality, charm and elegance. Originally presented on television in 1957 starring
Julie Andrews
,
Rodgers & Hammerstein
's CINDERELLA was the most widely viewed program in the history of the medium. Its recreation in 1965 starring
Lesley
Ann Warren
was no less successful in transporting a new generation to the miraculous kingdom of dreams-come-true, and so was a second remake in 1997, which starred Brandy as Cinderella and
Whitney Houston
as her Fairy Godmother. As adapted for the stage, with great warmth and more than a touch of hilarity, the hearts of children and adults alike still soar when the slipper fits. In this specially created G2K version, all the beloved songs and familiar characters are present and accounted for. However, the entire script has been condensed to better suit young attention spans, and the plot has been slightly altered so as to highlight some important lessons that exist in this timeless tale. Music by Rodgers, Richard; Book and Lyrics by
Oscar Hammerstein
II
Click Here for More Information
SHOUT! THE MOD MUSICAL
Winter Park Playhouse
6/20-7/19/2014
Journey back to 1960's London and the liberating days that made England swing! This smashing musical features an irresistible collection of music by
Petula Clark
, Dusty Springfield, Lu Lu and more including "Downtown," "Don't Sleep in the Subway," and "You Don't Have to Say You Love Me."
Click Here for More Information
COCK
The Harriett Theatre
6/20-7/20/2014
Cock is the complex story of what happens to John when he takes a break from the troubled relationship he has with his boyfriend. During this "break" he meets a woman who turns out to be more than just the best friend a gay man could hope for. Riddled with guilt and paralyzed with fear, John decides to straighten it all out once and for all. Cock is a playful, candid look at one man's sexuality and the difficulties that arise when surprising new choices challenge the status quo.
Click Here for More Information
THE 25TH ANNUAL PUTNAM COUNTY SPELLING BEE
University of Central Florida - Main Stage
7/10-7/20/2014
Six spelling champs vie for ultimate glory in this spirited musical. Audience participation encouraged.
Click Here for More Information
THE LITTLE MERMAID
Pinocchio's Marionette Theater
5/31-7/27/2014
Click Here for More Information
View All Show Listings for Orlando
Click Here to View BroadwayWorld.com Orlando Calendar
Related Articles
From This Author BWW