Now Playing Onstage in Norfolk - Week of 5/11/2014
View All Show Listings for Norfolk
Click Here to View BroadwayWorld.com Norfolk Calendar
SWEENEY TODD
Sandler Center for the Performing Arts
5/16-5/17/2014
The cautionary tale of Sweeney Todd-a barber unjustly imprisoned by a corrupt judge-is gleefully dark entertainment. Todd returns to London, mad with revenge after his incarceration, and promptly slits the throats of the unlucky customers who enter his barbershop. But what to do with those pesky bodies? Enter Mrs. Lovett-his neighbor with a very secret recipe. Their gruesome plan seems to work…until things take a turn for the domestic and the Demon Barber's past catches up to him.
Click Here for More Information
A STREETCAR NAMED DESIRE
Firehouse Theatre Project
4/17-5/17/2014
Tennessee Williams
; dir: Tawnya Pettiford-Wates.
Click Here for More Information
13 - THE MUSICAL
The Perry Family Theatre
5/16-5/18/2014
13 - THE MUSICAL: A grown-up story about growing up! When his parents get divorced and he's forced to move from New York to a small town in Indiana, Evan Goldman just wants to make friends and survive the school year. Easier said than done. With an unforgettable rock score from Tony Award-winning composer
Jason Robert Brown
, 13 is a hilarious, high-energy musical for all ages about discovering that cool is where you find it, and sometimes where you least expect it.
Click Here for More Information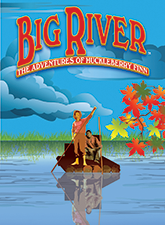 BIG RIVER
Army Entertainment
5/2-5/18/2014
Twain's timeless classic sweeps us down the mighty Mississippi as the irrepressible Huck Finn helps his friend Jim, a slave, escape to freedom at the mouth of the Ohio River. Their adventures along the way are hilarious, suspenseful and heartwarming, bringing to life your favorite characters from the novel-the Widow Douglas and her stern sister,
Miss Watson
; the uproarious King and Duke, who may or may not be as harmless as they seem; Huck's partner in crime,
Tom Sawyer
, and their rowdy gang of pals; Huck's drunken father, the sinister Pap Finn; the lovely Mary Jane Wilkes and her trusting family. Propelled by an award winning score from
Roger Miller
, the king of country music, this jaunty journey provides a brilliantly theatrical celebration of pure Americana.Music by
Roger Miller
; Lyrics by
Roger Miller
; Book by
William Hauptman
; Adapted from the novel by
Mark Twain
Click Here for More Information
THE PHILADELPHIA STORY
Little Theatre of Norfolk
5/9-6/1/2014
Tracy Lord, of the Philadelphia Lords, a headstrong and spoiled daughter of the privileged. Divorced from C.K. Dexter Haven, she is engaged to a successful young snob. A society weekly sends a reporter and female photographer to cover the wedding arrangements. Tracy finds herself growing interested in the reporter Mike Connor, and following the pre-wedding bash, they take a moonlight swim and are then surprised by Dexter and the fiancee. The following morning her intended smugly forgives her, enraging Tracy, who breaks off the engagement. Connor offers to marry her, but she turns him down and remarries Dexter, the real love of her life, after all.
Click Here for More Information
BEYOND THE RAINBOW
Swift Creek Mill Theatre
5/8-6/7/2014
Click Here for More Information
View All Show Listings for Norfolk
Click Here to View BroadwayWorld.com Norfolk Calendar
Related Articles
From This Author BWW