Now Playing Onstage in New Hampshire - Week of 4/14/2013
View All Show Listings for New Hampshire
Click Here to View BroadwayWorld.com New Hampshire Calendar
DISNEY'S 101 DALMATIANS KIDS
PORTSMOUTH HIGH SCHOOL
4/16-4/17/2013
101 DALMATION KIDS is the familiar tale of kidnappers, puppies, and villains. In a loving home in the city of London, human owners Robert and Anita live happily with Dalmatian parents Pongo and Perdita as they raise their Dalmatian puppies. Everything is quiet until the monstrous Cruella De Vil, Anita's former classmate, plots to steal the puppies for her new fur coat! Join all the dogs of London as they daringly rescue the puppies from Cruella and her bumbling henchmen.With a delightfully fun score, lovable characters, and one of the most deliciously evil villains in the Disney canon, this stage adaptation is certain to charm and delight all audiences. The adorable spotted dogs and sinister main villain provide wonderful opportunities for creative costuming.
Click Here for More Information
DISNEY'S THE LITTLE MERMAID JR
MOULTONBOROUGH CENTRAL SCHOOL
4/17-4/17/2013
In a magical kingdom fathoms below, the beautiful young mermaid Ariel longs to leave her ocean home to live in the world above. But first, she'll have to defy her father King Triton, make a deal with the evil sea witch Ursula, and convince Prince Eric that she's the girl with the enchanting voice. Adapted from Disney's 2008 Broadway production, Disney's THE LITTLE MERMAID JR. features the hit songs "Part of Your World," "She's in Love," and the Oscar-winning "Under the Sea."
Click Here for More Information
SHOUT!! THE MOD MUSICAL
SANT BANI SCHOOL
4/18-4/20/2013
SHOUT! is the mod musical magazine that brings back the beautiful birds and smashing sounds that made England swing in the 60's. Created by
Phillip George
and
David Lowe
nstein, SHOUT! features terrific new arrangements of such classic tunes as "To Sir With Love," "Downtown," "Son of a Preacher Man," and "Goldfinger."SHOUT! travels in time from 1960 to 1970 chronicling the dawning liberation of women. Just as Dusty Springfield,
Petula Clark
, and
Cilla Black
, were independent women with major careers, English and American women were redefining themselves in the face of changing attitudes about gender. SHOUT! (and its all-female cast) reflects that through the unforgettable music of the time. With a shimmy and shake, the songs are tied together by hilarious sound bites from the period -- from 60's advertisements to letters answered by an advice columnist who thinks every problem can be solved with a "fetching new hair style and a new shade of lipstick."The songs in this delightful musical resonate with a timeless quality which appeals to every generation. A wonderful choice to showcase strong, female talent at any community theatre, high school, or college.Please note that original NY and touring sets, costumes and more for this title are available on MTI ShowSpace here. A presenters pack, with all original artwork, newspaper, magazine ads, programs, posters, merchandise and more is available to all presenters of SHOUT!
Click Here for More Information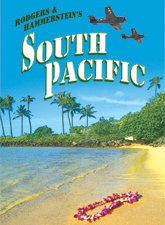 SOUTH PACIFIC
Laconia High School
4/18-4/20/2013
Set in an island paradise during World War II, two parallel love stories are threatened by the dangers of prejudice and war. Nellie, a spunky nurse from Arkansas, falls in love with a mature French planter, Emile. Nellie learns that the mother of his children was an island native and, unable to turn her back on the prejudices with which she was raised, refuses Emile's proposal of marriage. Meanwhile, the strapping Lt. Joe Cable denies himself the fulfillment of a future with an innocent Tonkinese girl with whom he's fallen in love out of the same fears that haunt Nellie. When Emile is recruited to accompany Joe on a dangerous mission that claims Joe's life, Nellie realizes that life is too short not to seize her own chance for happiness, thus confronting and conquering her prejudices.Music by Rodgers, Richard; Lyrics by Oscar Hammerstein II; Book by Oscar Hammerstein II & Joshua Logan; Adapted from the Pulitzer Prize winning novel
Click Here for More Information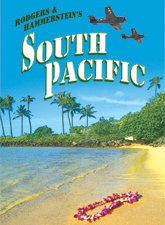 SOUTH PACIFIC
Laconia High School
4/18-4/20/2013
Set in an island paradise during World War II, two parallel love stories are threatened by the dangers of prejudice and war. Nellie, a spunky nurse from Arkansas, falls in love with a mature French planter, Emile. Nellie learns that the mother of his children was an island native and, unable to turn her back on the prejudices with which she was raised, refuses Emile's proposal of marriage. Meanwhile, the strapping Lt. Joe Cable denies himself the fulfillment of a future with an innocent Tonkinese girl with whom he's fallen in love out of the same fears that haunt Nellie. When Emile is recruited to accompany Joe on a dangerous mission that claims Joe's life, Nellie realizes that life is too short not to seize her own chance for happiness, thus confronting and conquering her prejudices.Music by Rodgers, Richard; Lyrics by Oscar Hammerstein II; Book by Oscar Hammerstein II & Joshua Logan; Adapted from the Pulitzer Prize winning novel
Click Here for More Information

PIRATES OF PENZANCE JR
NOTTINGHAM THEATRE PROJECT-NOTTINGHAM REC DEPT.
4/19-4/21/2013
Wacky, irreverent and as entertaining as it's predecessor from 1879, THE PIRATES OF PENZANCE JR. spins a hilarious farce of sentimental pirates, bumbling policemen, dim-witted young lovers, dewy-eyed daughters and an eccentric Major-General, all morally bound to the often-ridiculous dictates of honor and duty.
Click Here for More Information

View All Show Listings for New Hampshire
Click Here to View BroadwayWorld.com New Hampshire Calendar

Related Articles
From This Author BWW