Now Playing Onstage in Columbus - Week of 7/13/2014
View All Show Listings for Columbus
Click Here to View BroadwayWorld.com Columbus Calendar
THE THIRD ANNUAL YOUNG WRITERS SHORT PLAY FESTIVAL
MadLab Theatre
7/11-7/26/2014
Click Here for More Information
HAIRSPRAY
McConnell Arts Center
7/18-7/26/2014
The 1950's are out and change is in the air! HAIRSPRAY, winner of 8 Tony Awards including Best Musical, is a family-friendly musical piled bouffant high with laughter, romance, and deliriously tuneful songs. It's 1962 in Baltimore, and the lovable plus-size teen Tracy Turnblad has only one desire -- to dance on the popular Corny Collins Show. When her dream comes true, Tracy is transformed from social outcast to sudden star. She must use her newfound power to dethrone the reigning Teen Queen, win the affections of heartthrob Link Larkin, and integrate a TV network, all without denting her 'do!
Click Here for More Information
A CHORUS LINE
Shots in the Dark Independent Theatre Company
7/19-7/27/2014
A Chorus Line Conceived and Originally Directed and Choreographed by
Michael Bennett
Book by
James Kirkwood
&
Nicholas Dante
Music by
Marvin Hamlisch
Lyrics by
Edward Kleban
Co-Choreographed by
Bob Avian
Original Broadway production produced by the New York Shakespeare Festival,
Joseph Papp
, Producer, in association with
Plum Productions
, Inc. Directed by
Stephen Hanna
h July 19-20 and 2-27 A CHORUS LINE is a stunning musical-verite about a chorus audition for a Broadway musical. It tells of the achingly poignant ambitions of professional Broadway gypsies to land a job in the show, and is a powerful metaphor for all human aspiration. Memorable musical numbers include I Can Do That, At the Ballet, Dance: Ten; Looks: Three, The Music and the Mirror, What I Did for Love, One (Singular Sensation) and I Hope I Get It. It is a brilliantly complex fusion of dance, song and compellingly authentic drama. A CHORUS LINE is a celebration of those unsung heroes of the American Musical Theatre-the chorus dancers, those valiant, overdedicated, underpaid, highly trained performers who back up the star or stars and often make them look even more talented than they are. It is also a celebration of the American Musical itself.
Click Here for More Information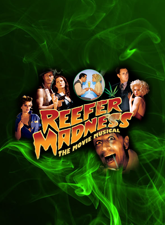 REEFER MADNESS
ShadoArt Productions
6/22-9/14/2014
Inspired by the original 1936 film of the same name, this raucous musical comedy takes a tongue-in-cheek look at the hysteria caused when clean-cut kids fall prey to marijuana, leading them on a hysterical downward spiral filled with evil jazz music, sex and violence. You won't be able to resist the spoofy fun of REEFER MADNESS. The addictive and clever musical numbers range from big Broadway-style showstoppers to swing tunes like 'Down at the Ol' Five and Dime' and the Vegas-style 'Listen to Jesus, Jimmy,' featuring J.C. Himself leading a chorus of showgirl angels. This dynamic show will go straight to your head! REEFER MADNESS is a highly stylized and satirical political commentary. It contains adult humor, religious parody, and drug use, as well as suggested violence and sexual explicitness. It therefore may be inappropriate for younger performers and audiences. Book by
Kevin Murphy
&
Dan Studney
; Music by
Dan Studney
; Lyrics by
Kevin Murphy
Click Here for More Information
View All Show Listings for Columbus
Click Here to View BroadwayWorld.com Columbus Calendar
Related Articles
From This Author BWW