Now Playing Onstage in Charlotte - Week of 6/29/2014
View All Show Listings for Charlotte
Click Here to View BroadwayWorld.com Charlotte Calendar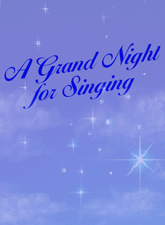 A GRAND NIGHT FOR SINGING
Haywood Arts Regional Theater
6/20-7/6/2014
Taste and imagination, the two key ingredients for a first-rate revue, abound in this fresh take on the Rodgers & Hammerstein canon conceived by Tony Award winner
Walter Bobbie
. Over three decades after the duo's final collaboration, THE SOUND OF MUSIC, took the Great White Way by storm, it was in fact this new R&H musical that opened the 1994 Broadway season with flair and distinction, garnering wildly enthusiastic notices as well as earning two Tony nominations, including Best Musical. Here at R&H, our founding fathers probably never imagined 'Shall We Dance?' as a comic pas de deux for a towering beauty and her diminutive admirer, nor did they suspect that one day a lovelorn young lad might pose the musical question, 'How do you solve a problem like Maria?' But that's precisely the kind of invention lavished upon this new revue, with innovative musical arrangements including a sultry Andrews Sisters-esque 'I'm Gonna Wash That Man Right Out-a My Hair,' a swingin' 'Honeybun' worthy of the Modernaires, and a jazzy 'Kansas City' which leaves no question about how terrifically up to date the remarkable songs of R&H remain.Music by Rodgers, Richard; Lyrics by
Oscar Hammerstein
II; Music Arrangements by
Fred Wells
; Conceived By
Walter Bobbie
Click Here for More Information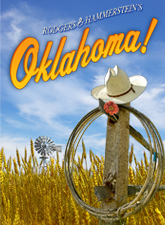 OKLAHOMA!
Smoky Mountain Center for the Performing Arts
6/27-7/6/2014
Rodgers & Hammerstein's first collaboration remains, in many ways, their most innovative, having set the standards and established the rules of musical theatre still being followed today. Set in a Western Indian territory just after the turn of the century, the high-spirited rivalry between the local farmers and cowboys provides the colorful background against which Curly, a handsome cowboy, and Laurey, a winsome farm girl, play out their love story. Although the road to true love never runs smooth, with these two headstrong romantics holding the reins, love's journey is as bumpy as a surrey ride down a country road. That they will succeed in making a new life together we have no doubt, and that this new life will begin in a brand-new state provides the ultimate climax to the triumphant OKLAHOMA!Music by Rodgers, Richard; Book by
Oscar Hammerstein
II; Lyrics by
Oscar Hammerstein
II; Original Dances by
Agnes de Mille
; Based on the play `Green Grow the Lilacs` by
Lynn Riggs
Click Here for More Information
GRUESOME PLAYGROUND INJURIES
Carolina Actors
Studio Theatre
6/6-7/12/2014
CAST presents the regional premiere of "Gruesome Playground Injuries," by
Rajiv Joseph
, author of the Pulitzer Prize finalist "Bengal Tiger at the Baghdad Zoo." Joseph, one of today's most acclaimed young playwrights, is the recipient of numerous accolades, including an NEA Award for Best Play and a Whiting Writers' Award.
Click Here for More Information
HOW I BECAME A PIRATE
Lost Colony
6/17-8/13/2014
Click Here for More Information
View All Show Listings for Charlotte
Click Here to View BroadwayWorld.com Charlotte Calendar
Related Articles
From This Author BWW