Now Playing Onstage in Baltimore - Week of 6/15/2014
View All Show Listings for Baltimore
Click Here to View BroadwayWorld.com Baltimore Calendar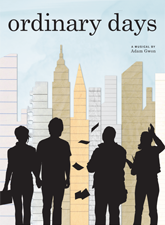 ORDINARY DAYS
Round House Theatre
5/28-6/22/2014
From one of musical theatre's most exciting new composers comes ORDINARY DAYS, a refreshingly honest and funny musical about making real connections in the city that never sleeps (but probably should at some point.) ORDINARY DAYS tells the story of four young New Yorkers whose lives intersect as they search for fulfillment, happiness, love and cabs. Through a score of vibrant and memorable songs, their experiences ring startlingly true to life. ORDINARY DAYS is an original musical for anyone who's ever struggled to appreciate the simple things in a complex place. With equal doses of humor and poignancy, it celebrates how 8.3 million individual stories combine in unexpected ways to make New York City such a unique and extraordinary home. Music and Lyrics by
Adam Gwon
Click Here for More Information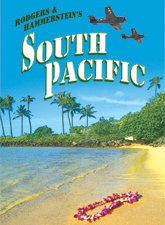 SOUTH PACIFIC
Church Hill Theatre
6/6-6/22/2014
Set in an island paradise during World War II, two parallel love stories are threatened by the dangers of prejudice and war. Nellie, a spunky nurse from Arkansas, falls in love with a mature French planter, Emile. Nellie learns that the mother of his children was an island native and, unable to turn her back on the prejudices with which she was raised, refuses Emile's proposal of marriage. Meanwhile, the strapping Lt. Joe Cable denies himself the fulfillment of a future with an innocent Tonkinese girl with whom he's fallen in love out of the same fears that haunt Nellie. When Emile is recruited to accompany Joe on a dangerous mission that claims Joe's life, Nellie realizes that life is too short not to seize her own chance for happiness, thus confronting and conquering her prejudices.Music by Rodgers, Richard; Lyrics by
Oscar Hammerstein
II; Book by
Oscar Hammerstein
II &
Joshua Logan
; Adapted from the Pulitzer Prize winning novel
Click Here for More Information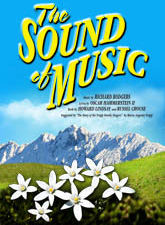 THE SOUND OF MUSIC
Theater Without Limits
6/20-6/22/2014
The final collaboration between Rodgers & Hammerstein was destined to become the world's most beloved musical. When a postulant proves too high-spirited for the religious life, she is dispatched to serve as governess for the seven children of a widowed naval Captain. Her growing rapport with the youngsters, coupled with her generosity of spirit, gradually captures the heart of the stern Captain, and they marry. Upon returning from their honeymoon they discover that Austria has been invaded by the Nazis, who demand the Captain's immediate service in their navy. The family's narrow escape over the mountains to Switzerland on the eve of World War II provides one of the most thrilling and inspirational finales ever presented in the theatre. The motion picture version remains the most popular movie musical of all time.Music by Rodgers, Richard; Lyrics by
Oscar Hammerstein
II; Book by
Howard Lindsay
&
Russel Crouse
; Suggested by `The
Trapp Family Singers
` by
Maria Augusta Trapp
Click Here for More Information
THE PRODUCERS
SANDY SPRING THEATER GROUP
6/6-6/22/2014
Bialystock and Bloom! Those names should strike terror and hysteria in anyone familiar with
Mel B
rooks' classic cult comedy film. Now as a big Broadway musical, THE PRODUCERS once again sets the standard for modern, outrageous, in-your-face humor. It is a truly "boffo" hit, winning a record twelve Tony Awards and wowing capacity crowds night after night.The plot is simple: a down-on-his-luck Broadway producer and his mild-mannered accountant come up with a scheme to produce the most notorious flop in history thereby bilking their backers (all "little old ladies") out of millions of dollars. Only one thing goes awry: the show is a smash hit! The antics of Max Bialystock and
Leo Bloom
as they maneuver their way fecklessly through finding a show (the gloriously offensive "Springtime For Hitler"), hiring a director, raising the money and finally going to prison for their misdeeds is a lesson in broad comic construction. At the core of the insanely funny adventure is a poignant emotional journey of two very different men who become friends.With a truly hysterical book co-written by
Mel B
rooks and
Thomas Meehan
(ANNIE) and music and lyrics by Mr. Brooks , THE PRODUCERS skewers Broadway traditions and takes no prisoners as it proudly proclaims itself an "equal opportunity offender!"
Click Here for More Information
JEKYLL & HYDE (B'WAY)
MILBURN STONE THEATRE AT CECIL COLLEGE
6/20-6/29/2014
A true musical theatre phenomenon, JEKYLL & HYDE attracted legions of loyal fans even before the show began its smash-hit Broadway run. An evocative tale of the epic battle between good and evil, JEKYLL & HYDE is based on
Robert Louis
Stevenson's classic story about a brilliant doctor whose experiments with human personality create a murderous counterpart. Convinced the cure for his father's mental illness lies in the separation of Man's evil nature from his good, Jekyll unwittingly unleashes his own dark side, wreaking havoc in the streets of London as the savage, maniacal Edward Hyde.This gothic musical is the perfect opportunity for your male and female stars to showcase their abilities. The show offers great flexibility for cast size and use of ensemble and its powerful rock score will require strong, versatile singers.
Click Here for More Information
PETER PAN
COMMUNITY CLGE OF BALTIMORE CNTY& COCKPIT IN COURT
6/13-6/29/2014
Click Here for More Information
LES MISERABLES
WAY OFF BROADWAY DINNER THEATRE
6/20-8/23/2014
This international smash-hit may be the most popular musical in the world. In 19th century France, Jean Valjean is released from 19 years of unjust imprisonment, but finds nothing in store for him but mistrust and mistreatment. He breaks his parole in hopes of starting a new life, initiating a life-long struggle for redemption as he is relentlessly pursued by police inspector Javert, who refuses to believe Valjean can change his ways. Finally, during the Paris student uprising of 1832, Javert must confront his ideals after Valjean spares his life and saves that of the student revolutionary who has captured the heart of Valjean's adopted daughter. His world-view shattered, Javert commits suicide, and Valjean at last attains the peace he has sought for so long.Epic, grand and uplifting, LES MISÉRABLES packs an emotional wallop that has thrilled audiences all over the world. The sung-through pop opera is ideal for a cast of exceptional singers and overflows with melodies that are already standards. A spectacle on Broadway and in London, LES MISÉRABLES is equally effective with a minimal set; it is its powerful affirmation of the human spirit that has made LES MISÉRABLES a popular masterpiece.
Click Here for More Information
View All Show Listings for Baltimore
Click Here to View BroadwayWorld.com Baltimore Calendar
Related Articles
From This Author BWW