Now Playing Onstage in Atlanta - Week of 8/31/2014
View All Show Listings for Atlanta
Click Here to View BroadwayWorld.com Atlanta Calendar
MARY POPPINS
AURORA THEATRE
7/24-9/7/2014
Click Here for More Information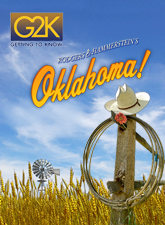 OKLAHOMA!
Front Porch Players
9/5-9/14/2014
The 'G2K' Getting To Know Series: Uniquely adapted musicals specifically for youth performers.
Rodgers & Hammerstein
's first collaboration remains, in many ways, their most innovative, having set the standards and established the rules of musical theatre still being followed today. Set in a Western Indian territory just after the turn of the century, the high-spirited rivalry between the local farmers and cowboys provides the colorful background against which Curly, a handsome cowboy, and Laurey, a winsome farm girl, play out their love story. Although the road to true love never runs smooth, with these two headstrong romantics holding the reins, love's journey is as bumpy as a surrey ride down a country road. That they will succeed in making a new life together we have no doubt, and that this new life will begin in a brand-new state provides the ultimate climax to the triumphant OKLAHOMA! In this adaptation for pre-high school students, the content has been edited to better suit younger attention spans, but all the elements that make this show a classic are still in place. You and your students will be enchanted by the timeless story and the dazzling score, while at the same time learning about theater and its production. Music by Rodgers, Richard; Book and Lyrics by
Oscar Hammerstein
II; Based on the play GREEN GROW THE LILACS by
Lynn Riggs
; Original Dances by
Agnes de Mille
Click Here for More Information
DISNEY'S MULAN JR
HOLLY THEATRE COMPANY
9/6-9/14/2014
Travel back to the legendary, story-telling days of ancient China with this action-packed stage adaptation of Disney's Mulan. The Huns have invaded, and it is up to the misfit Mulan and her mischievous sidekick Mushu to save the Emperor! Disney's MULAN JR. is a heartwarming celebration of culture, honor and a fighting spirit. The score includes favorites like "Reflection," "Honor to Us All" and "I'll Make a Man Out of You" as well as new songs that will get your audience up on its feet!
Click Here for More Information
View All Show Listings for Atlanta
Click Here to View BroadwayWorld.com Atlanta Calendar
Related Articles
From This Author BWW