Now Playing Onstage in Atlanta - Week of 6/29/2014
View All Show Listings for Atlanta
Click Here to View BroadwayWorld.com Atlanta Calendar
MARY POPPINS
PEACH STATE SUMMER THEATER
5/30-7/13/2014
Click Here for More Information
DISNEY'S THE JUNGLE BOOK KIDS
THOMSON MIDDLE SCHOOL
4/24-7/18/2014
The jungle is jumpin' with jazz is this exciting Disney classic! Join Mowgli, Baloo, King Louie and the gang as they swing their way through madcap adventures and thwart the ferocious tiger, Shere Khan. Specially adapted from the beloved film, this musical includes all your favorite Disney tunes, like "The Bare Necessities," and "I Wan'na Be Like You." With colorful characters and that toe-tapping jungle rhythm, Disney's THE JUNGLE BOOK KIDS is sure to be a crowd-pleaser for audiences of all ages.
Click Here for More Information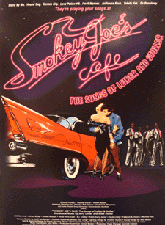 SMOKEY JOE'S CAFE - THE SONGS OF LEIBER AND STOLLER
Peach State Summer Theatre
6/20-7/26/2014
Leiber and Stoller, as much as anyone, virtually invented rock 'n' roll, and now their songs provide the basis for an electrifying entertainment that illuminates a golden age of American culture. In an idealized '50's setting, the classic themes of love won, lost and imagined blend with hilarious set-pieces and slice-of-life emotions. Featuring nearly 40 of the greatest songs ever recorded, SMOKEY JOE'S CAFE isn't just great pop music - it's compelling musical theatre.Words and Music by Leiber & Stoller
Click Here for More Information
MARY POPPINS
PEACH STATE SUMMER THEATER
6/6-7/26/2014
Click Here for More Information
DR. SEUSS' THE CAT IN THE HAT
CENTER FOR PUPPETRY ARTS
6/11-7/27/2014
From the moment his tall, red-and-white-striped hat appears around the door, Sally and her brother know that THE CAT IN THE HAT is the funniest, most mischievous cat they have ever met.With the trickiest of tricks and craziest of ideas, he is certainly fun to play with. And he turns a rainy afternoon into an amazing adventure. But what will mum find when she gets home...? The National Theatre's production of
Dr. Seuss
's THE CAT IN THE HAT is a lively, engaging "play with sound effects" for performance by adults for young children. Not a word has been touched or added to
Dr. Seuss
's classic, ensuring anyone who's read the story will find themselves transported into the world they've always imagined.
Click Here for More Information
View All Show Listings for Atlanta
Click Here to View BroadwayWorld.com Atlanta Calendar
Related Articles
From This Author BWW