Now Playing Onstage in Miami - Week of 10/28/2012
View All Show Listings for Miami
Click Here to View BroadwayWorld.com Miami Calendar
THE ROCKY HORROR SHOW LIVE
The Edge
10/18-10/31/2012
The biggest, baddest, rock and roll party of them all returns to Jacksonville! THE ROCKY HORROR SHOW is a wild and sexy production that you will not want to miss. Starring a cast of top Florida talent this production is a feast for the eyes, ears, and other parts we cant mention here. THE MUSICAL This interactive and in your face party features all your favorites, including Sweet Transvestite, Damn it Janet, and of course, the pelvic-thrusting TIME WARP, Richard OBriens ROCKY HORROR SHOW is a non-stop party! Ready to thrill you with its frothy, fun, and naughty moments, this is the boldest bash of them all, so sharpen those stilettos for the rockiest ride of your life! THE STORY On the way to visit an old college professor, two clean cut kids, Brad Majors and his fiance Janet Weiss, run into trouble and seek help at the site of a light down the road. Its coming from the Frankenstein place, where Dr. FranknFurter is in the midst of one of his maniacal experimentsFollow squeaky-clean sweethearts Brad and Janet on an adventure theyll never forget, with the scandalous Riff Raff, rippling Rocky and vivacious Magentaand a crew of creatures youll never forget!
Click Here for More Information
---
ANNIE JR
KINGS ACADEMY
11/1-11/3/2012
Leapin' Lizards! The popular comic strip heroine takes center stage in one of the world's best-loved musicals. With equal measures of pluck and positivity, little orphan ANNIE charms everyone's hearts, despite a next-to-nothing start in 1930s New York City. She is determined to find her parents, who abandoned her years ago on the doorstep of a New York City Orphanage run by the cruel, embittered Miss Hannigan. With the help of the other girls in the Orphanage, ANNIE escapes to the wondrous and magical world of NYC. In adventure after fun-filled adventure, ANNIE foils Miss Hannigan's evil machinations and befriends President Franklin Delano Roosevelt. She finds a new home and family in billionaire Oliver Warbucks, his personal secretary
Grace Farrell
, and a lovable mutt named Sandy.ANNIE JR. is ideal for productions involving different grade levels, or for middle schools where students may be maturing at different rates. The cast size and age range of the parts are flexible and the bright, tuneful score is easy to sing and filled with familiar numbers.
Click Here for More Information
---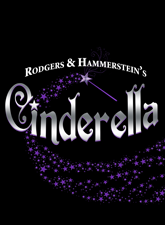 CINDERELLA (ENCHANTED EDITION)
Monsignor Pace High School
11/1-11/3/2012
The timeless enchantment of a magical fairy tale is reborn with the Rodgers & Hammerstein hallmarks of originality, charm and elegance. Originally presented on television in 1957 starring
Julie Andrews
, Rodgers & Hammerstein's CINDERELLA was the most widely viewed program in the history of the medium. Its recreation in 1965 starring
Lesley
Ann Warren
was no less successful in transporting a new generation to the miraculous kingdom of dreams-come-true, and so was a second remake in 1997, which starred Brandy as Cinderella and
Whitney Houston
as her Fairy Godmother. As adapted for the stage, with great warmth and more than a touch of hilarity, the hearts of children and adults alike still soar when the slipper fits. This Enchanted Edition is based on the 1997 teleplay.Music by Rodgers, Richard; Book and Lyrics by
Oscar Hammerstein
II; Adapted for the Stage by
Tom Briggs
; From the Teleplay by
Robert L. Freedman
For more information on Monsignor Pace High School, click hereFor more information on Cinderella (Enchanted Edition), click here
Click Here for More Information
---
PIPPIN
NEW TAMPA PLAYERS
10/26-11/4/2012
Once upon a time, a young prince longed to discover the secret of true happiness and fulfillment. He sought it in the glories of the battlefield,
The Temptations
of the flesh and the intrigues of political power (after disposing of his father King Charlemagne the Great). In the end, he found it in the simple pleasures of home and family. PIPPIN is a hip, tongue-in-cheek, anachronistic fairy tale that captivated Broadway audiences and continues to appeal to the young at heart everywhere (the show has become a staple on high school and college campuses). The energetic pop-influenced score by three-time Oscar®-winning composer/lyricist
Stephen Schwartz
(GODSPELL, CHILDREN OF EDEN, and the animated films Pocahontas, The Hunchback Of Notre Dame and The Prince Of Egypt) bursts with one showstopping number after another, from soaring ballads to infectious dance numbers. Featuring a strong ensemble cast and a show-stealing song-and-dance narrator, PIPPIN is equally effective as an intimate, black-box production (as envisioned by the authors) or as original director/choreographer Bob Fosse?s splashy, dance-driven spectacle, which included some of the most brilliant staging in Broadway history.
Click Here for More Information
---
GODSPELL
CREATIVE THEATER WORKSHOP INC
11/2-11/4/2012
Conceived and originally directed by John Michael Tebelak, with music and new lyrics by
Stephen Schwartz
, GODSPELL is one of the biggest off-Broadway and Broadway successes of all time.Based on the Gospel According to
St. Matthew
, and featuring a sparkling score by
Stephen Schwartz
, GODSPELL boasts a string of well-loved songs, led by the international hit, "Day By Day." As the cast performs "Prepare Ye The Way Of The Lord," "Learn Your Lessons Well," "All For The Best," "All Good Gifts," "Turn Back, O Man" and "By My Side," the parables of Jesus Christ come humanly and hearteningly to life.Drawing from various theatrical traditions, such as clowning, pantomime, charades, acrobatics and vaudeville, GODSPELL is a groundbreaking and unique reflection on the life of Jesus, with a message of kindness, tolerance and love.GODSPELL RETURNS Visit the official Godpell on Broadway site for tickets and more information on this new production.
Click Here for More Information
---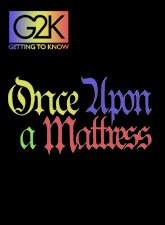 G2K ONCE UPON A MATTRESS
Osceola Center for the Arts
11/2-11/4/2012
The 'G2K' Getting To Know Series: Uniquely adapted musicals specifically for youth performers. If you thought you knew the story of 'The Princess and The Pea,' you may be in for a walloping surprise! Did you know, for instance, that Princess Winnifred actually swam the moat to reach Prince Dauntless the Drab? Or that it may not have been the pea at all that caused the princess a sleepless night? Carried on a wave of beguiling songs, by turns hilarious and raucous, romantic and melodic, this rollicking spin on the familiar classic of royal courtship and comeuppance provides for some side-splitting shenanigans. Chances are, you'll never look at fairy tales quite the same way again. In this adaptation for pre-high school students, the content has been edited to better suit younger actors and audiences, but all the magic, hilarity and fun of the original are still in place. G2K? ONCE UPON A MATTRESS is the perfect show to introduce young people to the magic of live theater. PLEASE NOTE: All schools wishing to peruse or perform a G2K musical should apply through theMusic by
Mary Rodgers
; Book by
Jay Thompson
&
Dean Fuller
&
Marshall Barer
; Lyrics by
Marshall Barer
For more information on Osceola Center for the Arts, click hereFor more information on G2K Once Upon a Mattress, click here
Click Here for More Information
---
THE ROCKY HORROR SHOW
Crest Theatre at the Delray Center for the Arts at Old School Square
10/25-11/4/2012
The Rocky Horror Show is an outrageous assemblage of the most stereotypical science fiction movies, Marvel comics,
Frankie Avalon
/
Annette Funicello
outings and rock 'n' roll of every vintage. The play (upon which the classic film The Rocky Horror Picture Show is based) has grown from an experimental production originally produced in a small London theatre to a cult phenomenon with fans world-wide.
Click Here for More Information
---
SUMMER AND SMOKE
The School of Theatre at Florida State
11/2-11/11/2012
By
Tennessee Williams
Directed by
Michael Hayden
Isn't that funny? I'm more afraid of your soul than you're afraid of my body. — John Set in the early years of the 20th century Alma Winemiller, a very proper and spinsterish minister's daughter, and
John Buchan
an, the bad-boy doctor next door, share an anatomy lesson about the body and soul. Alma seeks love but her upbringing only allows her the spiritual kind; John is focused solely on the fulfillment of the body. While the two come to understand each other with more clarity, their transformations are neither neat nor simple.
Click Here for More Information
---
RACE
Orlando Shakespeare Theater
10/10-11/11/2012
Fresh from Broadway, this high-voltage comedy tackles the most incendiary topic of our time. Three attorneys, two black and one white, are called on to represent a wealthy white man charged with assaulting a young black woman. With the palpable tension of a fierce cross-examination and no shortage of wry humor, Race fearlessly challenges our perceptions of race, guilt, justice, and truth.
Click Here for More Information
---
THE MUSICAL ADVENTURES OF FLAT STANLEY JR
BROADWAY PALM DINNER THEATRE
10/16-11/16/2012
The beloved children's book written by
Jef
F Brown
in 1964 has become a literary and pop cultural phenomenon - delighting readers and travelers all around the world. And now, MTI has taken everyone's favorite two-dimensional hero and given him a new life on the stage in THE MUSICAL ADVENTURES OF FLAT STANLEY JR.Stanley Lambchop is your ordinary, every day, run-of-the-mill ten-year-old: normal mom and dad, normal little brother, normal life. That's just the problem...for Stanley, life is too normal. He wants to travel the world, do something amazing, something no one's ever seen before. Careful what you wish for, Stanley!One night, the bulletin board on the wall above Stanley's bed comes loose and falls - right on top of Stanley! The next morning, Stanley Lambchop wakes up flat. Not just a little flat...really, REALLY flat! I n a whirlwind musical travelogue, Stanley - the ultimate exchange student - scours the globe for a solution to his unusual problem. He's stamped, posted and cancelled from Hollywood to France to Honolulu and beyond. And whether he's thwarting a robbery at the Louvre Museum in Paris, or 'hanging ten' off the coast of Hawaii, Stanley is closing in on his goal of being a three-dimensional boy once more.
Click Here for More Information
---
DISNEY'S THE LITTLE MERMAID JR
SHOWTIME DANCE & PERFORMING ARTS THEATRE
9/29-11/17/2012
In a magical kingdom fathoms below, the beautiful young mermaid Ariel longs to leave her ocean home to live in the world above. But first,
Click Here for More Information
---
ROMEO + JULIET
freeFall Theatre Company
10/26-11/18/2012
"Two households, both alike in dignity, in fair Verona where we lay our scene." So begins one of the most widely known and best-loved plays in the English language. An ensemble of 8 versatile actors will bring the classic to life in this vibrant staging of Shakespeare's masterpiece. Join us as freeFall builds on its award-winning approach to Shakespeare's plays (Creative Loafing's Best of the Bay, BroadwayWorld Florida Awards). Prepare to be surprised.
Click Here for More Information
---
A YEAR WITH FROG AND TOAD
Orlando Shakespeare Theater
10/20-11/18/2012
A Broadway musical for the whole family! A Tony Award Nominee for Best Musical, this whimsical story celebrates an unlikely friendship between an eternally optimistic Frog and a rather grumpy Toad as they try to keep their sleds on the ground, kites in the air, and themselves from devouring cookies. Their friendship flourishes through triumphs and challenges, sending a heart-warming message to the whole family.
Click Here for More Information
---
DELVAL DIVAS
The Willow Theatre at Sugar Sand Park
11/2-11/18/2012
Delval Divas is a contemporary comedy about four educated, successful, professional women who share something in common: The same address. They reside at the Delaware Valley Federal Correctional Facility, a low-level security prison for white and "pink" collar criminals. With the Warden in one pocket and their cell block guard in another, the "Divas" continue to indulge their lavish and luxurious lifestyles until one of them is prematurely released and a murderess moves into her place.
Click Here for More Information
---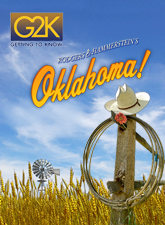 OKLAHOMA!
Vero Beach
Theatre Guild
11/6-11/25/2012
The 'G2K' Getting To Know Series: Uniquely adapted musicals specifically for youth performers.
Rodgers & Hammerstein
's first collaboration remains, in many ways, their most innovative, having set the standards and established the rules of musical theatre still being followed today. Set in a Western Indian territory just after the turn of the century, the high-spirited rivalry between the local farmers and cowboys provides the colorful background against which Curly, a handsome cowboy, and Laurey, a winsome farm girl, play out their love story. Although the road to true love never runs smooth, with these two headstrong romantics holding the reins, love's journey is as bumpy as a surrey ride down a country road. That they will succeed in making a new life together we have no doubt, and that this new life will begin in a brand-new state provides the ultimate climax to the triumphant OKLAHOMA! In this adaptation for pre-high school students, the content has been edited to better suit younger attention spans, but all the elements that make this show a classic are still in place. You and your students will be enchanted by the timeless story and the dazzling score, while at the same time learning about theater and its production. PLEASE NOTE: All schools wishing to peruse or perform a G2K musical should apply through theMusic by Rodgers, Richard; Book and Lyrics by
Oscar Hammerstein
II; Based on the play GREEN GROW THE LILACS by
Lynn Riggs
; Original Dances by
Agnes De Mille
For more information on Vero Beach
Theatre Guild
, click hereFor more information on Oklahoma!, click here
Click Here for More Information
---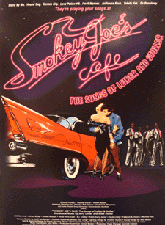 SMOKEY JOE'S CAFE - THE SONGS OF LEIBER AND STOLLER
Florida
Studio Theatre
10/31-1/27/2013
Leiber and Stoller, as much as anyone, virtually invented rock 'n' roll, and now their songs provide the basis for an electrifying entertainment that illuminates a golden age of American culture. In an idealized '50's setting, the classic themes of love won, lost and imagined blend with hilarious set-pieces and slice-of-life emotions. Featuring nearly 40 of the greatest songs ever recorded, SMOKEY JOE'S CAFE isn't just great pop music - it's compelling musical theatre.Words and Music by Leiber & StollerFor more information on Florida
Studio Theatre
, click hereFor more information on Smokey Joe's Cafe - The Songs of Leiber and Stoller, click here
Click Here for More Information
---
View All Show Listings for Miami
Click Here to View BroadwayWorld.com Miami Calendar
Related Articles
From This Author BWW