Now Playing Onstage in Jackson, MS - Week of 2/16/2014
View All Show Listings for Jackson, MS
Click Here to View BroadwayWorld.com Jackson, MS Calendar
WAIT UNTIL DARK
Meridian Little Theatre
2/13-2/19/2014
A Broadway hit and movie starring
Audrey Hepburn
, this masterfully constructed thriller moves from one moment of suspense to another as it builds toward an electrifying, breath-stopping final scene. A first rate shocker.
Click Here for More Information
MOZART'S CLARINET CONCERTO
Mississippi Symphony Orchestra
2/22-2/22/2014
An amazing trio: MSO Principal Clarinet Ken Graves presents Mozart's Clarinet Concerto between Rimsky-Korsakov's orchestral showpiece Capriccio Espagnol and
Serge Prokofiev
's powerful Symphony No. 5
Click Here for More Information
STEEL MAGNOLIAS
Starkville Community Theatre
2/13-2/22/2014
The action is set in Truvy's beauty salon in Chinquapin, Louisiana, where all the ladies who are "anybody" come to have their hair done. Helped by her eager new assistant, Annelle (who is not sure whether or not she is still married), the outspoken, wise-cracking Truvy dispenses shampoos and free advice to the town's rich curmudgeon, Ouiser, ("I'm not crazy, I've just been in a bad mood for forty years"); an eccentric millionaire, Miss Clairee, who has a raging sweet tooth; and the local social leader, M'Lynn, whose daughter, Shelby (the prettiest girl in town), is about to marry a "good ole boy." Filled with hilarious repartee and not a few acerbic but humorously revealing verbal collisions, the play moves toward tragedy when, in the second act, the spunky Shelby (who is a diabetic) risks pregnancy and forfeits her life. The sudden realization of their mortality affects the others, but also draws on the underlying strength-and love-which give the play, and its characters, the special quality to make them truly touching, funny and marvelously amiable company in good times and bad.
Click Here for More Information
CURTAINS
Belhaven University
2/13-2/22/2014
Click Here for More Information
COMPLETELY HOLLYWOOD (ABRIDGED)
Biloxi Little Theatre
2/21-2/23/2014
Click Here for More Information
A NIGHT AT THE WAX MUSEUM
Gulfport Little Theatre
2/14-2/23/2014
Click Here for More Information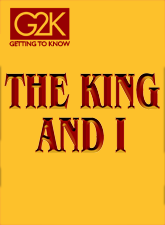 THE KING AND I
Ripley
Arts Council
2/18-2/23/2014
The 'G2K' Getting To Know Series: Uniquely adapted musicals specifically for youth performers. East versus West makes for a dramatic, richly textured and ultimately uplifting tale of enormous fascination. It is 1862 in Siam when an English widow,
Anna Leon
owens, and her young son arrive at the Royal Palace in Bangkok, having been summoned by the King to serve as tutor to his many children and wives. The King is largely considered to be a barbarian by those in the West and he seeks Anna's assistance in changing his image, if not his ways. With both keeping a firm grip on their respective traditions and values, Anna and the King grow to understand and, eventually, respect one another, in a truly unique love story. In this adaptation for pre-high school students, the content has been edited to better suit younger attention spans, but all the magic and beauty of the original are still in place. You and your students will be enchanted by the timeless story and the dazzling score, while at the same time learning about theater and its production. PLEASE NOTE: All schools wishing to peruse or perform a G2K musical should apply through theMusic by Rodgers, Richard; Book and Lyrics by
Oscar Hammerstein
II
Click Here for More Information
THE RANSOM OF RED CHIEF
Corinth Theatre-Arts Playhouse
2/25-2/28/2014
This adaption of
O. Henry
's short story, from A.
Keith Smith
of the Arkansas Arts Center Children's Theatre, is CT-A's traveling school show for the season. The story follows two hapless men trying to make some fast money when they arrive in the small town of Summit, Alabama. They decide to kidnap a local banker's son. But the plan starts to unravel when the three go on a camping trip -- the boy dons the persona of Red Chief and terrorizes the two men so much that they gradually lower their ransom demand as they suffer from Red Chief's playful antics and pranks. And, of course, as with most
O. Henry
stories, there's a twist you won't see coming. This comedy is an excellent way to teach about irony and exaggeration.
Click Here for More Information
MARISOL
The University of Mississippi - Meek Auditorium
2/20-3/1/2014
In February we open Marisol in Meek Auditorium. Written by Jose Rivera, this show is set in a post-apocalyptic future where a war in heaven spills over into New York City, reducing it to a smoldering urban wasteland where giant fires send noxious smoke to darken the skies, where the moon has not been seen in months, where the food has been turned to salt, and water no longer seeks its level. Alone, without her guardian angel, Marisol begins a nightmare journey into this new war zone.
Click Here for More Information
MAN OF LA MANCHA
Vicksburg
Theatre Guild
2/21-3/2/2014
A play-within-a-play, the beloved musical MAN of LA MANCHA is the story of the author of Don Quixote,
Miguel de Cervantes
, aged and dying, thrown into a dungeon in Seville to await trial by the Spanish Inquisition. Donning makeup and costume, Cervantes and his faithful manservant transform themselves into Don Quixote and
Sancho Panza
and proceed to play out the inspiring story with the participation of the prisoners as other characters.
Click Here for More Information
THE WHIPPING MAN
New Stage Theatre
2/25-3/9/2014
In the post-Civil War South, three men are tied to each other by history and faith, but are also bound by secrets. A badly wounded Jewish Confederate soldier returns home at war's end to find that his family has fled to the countryside. Remaining in the city mansion are two former slaves, also raised by his family as Jews. With Passover upon them, the three men unite to celebrate the holiday, even as they struggle to comprehend their new relationships at a crossroads of personal and national history.
Click Here for More Information
THE WIZARD OF OZ
Actor's Playhouse
1/30-3/20/2014
Is there a soul alive who has not been swept away by the wonder of
L. Frank Baum
's masterpiece? After a tornado whisks her away to the magical land of OZ, young Kansas farm girl Dorothy Gale teams up with a Scarecrow, a Tin Woodsman and a Cowardly Lion to avoid the clutches of the Wicked Witch Of The West and find the mighty Wizard who can send her home. Originally produced by the award-winning Prince Street Players, this funny and clever musical is sure to entertain both the largest and smallest of munchkins!
Click Here for More Information
View All Show Listings for Jackson, MS
Click Here to View BroadwayWorld.com Jackson, MS Calendar
Related Articles
From This Author BWW