Now Playing Onstage in Denver - Week of 12/23/2012
View All Show Listings for Denver
Click Here to View BroadwayWorld.com Denver Calendar
THE NUTCRACKER
Ellie Caulkins Opera House
11/24-12/24/2012
Colorado Ballet will light up the stage and delight audiences of all ages for the 52nd year with Colorado's favorite holiday tradition, The Nutcracker, presented by KeyBank, November 24 through December 24, 2012 at the Ellie Caulkins Opera House. This production will dazzle audiences with glittering snowflakes, shimmering sugarplums, unforgettable characters and stunning costumes and scenery by José Varona. The professional dancers of Colorado Ballet, along with 40 young dancers from Colorado, create larger-than-life holiday magic in every performance. This seasonal tradition features classic choreography paired with Tchaikovsky's extraordinary score performed live by the Colorado Ballet Orchestra. Performance schedule: Saturday Nov 24, 2012 @ 2 pm Saturday Nov 24, 2012 @ 7:30 pm Sunday Nov 25, 2012 @ 2 pm Saturday Dec 1, 2012 @ 2 pm Saturday Dec 1, 2012 @ 7:30 pm Sunday Dec 2, 2012 @ 2 pm Friday Dec 7, 2012 @ 7:30 pm Saturday Dec 8, 2012 @ 2 pm Saturday Dec 8, 2012 @ 7:30 pm Sunday Dec 9, 2012 @ 2 pm Friday Dec 14, 2012 @ 7:30 pm Saturday Dec 15, 2012 @ 2 pm Saturday Dec 15, 2012 @ 7:30 pm Sunday Dec 16, 2012 @ 2 pm Sunday Dec 16, 2012 @ 6:30 pm Tuesday Dec 18, 2012 @ 1 pm Wednesday Dec 19, 2012 @ 1 pm Fri Dec 21, 2012 @ 1 pm Fri Dec 21, 2012 @ 6:30 pm Saturday Dec 22, 2012 @ 2 pm Saturday Dec 22, 2012 @ 7:30 pm Sunday Dec 23, 2012 @ 2 pm Sunday Dec 23, 2012 @ 6:30 pm Monday Dec 24, 2012 @ 1 pm
Click Here for More Information
PLAID TIDINGS
MIDTOWN ARTS CENTER
11/29-12/29/2012
FOREVER PLAID: PLAID TIDINGS is a brand-new show that offers the best of FOREVER PLAID tied-up in a nifty package with a big Christmas bow on top! Filled with Christmas standards that have all been ?Plaid-erized,? our boys are back to do their Christmas Special.At first Francis, Jinx, Smudge, and Sparky aren?t sure why they?ve returned to Earth for another posthumous performance, but a phone call from the heavenly
Rosemary Clooney
lets them know that they?re needed to put a little harmony into a discordant world. Sprinkled among the Christmas offerings are audience favorites like their riotous three minute and eleven second version of ?The
Ed Sullivan
Show? - this time featuring
The Rockettes
, the Chipmunks and The Vienna Boys Choir, and a Plaid Caribbean Christmas which puts the ?Day-O? in Excelsis!This truly "heaven-sent" holiday treat will lift audiences' spirits and remind youngsters that not all good music has to be auto-tuned.
Click Here for More Information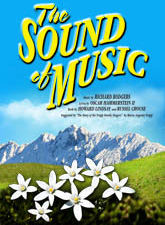 THE SOUND OF MUSIC
Town Hall Arts Center
11/15-12/30/2012
The final collaboration between Rodgers & Hammerstein was destined to become the world's most beloved musical. When a postulant proves too high-spirited for the religious life, she is dispatched to serve as governess for the seven children of a widowed naval Captain. Her growing rapport with the youngsters, coupled with her generosity of spirit, gradually captures the heart of the stern Captain, and they marry. Upon returning from their honeymoon they discover that Austria has been invaded by the Nazis, who demand the Captain's immediate service in their navy. The family's narrow escape over the mountains to Switzerland on the eve of World War II provides one of the most thrilling and inspirational finales ever presented in the theatre. The motion picture version remains the most popular movie musical of all time.Music by Rodgers, Richard; Lyrics by
Oscar Hammerstein
II; Book by
Howard Lindsay
&
Russel Crouse
; Suggested by For more information on Town Hall Arts Center, click hereFor more information on The Sound of Music, click here
Click Here for More Information
I DO! I DO!
HIGH DESERT OPERA
12/31-1/5/2013
The story of a marriage is at the center of I DO! I DO! - an intimate and nostalgic work by
Harvey Schmidt
and
Tom Jones
(THE FANTASTICKS).The show begins with Michael and Agnes on their wedding day. Their vows behind them, they look forward to spending the rest of their lives together. We watch as they go through their wedding night jitters, raise a family, and negotiate mid-life crises. Michael eventually admits to his infidelity, and although Agnes is angered by his actions, she forgives him and the couple reconciles. They re-discover how much they really need each other. Then, after 50 years of marriage, the couple leaves their house to the next pair of newlyweds.This touching story of two soul mates navigating the perils of life is set to the strains of a tuneful, charming score. With minimal set and costume requirements, this show is ideal for regional theatre companies on a limited budget and smaller troupes.
Click Here for More Information
NEXT TO NORMAL
LUCENT PERFORMING ARTS, D.B.A. IGNITE THEATRE
12/21-1/6/2013
Pulitzer-Prize winning rock musical NEXT TO NORMAL, with book and lyrics by
Brian Yorkey
and music by
Tom Kitt
, explores how one suburban household copes with crisis and mental illness.NEXT TO NORMAL tells the story of a mother, Diane Goodman, who struggles with bipolar disorder and the effect that her illness has on her family. This contemporary musical is an emotional powerhouse that addresses such issues as grieving a loss, ethics in modern psychiatry, and suburban life. With provocative lyrics and a thrilling score, this musical shows how far two parents will go to keep themselves sane and their family's world intact.NEXT TO NORMAL is a deeply moving piece of theatre that provides a wonderful opportunity for performers to explore dramatic material and showcase vocal talents with an energetic pop/rock score. This show is ideal for community theaters, as well as colleges and regional theatre companies.
Click Here for More Information
View All Show Listings for Denver
Click Here to View BroadwayWorld.com Denver Calendar
Related Articles
From This Author BWW