Now Playing Onstage in Charlotte - Week of 5/18/2014
View All Show Listings for Charlotte
Click Here to View BroadwayWorld.com Charlotte Calendar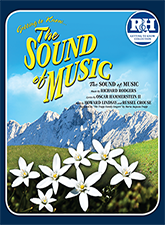 GETTING TO KNOW... THE SOUND OF MUSIC
Creative Drama Children's Theatre
5/23-5/24/2014
Getting to Know... The Sound of Music is the newest adaptation in the Getting to Know Collection, unique musicals designed for youth performers.The final collaboration between
Rodgers & Hammerstein
- The Sound of Music - was destined to become the world's most beloved musical. When a postulant proves too high-spirited for the religious life, she is dispatched to serve as governess for the seven children of a widowed naval Captain. Her growing rapport with the youngsters, coupled with her generosity of spirit, gradually captures the heart of the stern Captain, and they marry. Upon returning from their honeymoon they discover that Austria has been invaded by the Nazis, who demand the Captain's immediate service in their navy. The family's narrow escape over the mountains to Switzerland on the eve of World War II provides one of the most thrilling and inspirational finales ever presented in the theatre. The motion picture version remains the most popular movie musical of all time.Created by
Rodgers & Hammerstein
with iTheatrics, Getting to Know... The Sound of Music hasMusic by Rodgers, Richard; Lyrics by
Oscar Hammerstein
II; Book by
Howard Lindsay
&
Russel Crouse
; Adapted by
Tom Briggs
& Timothy
Allen McDonald
; Suggested by
Click Here for More Information
THE PHANTOM OF THE OPERA
The Peace Center
5/14-5/25/2014
Following an acclaimed sold-out tour of the United Kingdom,
Cameron Mackintosh
's spectacular new production of
Andrew Lloyd Webber
's phenomenal musical success, THE PHANTOM OF THE OPERA, sets out on a brand new North American Tour. Critics are raving that this breathtaking production is "bigger and better than ever before." This PHANTOM features a brilliant new scenic design by
Paul Brown
, Tony Award-winning original costume design by Maria Bjornson, lighting design by Tony Award winner
Paule Constable
, new choreography by
Scott Ambler
, and a new staging by director Laurence Connor. The production, overseen by
Matthew Bourne
and
Cameron Mackintosh
, boasts many exciting special effects including the show's legendary chandelier. The beloved story and thrilling score - with songs like "Music of the Night," "All I Ask Of You," and "Masquerade" - will be performed by a cast and orchestra of 52, making this PHANTOM one of the largest productions now on tour.
Click Here for More Information
ANGELS IN AMERICA
Carolina Actors
Studio Theatre
5/7-5/31/2014
CAST presents
Tony Kushner
's Pulitzer Prize- and two-time Tony Award winning play "Angels In America."
Click Here for More Information
WE WILL ROCK YOU
Blumenthal Performing Arts Center, Belk Theater
5/27-6/1/2014
From London's West End, the worldwide smash hit musical by Queen and
Ben Elton
comes to Charlotte! WE WILL ROCK YOU is set in a future age of mindless manufactured music and unoriginality, where an unlikely resistance - an alliance of rebel Bohemians - waits for a hero to bring the power of rock back to the people. Now in its 11th year in London, this hilarious, multi-award-winning and record-breaking phenomenon boasts a fantastic score of killer tunes from legendary group Queen, such as "Another One Bites the Dust," "Crazy Little Thing Called Love," "We Are the Champions," "Bohemian Rhapsody," and of course, "We Will Rock You." It's the world champion of musicals and the show that rocks harder than any other, so don't miss the party!
Click Here for More Information
WE WILL ROCK YOU
North Carolina Blumenthal Performing Arts Center [Belk Theater]
5/27-6/1/2014
In its 11th smash year in London, with productions having occurred all over the world -Australia, Russia, Germany, Japan, Spain, South Africa, South Korea, Switzerland, Italy, Sweden, Canada, and Austria to name a few- WE WILL ROCK YOU, featuring the music of QUEEN, comes to North America for its first National Tour, beginning in the fall of 2013. Seen by more than 15 million people worldwide, WE WILL ROCK YOU is a guitar-thrashing, leather clad musical based on over two dozen QUEEN songs with a script and direction by ben Elton, music supervision by QUEEN,
Roger Taylor
and
Brian May
, and produced by Phil McIntyre Entertainment,
Tribeca Theatrical Productions
and Queen Theatrical Productions.
Click Here for More Information
WE WILL ROCK YOU
Belk Theater- Blumenthal Performing Arts Center
5/27-6/1/2014
A futuristic, sci-fi musical featuring the songs of Queen. In a world where globilization has wiped out individuality, everything is spoon-fed to you. You are told what music to listen to, what movies to watch, what clothes to wear, and even what thoughts to think. However, a group of youths search for instruments to play music the way they want it played.
Click Here for More Information
BREAKING UP IS HARD TO DO
Haywood Arts Regional Theatre
5/23-6/15/2014
Click Here for More Information
View All Show Listings for Charlotte
Click Here to View BroadwayWorld.com Charlotte Calendar
Related Articles
From This Author BWW