Now Playing Onstage in Appleton, WI - Week of 7/06/2014
View All Show Listings for Appleton, WI
Click Here to View BroadwayWorld.com Appleton, WI Calendar
THE 25TH ANNUAL PUTNAM COUNTY SPELLING BEE
EAU CLAIRE CHILDRENS THEATRE
7/10-7/13/2014
Six young people in the throes of puberty, overseen by grown-ups who barely managed to escape childhood themselves, learn that winning isn't everything and that losing doesn't necessarily make you a loser.THE 25TH ANNUAL PUTNAM COUNTY SPELLING BEE is a hilarious tale of overachievers' angst chronicling the experience of six adolescent outsiders vying for the spelling championship of a lifetime. The show's Tony Award winning creative team has created the unlikeliest of hit musicals about the unlikeliest of heroes: a quirky yet charming cast of outsiders for whom a spelling bee is the one place where they can stand out and fit in at the same time.
Click Here for More Information
CURTAINS
Kettle Moraine High School
7/11-7/19/2014
Click Here for More Information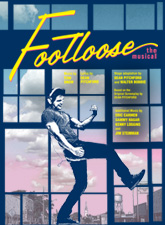 FOOTLOOSE
Hardscrabble Players
7/9-7/19/2014
One of the most explosive movie musicals in recent memory bursts onto the live stage with exhilarating results. When Ren and his mother move from Chicago to a small farming town, Ren is prepared for the inevitable adjustment period at his new high school. What he isn't prepared for are the rigorous local edicts, including a ban on dancing instituted by the local preacher, determined to exercise the control over the town's youth that he cannot command in his own home. When the reverend's rebellious daughter sets her sights on Ren, her roughneck boyfriend tries to sabotage Ren's reputation, with many of the locals eager to believe the worst about the new kid. The heartfelt story that emerges is of a father longing for the son he lost and of a young man aching for the father who walked out on him. To the rockin' rhythm of its Oscar and Tony-nominated top 40 score (the soundtrack album reached number one on the Billboard charts and has sold over 15 million copies!) and augmented with dynamic new songs for the stage musical, FOOTLOOSE celebrates the wisdom of listening to young people, guiding them with a warm heart and an open mind.Music by
Tom Snow
; Lyrics by
Dean Pitchford
; Stage Adaptation by
Dean Pitchford
and
Walter Bobbie
; Based on the original screenplay by
Dean Pitchford
; Additional Music by
Eric Carmen
,
Sammy Hagar
,
Kenny Loggins
and
Jim Steinman
Click Here for More Information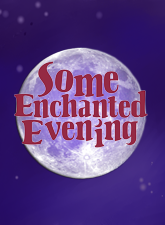 SOME ENCHANTED EVENING - THE SONGS OF RODGERS & HAMMERSTEIN
La Crosse Community Theatre
7/10-7/26/2014
More so than any composer and lyricist who have written for the stage, the songs of Rodgers & Hammerstein have become an integral part of our everyday lives. We sing them in the shower, we dance to them in ballrooms, we hear them on the radio and in clubs and, yes, in elevators and supermarkets too. We still thrill to them on the live stage in their respective shows, and we teach them to our children. This stunning collection of compositions places five performers in a theatrical setting-first 'backstage,' where the songs are sung as personal interplay, and then 'onstage.' While offering the performers an opportunity to explore the songs within their own styles and sensibilities, it offers the audience a glorious parade of genuine hits.Music by Rodgers, Richard; Lyrics by
Oscar Hammerstein
II; Concept by
Jeffrey B. Moss
; For
Jerry Kravat
Entertainment Services, Inc.
Click Here for More Information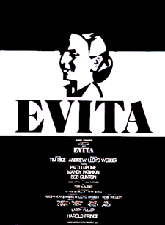 EVITA
Theatre on Main
7/11-7/27/2014
Argentina's controversial First Lady is the subject of this dynamic musical masterpiece. As an illegitimate fifteen year old, Eva escaped her dirt-poor existence for the bright lights of Buenos Aires. Driven by ambition and blessed with charisma, she was a starlet at twenty-two, the president's mistress at twenty-four, First Lady at twenty-seven, and dead at thirty-three. Eva Peron 'saint to the working-class, reviled by the aristocracy and mistrusted by the military' was destined to leave a fascinating political legacy unique in the 20th century. Told through a compelling score that fuses haunting chorales with exuberant Latin, pop and jazz influences, EVITA creates an arresting theatrical portrait as complex as the woman herself.Lyrics by
Tim Rice
; Music by
Andrew Lloyd Webber
Click Here for More Information
INTO THE WOODS
HAYLOFTERS INC
7/10-7/27/2014
The Brothers Grimm
hit Broadway with an epic fairytale where worlds collide.
James Lapine
and
Stephen Sondheim
take everyone's favorite storybook characters and brings them together for a timeless yet relevant piece and rare modern classic.The story follows a Baker and his wife who wish to have a child, Cinderella who wishes to attend the King's Festival, and Jack who wishes his cow would give milk. When the Baker and his wife learn that they cannot have a child because of a Witch's curse, the two set off on a journey to break the curse. Everyone's wish is granted, but the consequences of their actions return to haunt them later with disastrous results.One of Sondheim's most popular works, INTO THE WOODS is a musically sophisticated show with the opportunity to feature actors adept at dark comedy. Designers will especially enjoy highlighting the fantastical elements of this magical word.
Click Here for More Information
View All Show Listings for Appleton, WI
Click Here to View BroadwayWorld.com Appleton, WI Calendar
Related Articles
From This Author BWW