Now Playing Onstage in Washington, DC - Week of 6/01/2014
View All Show Listings for Washington, DC
Click Here to View BroadwayWorld.com Washington, DC Calendar
HENRY IV, PARTS 1 AND 2
The
Shakespeare Theatre Company
3/25-6/8/2014
Sidney Harman Hall:
William Shakespeare
; dir:
Michael Kahn
.
Click Here for More Information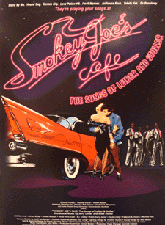 SMOKEY JOE'S CAFE - THE SONGS OF LEIBER AND STOLLER
Arena Stage
4/25-6/8/2014
Leiber and Stoller, as much as anyone, virtually invented rock 'n' roll, and now their songs provide the basis for an electrifying entertainment that illuminates a golden age of American culture. In an idealized '50's setting, the classic themes of love won, lost and imagined blend with hilarious set-pieces and slice-of-life emotions. Featuring nearly 40 of the greatest songs ever recorded, SMOKEY JOE'S CAFE isn't just great pop music - it's compelling musical theatre.Words and Music by Leiber & Stoller
Click Here for More Information
SMOKEY JOE?S CAF
Arena Stage
4/25-6/8/2014
Jerry Leiber
,
Mike Stoller
; dir:
Randy Johnson
.
Click Here for More Information
WE WILL ROCK YOU
Warner Theatre
6/3-6/8/2014
A futuristic, sci-fi musical featuring the songs of Queen. In a world where globilization has wiped out individuality, everything is spoon-fed to you. You are told what music to listen to, what movies to watch, what clothes to wear, and even what thoughts to think. However, a group of youths search for instruments to play music the way they want it played.
Click Here for More Information
HEALING WARS
Arena Stage
at the Mead Center for American Theater
6/6-6/29/2014
World premiere. June 6-29, 2014 in the Arlene and Robert Kogod Cradle A pioneer in the world of contemporary dance,
Liz Lerman
's newest theatrical dance piece explores the experiences of the healers tasked with treating the physical and psychic wounds of battle. Joined by
Bill Pullman
(Independence Day, 1600 Penn), an ensemble of dancers represent medics and soldiers from the Civil War to today. Called "the source of an epochal revolution in the scope and purposes of dance art" (Washington Post), Lerman's work has been performed throughout the U.S. and abroad. After 34 years as founding artistic director of
Liz Lerman
Dance Exchange, Lerman presents her singular aesthetic to audiences in this exciting world premiere about how we experience and recover from war.
Click Here for More Information
THE TOTALITARIANS
WOOLLY MAMMOTH THEATRE COMPANY
6/2-6/29/2014
Francine, the ambitious speechwriter for a rich housewife's vanity campaign for public office, has stumbled upon pure gold: a perfectly patriotic slogan. So what if it's totally meaningless? And so what if her doctor husband disapproves? With it Francine can turn the campaign around and make her unpredictable, gaffe-prone candidate electrifyingly powerful-and finally, just maybe, get herself out of Nebraska.
Click Here for More Information
View All Show Listings for Washington, DC
Click Here to View BroadwayWorld.com Washington, DC Calendar
Related Articles
From This Author BWW