Now Playing Onstage in Milwaukee, WI - Week of 7/20/2018
View All Show Listings for Milwaukee, WI
Click Here to View BroadwayWorld.com Milwaukee, WI Calendar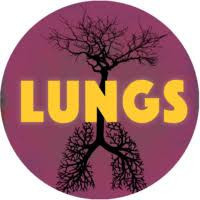 LUNGS
Third Avenue Playhouse
6/28-7/21/2018
By Duncan MacMillan Directed by Robert Boles Content Advisory: Contains strong language and sexual situations. Not recommended for ages 13 and under. Featuring: Nick Narcisi & Elodie Senetra LUNGS is a smart and funny drama that follows a couple through the surprising lifecycle of their relationship as they grapple with questions of family and change, hope, betrayal, happenstance, and the terrible pain that you can only cause the people you love. "Duncan Macmillan's distinctive, off-kilter love story is brutally honest, funny, edgy and current. It gives voice to a generation for whom uncertainty is a way of life through two flawed, but deeply human, people who you don't always like but start to feel you might love. …bravely written, startlingly structured…" -The Guardian (UK). "…a dazzling piece. At the core of this play is a beautifully crafted love story that is not only intensely personal but also poignantly universal. LUNGS has heart. And it never misses a beat." -The Toronto Star.
Click Here for More Information
MISS HOLMES
Peninsula Players Theatre
7/4-7/22/2018
Miss Holmes (July 4-July 22) by Christopher M. Walsh. Based on characters by Sir Arthur Conan Doyle. A riveting murder mystery. In this deadly and thrilling story, Sherlock Holmes and Doctor Watson are brave, intelligent and independent women in Victorian England. Neither abide by the social class conventions of their time - to their peril. Instead, they pursue helping those in desperate need. Trapped in an era that refuses to accept them, these unconventional professionals work together, trying to help a young wife whose husband, a high-ranking, but corrupt, Scotland Yard investigator, is suspected of murdering his previous two wives. Curtain times Tuesday through Saturday, at 8 PM; Sunday at 7:30 PM* *Except Sunday, July 22 at 4 PM. No shows on Mondays.
Click Here for More Information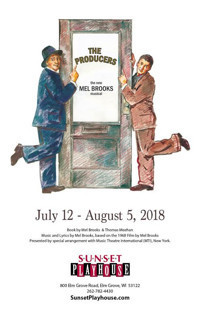 THE PRODUCERS
Sunset Playhouse
7/12-8/5/2018
A down-on-his-luck Broadway producer and his mild-mannered accountant come up with a scheme to produce the most notorious flop in history, thereby bilking their backers (all "little old ladies") out of millions of dollars. Only one thing goes awry: the show is a smash hit! Enjoy the antics of Max Bialystock and Leo Bloom as they maneuver their irresponsible way through finding a show (the gloriously offensive "Springtime for Hitler"), hiring a director, raising the money and finally going to prison for their misdeeds. At the core of the insanely funny adventure is a poignant emotional journey of two very different men who become friends.
Click Here for More Information
THE DROWSY CHAPERONE
Peninsula Players Theatre
7/25-8/12/2018
The Drowsy Chaperone (July 25 – August 12) Music & Lyrics by Lisa Lambert and Greg Morrison, Book by Bob Martin and Don McKellar. A delightfully smart and funny Jazz Age musical with show-stopping song and dance numbers. As a rare recording plays, a musical-theater fan's sparse apartment transforms into a glittering Broadway set. Transported into the bubbly musical, we meet a young couple, a harried best man, a Broadway impresario, an absent-minded dowager, two gangsters posing as pastry chefs, a ditzy chorus girl, a very misguided Don Juan and a tipsy chaperone. Sit back and enjoy this entertaining fictional gem from musical theater's Golden Age. Curtain times Tuesday through Saturday, at 8 PM; Sunday at 7:30 PM* *Except Sunday, August 12 at 4 PM. No shows on Mondays.
Click Here for More Information
SHINBONE ALLEY
Third Avenue Playhouse
7/26-9/2/2018
SHINBONE ALLEY (the story of archy and mehitabel) July 26 – September 1 By Mel Brooks and Joe Darion Music by George Kleinsinger Lyrics by Joe Darion Directed by James Valcq Featuring a book by comedy legend Mel Brooks and Joe Darion, and a "cool" jazz score that remains one of the only examples of this genre in the commercial theatre, SHINBONE ALLEY was one of the most daring musicals of the 1950's. This off-beat musical has appeared in almost every form, including a record and a concert with Carol Channing, a Broadway musical with Eartha Kitt, a television special with Tammy Grimes and, eventually an animated film. In a deserted office, a cockroach dives headfirst onto the keys of a typewriter, pouring out the ruminations of his soul. It's "archy" (he's too small to hold down the shift key), poet, philosopher, moralist and hapless friend of "mehitabel", the alley cat. This bizarre, highly original musical takes us into the streets of the big city as archy tries hopelessly to bring the "toujours gai" mehitabel off the back fence and into a respectable home as a housecat. This will be a rare chance to see a true forgotten gem of Broadway's Golden Age.
Click Here for More Information
HAIR
University of Wisconsin - La Crosse
6/22-9/9/2018
Click Here for More Information
View All Show Listings for Milwaukee, WI
Click Here to View BroadwayWorld.com Milwaukee, WI Calendar
Related Articles View More Milwaukee, WI

Stories

Shows
More Hot Stories For You