Now Playing Onstage in Memphis - Week of 12/09/2012
View All Show Listings for Memphis
Click Here to View BroadwayWorld.com Memphis Calendar
IT'S A WONDERFUL LIFE: A LIVE RADIO PLAY
Tennessee Shakespeare Company
12/6-12/16/2012
Click Here for More Information
JERSEY BOYS
Orpheum Theatre
12/4-12/16/2012
JERSEY BOYS, is the Tony®, Grammy® and Olivier Award-winning Best Musical about Rock and Roll Hall of Famers The Four Seasons:
Frankie Vall
i,
Bob Gaudio
,
Tommy DeVito
and Nick Massi. This is the story of how four blue-collar kids became one of the greatest successes in pop music history. They wrote their own songs, invented their own sounds and sold 175 million records worldwide – all before they were 30! JERSEY BOYS features their hit songs "Sherry," "Big Girls Don't Cry," "Rag Doll," "Oh What a Night" and "Can't Take My Eyes Off You." "IT WILL RUN FOR CENTURIES!" proclaims Time Magazine.
Click Here for More Information
THE SANTALAND DIARIES
Playhouse on the Park
11/30-12/23/2012
The elf is back by popular demand! Crumpet, Macy's grumpiest elf, and his fellow elves will again be taking over the Memphian Room at The Circuit Playhouse. Share drinks with friends as Crumpet recounts his training and his hilarious encounters with surly parents and their greedy children! With a healthy dose of sarcasm and snark, Crumpet manages to reveal the shortcomings of the hustle and bustle surrounding the holidays, while gently reminding us of the true meaning of the season. This intimate, cabaret-style performance is a night at the theatre like no other!
Click Here for More Information
ANNIE
Playhouse in the Square
11/16-12/30/2012
Everyone's favorite redhead returns for the holidays! "Annie" is a spunky Depression-era orphan determined to find the parents who abandoned her years ago on the doorstep of a New York City Orphanage run by the cruel, embittered Miss Hannigan. In adventure after fun-filled adventure, Annie foils Miss Hannigan's evil machinations, befriends President Franklin Delano Roosevelt, and finds a new family and home in billionaire Oliver Warbucks.
Click Here for More Information
TWAS THE NIGHT BEFORE CHRISTMAS
Playhouse on the Square
11/23-12/30/2012
Twas the Night Before Christmas is the tale of Amos the mouse whose house gets missed by Santa. He and his two friends, an elf named Calliope and a spunky little girl, Emily, go to great lengths to ensure that Santa doesn?t miss him again. They set off on wild adventures that involve a heist, a crazy airplane flight, and an elf?s stint as a secret agent in this playful tribute to the holiday season.
Click Here for More Information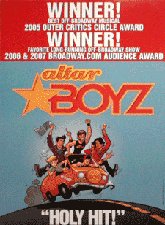 ALTAR BOYZ
Theatre Memphis
11/2-1/20/2013
ALTAR BOYZ is a foot-stomping, rafter-raising, musical comedy about a fictitious Christian boy-band on the last night of their national 'Raise the Praise' tour. The Boyz are five all-singing, all-dancing heartthrobs from Ohio: Matthew, Mark, Luke, Juan and Abraham. With their tight harmonies and spectacular choreography, the ALTAR BOYZ will delight your audiences. As they perform their signature hits such as 'Rhythm In Me,' 'The Calling,' and 'I Believe,' the Boyz question their loyalty to each other and ask whether or not faith is really holding them together. They finally deliver a message of unity, that 'there is no star as bright as its constellation, no harmony in a single voice.'Book by
Kevin Del Aguila
; Music and Lyrics by
Gary Adler
&
Michael Patrick Walker
; Conceived By
Marc Kessler
&
Ken Davenport
For more information on Theatre Memphis, click hereFor more information on Altar Boyz, click here
Click Here for More Information
View All Show Listings for Memphis
Click Here to View BroadwayWorld.com Memphis Calendar
Related Articles
From This Author BWW