Now Playing Onstage in Maine - Week of 6/22/2014
View All Show Listings for Maine
Click Here to View BroadwayWorld.com Maine Calendar
L'HISTOIRE DU SOLDAT
The Everyman Repertory Theatre
6/14-6/29/2014
A soldier, returning home from war, chances upon a stranger who offers to buy his violin, the stranger is none other than the devil. This Stravinsky musical piece for seven instruments with word by the poet Ramuz is performed by three actors, one or several dancers and a septet.
Click Here for More Information
ARSENIC AND OLD LACE
Hackmatack Playhouse
6/20-7/5/2014
Joseph Kesselring's famous comedy about the crazy Brewster family is the "Chestnut" of American theater. Drama critic Mortimer Brewster must deal with his homicidal aunts, a brother who believes he is Teddy Roosevelt, an uncle who is a
Boris Karloff
look-a-like and the Brooklyn police as he questions his promise to marry the woman he loves.
Click Here for More Information
CHAMBERLAIN: A CIVIL WAR ROMANCE
Maine State Music Theatre
6/25-7/12/2014
CHAMBERLAIN: A CIVIL WAR ROMANCE celebrates a great Civil War hero from Maine - Joshua Lawrence Chamberlain - while examining a universal theme: How a person's sense of duty and destiny affect his personal life. Discover how Brunswick and Bowdoin College figure prominently in the amazing tale of Joshua Chamberlain.
Click Here for More Information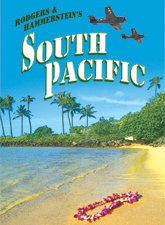 SOUTH PACIFIC
The Boothbay Playhouse
6/26-7/12/2014
Set in an island paradise during World War II, two parallel love stories are threatened by the dangers of prejudice and war. Nellie, a spunky nurse from Arkansas, falls in love with a mature French planter, Emile. Nellie learns that the mother of his children was an island native and, unable to turn her back on the prejudices with which she was raised, refuses Emile's proposal of marriage. Meanwhile, the strapping Lt. Joe Cable denies himself the fulfillment of a future with an innocent Tonkinese girl with whom he's fallen in love out of the same fears that haunt Nellie. When Emile is recruited to accompany Joe on a dangerous mission that claims Joe's life, Nellie realizes that life is too short not to seize her own chance for happiness, thus confronting and conquering her prejudices.Music by Rodgers, Richard; Lyrics by
Oscar Hammerstein
II; Book by
Oscar Hammerstein
II &
Joshua Logan
; Adapted from the Pulitzer Prize winning novel
Click Here for More Information
MARY POPPINS
OGUNQUIT PLAYHOUSE
6/25-7/19/2014
Click Here for More Information
THE MUSIC MAN
HACKMATACK PLAYHOUSE
7/1-7/31/2014
An affectionate paean to Smalltown, U.S.A. of a bygone era,
Meredith Willson
's THE MUSIC MAN follows fast-talking traveling salesman Harold Hill as he cons the people of River City, Iowa into buying instruments and uniforms for a boys' band he vows to organize - this despite the fact he doesn't know a trombone from a treble clef. His plans to skip town with the cash are foiled when he falls for Marian the librarian, who transforms him into a respectable citizen by curtain's fall. Perfect for professional theatres, community groups, summer stock and schools alike, this award-winning, critically acclaimed Broadway classic is an all-American institution, thanks to is quirky characters, charmingly predictable dramatic situations, and one-of-a-kind, nostalgic score of rousing marches, barbershop quartets and sentimental ballads which have become popular standards. The cast features a soaring soprano ingenue, parts for young performers and children, and one of the musical theatre's treasures, a tour de force leading role for a charismatic actor who doesn't need to be a trained singer. By turns wicked, funny, warm, romantic and touching, THE MUSIC MAN is family entertainment at its best.
Click Here for More Information
DISNEY'S THE LITTLE MERMAID JR
KIDS CURTAIN CALL
7/1-8/26/2014
In a magical kingdom fathoms below, the beautiful young mermaid Ariel longs to leave her ocean home to live in the world above. But first, she'll have to defy her father King Triton, make a deal with the evil sea witch Ursula, and convince Prince Eric that she's the girl with the enchanting voice. Adapted from Disney's 2008 Broadway production, Disney's THE LITTLE MERMAID JR. features the hit songs "Part of Your World," "She's in Love," and the Oscar-winning "Under the Sea."
Click Here for More Information
View All Show Listings for Maine
Click Here to View BroadwayWorld.com Maine Calendar
Related Articles
From This Author BWW