Now Playing Onstage in Jacksonville - Week of 11/17/2013
View All Show Listings for Jacksonville
Click Here to View BroadwayWorld.com Jacksonville Calendar
John Denver
, A Rocky Mountain High Concert in Broadway" border="0" bheight="100" width="100" align="right">
John Denver, A ROCKY MOUNTAIN HIGH CONCERT
Florida Theatre
11/19-11/19/2013
For the first time in 15 years, audiences will see and hear two-time Grammy Award-winning singer/songwriter and Poet Laureate of Colorado
John Denver
performing in a concert setting. Featuring archival video footage of Denver performing classic songs backed by live performances from former members of his band with an accompanying string section,
John Denver
: A Rocky Mountain High Concert tour is an innovative musical treat and unforgettable tribute. Hear
John Denver
's voice, see vintage
John Denver
video performances, hear stories of
John Denver
told by old friends. Concerts will include hit songs spanning his career and honor Denver's memory and music. The show will also honor some of the musicians who played with Denver throughout his career, and feature their stories of life on the road with the singer. With over 33 million records sold and seven Billboard Top Ten albums, Denver released 23 studio albums over his lifetime. Best known for the beloved songs "Leaving On a Jet Plane," "Take Me Home, Country Roads," "Sunshine On My Shoulders," "Annie's Song," and "Rocky Mountain High," which is the co-state song of Colorado, his catalogue continues to sell thousands of units per week. Among his numerous awards and recognitions, Denver was instrumental in championing environmental and humanitarian causes. His popularity and continuing influence on popular culture more than a decade after his untimely death in 1997 is remarkable.
Click Here for More Information
STRAIGHT NO CHASER
Florida Theatre
11/22-11/22/2013
If the phrase "male a cappella group" conjures up an image of students in blue blazers, ties, and khakis singing traditional college songs on ivied campuses… think again. Straight No Chaser (SNC) are neither strait-laced nor straight-faced, but neither are they vaudeville-style kitsch. They have emerged as a phenomenon with a massive fanbase, numerous national TV appearances and proven success with CD releases. They're performing on the heels of the release of Under The Influence, their fourth album release through Atlantic Records. The album features contributions from superstars
Jason Mraz
,
Rob Thomas
,
Phil Collins
,
Dolly Parton
and more! Straight No Chaser is the real deal, the captivating sound of ten unadulterated human voices coming together to make extraordinary music that is moving people in a fundamental sense… and with a sense of humor. On the road, Straight No Chaser has built a reputation as an unforgettable live act.
Click Here for More Information
Johnny Cash
- Broadway National Tour in Broadway" border="0" bheight="100" width="100" align="right">
RING OF FIRE - THE MUSIC OF Johnny Cash - BROADWAY NATIONAL TOUR
Florida Theatre
11/22-11/22/2013
A fully staged theatrical production featuring more than 35 of
Johnny Cash
's hit songs, like "I Walk the Line," "Jackson," "I've Been Everywhere," "Folsom Prison Blues" and "A Boy Named Sue," Ring of Fire features a company of performers guiding you on a journey through
Johnny Cash
's storied life and music, from the cotton fields of Arkansas to the Grand Ole Opry.
Click Here for More Information
THE WHIPPING MAN
Players By The Sea
11/8-11/23/2013
A moving drama about freedom and faith. In the last days of the Civil War, Caleb, a wounded young Confederate officer staggers into his family's war-ravaged home in Richmond, Virginia. He finds that his family has fled, leaving behind only two former slaves, Simon and John, to protect the property. Caleb, maimed and disillusioned by war, has lost his faith. John is using his new freedom to plunder the deserted homes of the neighborhood. Only Simon retains a steadfast moral compass, sustained by the family faith - which is Jewish. In a powerful scene, he organizes a Passover Seder that celebrates not only the deliverance of the Israelites from Pharaoh's bondage, but the emancipation of his own people from slavery. The three men grapple with their new relationship and interdependency, not as master and slave, but as comrades and brothers.
Click Here for More Information
CIRQUE DREAMS HOLIDAZE
Florida Theatre
11/23-11/23/2013
The first American company combining a European-style cirque with American circus arts and Broadway theatrics, Cirque Dreams has entertained over 50 million people worldwide. Based in a 25,000 square foot facility where hundreds of performers, coaches, choreographers, musicians and designers use traditional circus arts, theatre technology, brilliant costumes and original music to create a character driven story for the theatre stage, they've also created elaborate productions for two Super Bowls, the NBA, Disney, Miss Universe, NBC, ABC and CBS.
Click Here for More Information
WINNIE-THE-POOH
Florida State University - The Fallon Theatre
11/21-11/24/2013
Come along with that silly 'ol bear on his many adventures. Joined by his old friends Piglet, Rabbit, Eeyor, and Christopher Robin, Pooh will warm the hearts of audiences - even while he continues his search for something sweet!
Click Here for More Information
BAD SEED
Limelight Theatre
11/1-11/24/2013
On the surface Rhoda Penmark is sweet, charming and admired by her elders. But things take a dark turn when one of Rhoda's rival schoolmates mysteriously drowns at a picnic.
Click Here for More Information
THE D* WORD, A MUSICAL
Times Union Center - Terry Theater
10/4-11/24/2013
The 90-minute laugh-aloud, sing-a-long celebration follows the woes and wows of four single and single-again women who learn the art of happily EVEN after with the help of martinis, Mojo Makeovers and girlfriend magic. Featuring songs from I Will Survive and Hot Stuff to Before He Cheats and Turn Me On! this party show will have you D*ancing in the aisles.
Click Here for More Information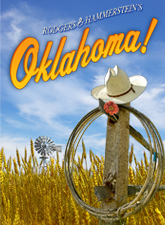 SOUTH PACIFIC
Theatre Partners
, LLC
10/23-12/1/2013
Set in an island paradise during World War II, two parallel love stories are threatened by the dangers of prejudice and war. Nellie, a spunky nurse from Arkansas, falls in love with a mature French planter, Emile. Nellie learns that the mother of his children was an island native and, unable to turn her back on the prejudices with which she was raised, refuses Emile's proposal of marriage. Meanwhile, the strapping Lt. Joe Cable denies himself the fulfillment of a future with an innocent Tonkinese girl with whom he's fallen in love out of the same fears that haunt Nellie. When Emile is recruited to accompany Joe on a dangerous mission that claims Joe's life, Nellie realizes that life is too short not to seize her own chance for happiness, thus confronting and conquering her prejudices.Music by Rodgers, Richard; Lyrics by
Oscar Hammerstein
II; Book by
Oscar Hammerstein
II &
Joshua Logan
; Adapted from the Pulitzer Prize winning novel
Click Here for More Information
View All Show Listings for Jacksonville
Click Here to View BroadwayWorld.com Jacksonville Calendar
Related Articles
From This Author BWW