Now Playing Onstage in Detroit - Week of 11/18/2012
View All Show Listings for Detroit
Click Here to View BroadwayWorld.com Detroit Calendar
THE AANSTY AARDVARK
St. Dunstan's Theatre
11/18-11/20/2012
Theatre for Children at St. Dunstan's Theatre presents The Aansty Aardvark. For tickets and more information, visit the website.
Click Here for More Information
---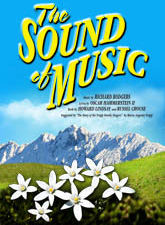 THE SOUND OF MUSIC
Berrien Springs High School
11/15-11/20/2012
The final collaboration between Rodgers & Hammerstein was destined to become the world's most beloved musical. When a postulant proves too high-spirited for the religious life, she is dispatched to serve as governess for the seven children of a widowed naval Captain. Her growing rapport with the youngsters, coupled with her generosity of spirit, gradually captures the heart of the stern Captain, and they marry. Upon returning from their honeymoon they discover that Austria has been invaded by the Nazis, who demand the Captain's immediate service in their navy. The family's narrow escape over the mountains to Switzerland on the eve of World War II provides one of the most thrilling and inspirational finales ever presented in the theatre. The motion picture version remains the most popular movie musical of all time.Music by Rodgers, Richard; Lyrics by
Oscar Hammerstein
II; Book by
Howard Lindsay
&
Russel Crouse
; Suggested by For more information on Berrien Springs High School, click hereFor more information on The Sound of Music, click here
Click Here for More Information
---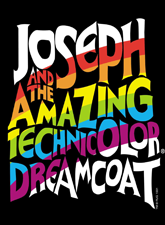 JOSEPH...DREAMCOAT (93' U.K. TOUR W/OPTIONAL `MEGAMIX`)
Players Guild of Dearborn
11/9-12/2/2012
The Biblical saga of Joseph and his coat of many colors comes to vibrant life in this delightful musical parable. Joseph, his father's favorite son, is a boy blessed with prophetic dreams. When he is sold into slavery by his jealous brothers and taken to Egypt, Joseph endures a series of adventures in which his spirit and humanity are continually challenged. He is purchased by Potiphar where thwarting advances from Potiphar's wife lands him in jail. When news of Joseph's gift to interpret dreams reaches the Pharaoh (wryly and riotously depicted as Elvis), Joseph is well on his way to becoming second in command. Eventually his brothers, having suffered greatly, unknowingly find themselves groveling at the feet of the brother they betrayed but no longer recognize. After testing their integrity, Joseph reveals himself leading to a heartfelt reconciliation of the sons of Israel. Set to an engaging cornucopia of musical styles, from country-western and calypso to bubble-gum pop and rock 'n' roll, this Old Testament tale emerges both timely and timeless. This version of JOSEPH?DREAMCOAT features extended songs and dances. The Megamix is available as a separate rental with this version. Lyrics by
Tim Rice
; Music by
Andrew Lloyd Webber
For more information on Players Guild of Dearborn, click hereFor more information on Joseph...Dreamcoat (93' U.K. Tour w/Optional `Megamix`), click here
Click Here for More Information
---
THE HOMOSEXUALS
The Ringwald Theatre
11/16-12/10/2012
"The Homosexuals" is a comedic and heartwarming work for anyone who's ever fallen in love with a friend. The play follows Evan, a young gay man who moves to the Midwest with nothing but the shirt on his back. When a kind man invites him to a party his first night in town, the circle of friends he meets that night have impact on his life that he (nor we) could ever imagine. Chicago playwright Dawkins' epic play examines the fears, doubts and hopes facing the gay community in the 21st century in this modern-day riff on the queer classic "The Boys In The Band."
Click Here for More Information
---
SUPERIOR DONUTS
The Purple Rose Theatre
9/20-12/15/2012
Arthur Przybyszewski has just about given up on everything: a social life, the chance of romance and most of all his family's long standing Chicago donut shop. But when idealistic dreamer, Franco Wicks walks through the door of his vandalized storefront, Arthur realizes through their unlikely friendship that life still has more to offer him. Written by Pulitzer Prize winning playwright
Tracy Letts
(August: Osage County) the comedy-drama Superior Donuts will make you a believer too.
Click Here for More Information
---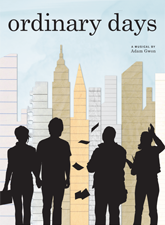 ORDINARY DAYS
Tipping Point Theatre
11/8-12/16/2012
From one of musical theatre's most exciting new composers comes ORDINARY DAYS, a refreshingly honest and funny musical about making real connections in the city that never sleeps (but probably should at some point.) ORDINARY DAYS tells the story of four young New Yorkers whose lives intersect as they search for fulfillment, happiness, love and cabs. Through a score of vibrant and memorable songs, their experiences ring startlingly true to life. ORDINARY DAYS is an original musical for anyone who's ever struggled to appreciate the simple things in a complex place. With equal doses of humor and poignancy, it celebrates how 8.3 million individual stories combine in unexpected ways to make New York City such a unique and extraordinary home. Music and Lyrics by
Adam Gwon
For more information on Tipping Point Theatre, click hereFor more information on Ordinary Days, click here
Click Here for More Information
---
PLAID TIDINGS
ENCORE MUSICAL THEATRE COMPANY
11/23-12/23/2012
FOREVER PLAID: PLAID TIDINGS is a brand-new show that offers the best of FOREVER PLAID tied-up in a nifty package with a big Christmas bow on top! Filled with Christmas standards that have all been ?Plaid-erized,? our boys are back to do their Christmas Special. At first they aren?t sure why they?ve returned, but a phone call from the heavenly
Rosemary Clooney
lets them know that they?re needed to put a little harmony into a discordant world. Sprinkled among the Christmas offerings are audience favorites like their riotous three minute and eleven second version of ?The
Ed Sullivan
Show? - this time featuring
The Rockettes
, the Chipmunks and The Vienna Boys Choir, and a Plaid Caribbean Christmas which puts the ?Day-O? in Excelsis! This is one holiday treat that is truly ?heaven-sent!?
Click Here for More Information
---
A PARADISE OF FOOLS
Detroit Repertory Theatre
11/1-12/30/2012
A couple of con artists, Francesca and Bernardo, are down on their luck when they discover a dim-witted shoemaker, Calandino, received an inheritance. The swindlers move into action. Bernardo convinces Calandino that he doesn't look well and summons a renown doctor, Francesca in disguise, who determines the shoemaker is suffering from a condition usually reserved fo rwomen, namely he is pregnant. Calandrino begs to have his manhood restored. A request the doctor readily agrees to....for a fee. But the raucous farce is just beginning as other swindlers jump into the fray. In the end, money changes hands, but it isn't clear who swindled whom. Only the audience knows for sure.
Click Here for More Information
---
OTHELLO
The Hilberry Theatre
10/26-1/27/2013
The rapid ascent of the powerful Othello and his breathtaking whirlwind marriage to the beautiful Desdemona is thrilling to watch, but it fractures the jealous Iago. We see him fluctuate easily between the cold-blooded plotting of mayhem and destruction, and the reassuring, "trust me, I love you." By the end, Othello is stripped raw, his emotions exposed and his betrayal complete.
Click Here for More Information
---
GOODNIGHT DESDEMONA (GOOD MORNING JULIET)
The Hilberry Theatre
11/16-2/9/2013
Othello and Romeo & Juliet: comedies?! Absolutely. Take one mousy professor, suffering from unrequited love and trying to prove Shakespeare had prepared different, comic endings for two of his most famous plays. Stir in an intense time warp through a wastebasket, mistaken identities, passionate seductions, and a few swordfights. Bake until golden-hued. Decorate with a doomed turtle. Laugh until your breath is taken away.
Click Here for More Information
---
View All Show Listings for Detroit
Click Here to View BroadwayWorld.com Detroit Calendar
Related Articles
From This Author BWW