Now Playing Onstage in Baltimore - Week of 7/06/2014
View All Show Listings for Baltimore
Click Here to View BroadwayWorld.com Baltimore Calendar
HONK! JR
IMAGINATION STAGE EDUCATION ACCOUNT
7/9-7/10/2014
In the London season featuring the appearance of THE LION KING, HONK! became a stand-out by winning the 2000 Olivier Award (the British equivalent of the Tony® Award) for Best New Musical. HONK! JR. is a contemporary retelling of
Hans Christian Andersen
's The Ugly Duckling with a JOSEPH...DREAMCOAT-esque score that everyone will enjoy. HONK! JR. can be performed with simple sets and costumes. No feathers or fur necessary--making it the perfect Broadway Junior musical!
Click Here for More Information
LES MISERABLES
HOWARD COUNTY SUMMER THEATRE
7/3-7/12/2014
This international smash-hit may be the most popular musical in the world. In 19th century France, Jean Valjean is released from 19 years of unjust imprisonment, but finds nothing in store for him but mistrust and mistreatment. He breaks his parole in hopes of starting a new life, initiating a life-long struggle for redemption as he is relentlessly pursued by police inspector Javert, who refuses to believe Valjean can change his ways. Finally, during the Paris student uprising of 1832, Javert must confront his ideals after Valjean spares his life and saves that of the student revolutionary who has captured the heart of Valjean's adopted daughter. His world-view shattered, Javert commits suicide, and Valjean at last attains the peace he has sought for so long.Epic, grand and uplifting, LES MISÉRABLES packs an emotional wallop that has thrilled audiences all over the world. The sung-through pop opera is ideal for a cast of exceptional singers and overflows with melodies that are already standards. A spectacle on Broadway and in London, LES MISÉRABLES is equally effective with a minimal set; it is its powerful affirmation of the human spirit that has made LES MISÉRABLES a popular masterpiece.
Click Here for More Information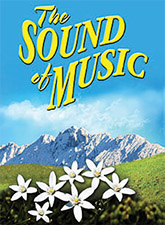 THE SOUND OF MUSIC
Bel Cantanti
7/11-7/13/2014
The final collaboration between Rodgers & Hammerstein was destined to become the world's most beloved musical. When a postulant proves too high-spirited for the religious life, she is dispatched to serve as governess for the seven children of a widowed naval Captain. Her growing rapport with the youngsters, coupled with her generosity of spirit, gradually captures the heart of the stern Captain, and they marry. Upon returning from their honeymoon they discover that Austria has been invaded by the Nazis, who demand the Captain's immediate service in their navy. The family's narrow escape over the mountains to Switzerland on the eve of World War II provides one of the most thrilling and inspirational finales ever presented in the theatre. The motion picture version remains the most popular movie musical of all time.Music by Rodgers, Richard; Lyrics by
Oscar Hammerstein
II; Book by
Howard Lindsay
&
Russel Crouse
; Suggested by
Click Here for More Information
LES MISERABLES SCHOOL EDITION
TACTICC
7/11-7/19/2014
Broadway's legendary musical has been specially adapted to meet the needs of young performers. This author-approved edition has been abridged to a running time of just over two hours, while carefully maintaining the integrity of one the greatest musicals ever written.This epic story recounts the struggle against adversity in 19th century France. Imprisoned for stealing a loaf of bread, petty thief Jean Valjean is released from his 19-year term and not only becomes and honest man, but the mayor of a prosperous town and a loving adoptive father - violating his parole in the process. The relentless Inspector Javert, who makes a decent life for Valjean impossible, consequently pursues him. Only years later, after Valjean proves his mettle during a bloody student uprising and saves the life of a young man hopelessly in love with Valjean's adopted daughter, does the ex-convict finally feel fully redeemed.Originally adapted from
Victor Hugo
's timeless novel, LES MISÉRABLES SCHOOL EDITION introduces a new generation to the grand and inspirational story that has touched the hearts of millions. For, within LES MISÉRABLES SCHOOL EDITION lies the universal truth "To love another person is to see the face of God" and this message is sure to have a lasting impact on your cast, crew, audience, and school alike.
Click Here for More Information
SHOUT!! THE MOD MUSICAL
ANNAPOLIS SUMMER GARDEN THEATRE
6/27-7/19/2014
SHOUT! is the mod musical magazine that brings back the beautiful birds and smashing sounds that made England swing in the 60's. Created by
Phillip George
and
David Lowe
nstein, SHOUT! features terrific new arrangements of such classic tunes as "To Sir With Love," "Downtown," "Son of a Preacher Man," and "Goldfinger."SHOUT! travels in time from 1960 to 1970 chronicling the dawning liberation of women. Just as Dusty Springfield,
Petula Clark
, and
Cilla Black
, were independent women with major careers, English and American women were redefining themselves in the face of changing attitudes about gender. SHOUT! (and its all-female cast) reflects that through the unforgettable music of the time. With a shimmy and shake, the songs are tied together by hilarious sound bites from the period -- from 60's advertisements to letters answered by an advice columnist who thinks every problem can be solved with a "fetching new hair style and a new shade of lipstick."The songs in this delightful musical resonate with a timeless quality which appeals to every generation. A wonderful choice to showcase strong, female talent at any community theatre, high school, or college.Please note that original NY and touring sets, costumes and more for this title are available on MTI ShowSpace here. A presenters pack, with all original artwork, newspaper, magazine ads, programs, posters, merchandise and more is available to all presenters of SHOUT!
Click Here for More Information
MONTY PYTHON'S SPAMALOT
Cumberland Theatre
7/10-7/27/2014

Click Here for More Information
PATAPSCO FEMALE INSTITUTE HISTORIC PARK:
Chesapeake Shakespeare Company
6/6-7/27/2014
As You Like ItWilliam Shakespeare.
Click Here for More Information

THE MUSIC MAN
ROCKVILLE MUSICAL THEATRE
7/11-7/27/2014
An affectionate paean to Smalltown, U.S.A. of a bygone era, Meredith Willson's THE MUSIC MAN follows fast-talking traveling salesman Harold Hill as he cons the people of River City, Iowa into buying instruments and uniforms for a boys' band he vows to organize - this despite the fact he doesn't know a trombone from a treble clef. His plans to skip town with the cash are foiled when he falls for Marian the librarian, who transforms him into a respectable citizen by curtain's fall. Perfect for professional theatres, community groups, summer stock and schools alike, this award-winning, critically acclaimed Broadway classic is an all-American institution, thanks to is quirky characters, charmingly predictable dramatic situations, and one-of-a-kind, nostalgic score of rousing marches, barbershop quartets and sentimental ballads which have become popular standards. The cast features a soaring soprano ingenue, parts for young performers and children, and one of the musical theatre's treasures, a tour de force leading role for a charismatic actor who doesn't need to be a trained singer. By turns wicked, funny, warm, romantic and touching, THE MUSIC MAN is family entertainment at its best.
Click Here for More Information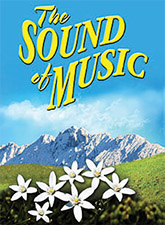 THE SOUND OF MUSIC
Charm City Players
6/28-8/3/2014
The final collaboration between Rodgers & Hammerstein was destined to become the world's most beloved musical. When a postulant proves too high-spirited for the religious life, she is dispatched to serve as governess for the seven children of a widowed naval Captain. Her growing rapport with the youngsters, coupled with her generosity of spirit, gradually captures the heart of the stern Captain, and they marry. Upon returning from their honeymoon they discover that Austria has been invaded by the Nazis, who demand the Captain's immediate service in their navy. The family's narrow escape over the mountains to Switzerland on the eve of World War II provides one of the most thrilling and inspirational finales ever presented in the theatre. The motion picture version remains the most popular movie musical of all time.Music by Rodgers, Richard; Lyrics by Oscar Hammerstein II; Book by Howard Lindsay & Russel Crouse; Suggested by
Click Here for More Information

THE MUSIC MAN
PORT TOBACCO PLAYERS
7/11-8/3/2014
An affectionate paean to Smalltown, U.S.A. of a bygone era, Meredith Willson's THE MUSIC MAN follows fast-talking traveling salesman Harold Hill as he cons the people of River City, Iowa into buying instruments and uniforms for a boys' band he vows to organize - this despite the fact he doesn't know a trombone from a treble clef. His plans to skip town with the cash are foiled when he falls for Marian the librarian, who transforms him into a respectable citizen by curtain's fall. Perfect for professional theatres, community groups, summer stock and schools alike, this award-winning, critically acclaimed Broadway classic is an all-American institution, thanks to is quirky characters, charmingly predictable dramatic situations, and one-of-a-kind, nostalgic score of rousing marches, barbershop quartets and sentimental ballads which have become popular standards. The cast features a soaring soprano ingenue, parts for young performers and children, and one of the musical theatre's treasures, a tour de force leading role for a charismatic actor who doesn't need to be a trained singer. By turns wicked, funny, warm, romantic and touching, THE MUSIC MAN is family entertainment at its best.
Click Here for More Information

I DO! I DO!
INFINITY THEATRE COMPANY
7/11-8/3/2014
The story of a marriage is at the center of I DO! I DO! - an intimate and nostalgic work by Harvey Schmidt and Tom Jones (THE FANTASTICKS).The show begins with Michael and Agnes on their wedding day. Their vows behind them, they look forward to spending the rest of their lives together. We watch as they go through their wedding night jitters, raise a family, and negotiate mid-life crises. Michael eventually admits to his infidelity, and although Agnes is angered by his actions, she forgives him and the couple reconciles. They re-discover how much they really need each other. Then, after 50 years of marriage, the couple leaves their house to the next pair of newlyweds.This touching story of two soul mates navigating the perils of life is set to the strains of a tuneful, charming score. With minimal set and costume requirements, this show is ideal for regional theatre companies on a limited budget and smaller troupes.
Click Here for More Information

LES MISERABLES
WAY OFF BROADWAY DINNER THEATRE
6/20-8/23/2014
This international smash-hit may be the most popular musical in the world. In 19th century France, Jean Valjean is released from 19 years of unjust imprisonment, but finds nothing in store for him but mistrust and mistreatment. He breaks his parole in hopes of starting a new life, initiating a life-long struggle for redemption as he is relentlessly pursued by police inspector Javert, who refuses to believe Valjean can change his ways. Finally, during the Paris student uprising of 1832, Javert must confront his ideals after Valjean spares his life and saves that of the student revolutionary who has captured the heart of Valjean's adopted daughter. His world-view shattered, Javert commits suicide, and Valjean at last attains the peace he has sought for so long.Epic, grand and uplifting, LES MISÉRABLES packs an emotional wallop that has thrilled audiences all over the world. The sung-through pop opera is ideal for a cast of exceptional singers and overflows with melodies that are already standards. A spectacle on Broadway and in London, LES MISÉRABLES is equally effective with a minimal set; it is its powerful affirmation of the human spirit that has made LES MISÉRABLES a popular masterpiece.
Click Here for More Information

View All Show Listings for Baltimore
Click Here to View BroadwayWorld.com Baltimore Calendar

Related Articles
From This Author BWW