Latest Articles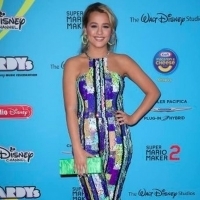 Gabby Barrett Named Radio Disney's NBT Featured Artist
by TV News Desk - July 17, 2019
Warner Music Nashville recording artist Gabby Barrett has been named Radio Disney's NBT (Next Big Thing), it was announced today. NBT is a multiplatform talent program that puts the spotlight on breakout artists and showcases their journey to success. The country singer will be featured in a series ... (
more...
)
CMA Fest Reveals Xfinity Fan Fair X Stage Lineups
by TV News Desk - May 23, 2019
CMA Fest has announced additional performances and appearances at Xfinity Fan Fair X, CMA Fest's Ultimate Country Music Fan Experience, where fans get up close and personal with their favorite artists. Xfinity Fan Fair X returns to Music City Center for action-packed entertainment daily from 9:30 AM... (
more...
)
CMA Fest Reveals Lineup For Additional Free Daytime Stages
by TV News Desk - April 30, 2019
 CMA Fest has revealed the lineups for three daytime stages that are free to the public during the four-day festival in June. Chevy Breakout Stage at Walk of Fame Park, Maui Jim Broadway Stage at Bridgestone Plaza and Nashville Acoustic Corner Stage will feature over 110 performances Thursday, June ... (
more...
)
Tim McGraw, Jason Aldean, Kid Rock to Headline Pepsi Gulf Coast Jam
by TV News Desk - April 26, 2019
Producers of the 7thannual Pepsi Gulf Coast Jam took to social media today to reveal the full lineup for this year's Country On The Coast festival, simultaneously announcing some of the biggest names in music on the Pepsi Gulf Coast Jam and Visit Panama City Beach Facebook pages. Tim McGraw, Jason A... (
more...
)
Hometown Rising Music Lineup Adds Trace Adkins, Dillon Carmichael and The Sisterhood Band
by TV News Desk - March 11, 2019
Country music icon Trace Adkins, independent rising country music artist Dillon Carmichael, and country rock duo The Sisterhood Band have been added to the incredible music lineup for Hometown Rising, the first-ever Country Music & Bourbon Festival, which debuts Saturday, September 14 and Sunday, Se... (
more...
)
Maddie Poppe was Crowned the Next AMERICAN IDOL In Last Night's Season 16 Finale
by TV News Desk - May 22, 2018
Maddie Poppe was crowned the next American Idol as the search to find the next music superstar came to a close in part two of the two-night season finale last night!... (
more...
)
AMERICAN IDOL Announces 2018 Live Tour Featuring Top 7 Finalists + Season 8 Winner Kris Allen
by TV News Desk - May 07, 2018
After a monumental return to television in 2018, "American Idol" announces it's taking the show on the road with the American Idol Live! 2018tour, spanning three months this summer. The shows will feature this season's talented Top 7 finalists: Cade Foehner, Caleb Lee Hutchinson, Catie Turner, Gabby... (
more...
)
Top 24 AMERICAN IDOL Celebrity Duet Partners Announced
by BWW News Desk - April 05, 2018
On the episode '110 (Top 24 Celebrity Duets)' - As the pool has been narrowed to the top 24 contestants, 12 of the top 24 finalists perform duets with celebrity partners at Academy LA in Hollywood during this week in the competition, as the search for America's next superstar continues on its new ho... (
more...
)