Latest Articles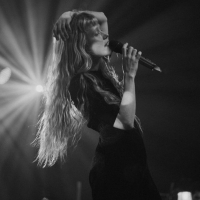 Alice Phoebe Lou Announces US Tour Dates
by TV News Desk - August 14, 2019
Alice Phoebe Lou has announced a string of US tour dates and an appearance at the Singularity Global Summit in San Francisco taking place 8/18 - 8/21. Right after the summit, Alice Phoebe Lou will perform stripped down sets and a short 25 minute set of her new alter-ego project, strongboiat the Swed...

Alice Phoebe Lou Releases Majestic Session of GALAXIES Featuring Actress Maisie Williams
by BWW News Desk - May 07, 2019
Alice Phoebe Lou has teamed up with hugely influential YouTube channel Majestic Casual who inspired Game of Thrones actress Maisie Williams, to collaborate in the creation of a live session of Lou's song 'Galaxies' from her most recent album Paper Castles. The video went live today and can be viewed...

Alice Phoebe Lou: On Oscar Shortlist, New Music Out Next Month
by BWW News Desk - January 05, 2018
Alice Phoebe Lou's fiercely independent approach to her music has given the singer songwriter a creative confidence that shines through in her captivating vocals and stripped back music....