Latest Articles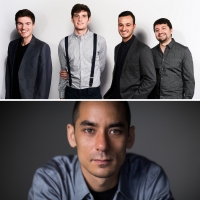 Sandbox Percussion Releases Andy Akiho's 'Haiku 2'
by TV News Desk - February 13, 2020
On Thursday, February 13, 2020, the New York-based ensemble Sandbox Percussion releases Andy Akiho's Haiku 2 as a music video and single from its debut album, And That One Too (Coviello Classics)....

Composer Reiko Füting Releases International Portrait Album DistantSong On New Focus Recordings
by BWW News Desk - November 08, 2018
On Friday, December 14, 2018 digitally and January 4, 2018 physically, New Focus Recordings releases distantSong, the second album of the compositions of composer Reiko Füting. The album features works for voices and instruments performed by established young ensembles in both the United States and ...

American Composers Orchestra's 27th Annual Underwood New Music Readings at NYU's Loewe Theater June 21 & 22
by TV News Desk - May 10, 2018
American Composers Orchestra continues its commitment to the creation and development of new orchestral music with the 27thAnnual Underwood New Music Readings on June 21-22, 2018 at NYU's Loewe Theater (35 West 4th Street)....