Latest Articles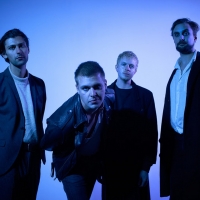 A. Swayze & The Ghosts Release New Single 'Connect To Consume'
by TV News Desk - August 21, 2019
Tasmanian garage rock quartet A. Swayze & The Ghosts are excited to share the new single "Connect To Consume", via Australian label Ivy League Records (home to Hatchie and Rolling Blackouts Coastal Fever among others). The single premiered today on Jack Saunders' 'Next Wave' BBC Radio 1 show, and is... (
more...
)

A.Swayze & the Ghosts Release Single 'Reciprocation' and Announce UK tour
by TV News Desk - March 26, 2019
Tasmanian garage-punks, A.Swayze & the Ghosts have rolled out their epic, 10 minute tune today titled "Reciprocation", found on the flipside of their debut 12" released on March 29th via Rough Trade Records, available to pre-order here.... (
more...
)

John Shakespear Announces Debut Album
by TV News Desk - March 18, 2019
Nashville-based, Boston-bred indie-folk songwriterJohn Shakespear is releasing his much-anticipated debut album Spend Your Youth on May 10th. Walking a fine line between the personal and the political,Spend Your Youth's origins are a coming-of-age story. As a lot of our most classic stories begin, S... (
more...
)

Aussie Artist Kyle Lionhart Makes Sense Of The Chaos In New Track SO CLOSE
by BWW News Desk - March 18, 2019
Byron Bay artist Kyle Lionhart has revealed the first taste of his long-awaited debut album in the form of new single, 'So Close' – out everywhere today. ... (
more...
)

T Bone Burnett Gives Keynote Speech at 2019 SXSW
by TV News Desk - March 14, 2019
Multiple Grammy and Oscar winning artist, musician and producer T Bone Burnett gave a thought provoking keynote speech at SXSW today, warning of the current dangers of the dominance of digital monopolies like Google and Facebook, while championing the value of the independence of artists. See below ... (
more...
)

Rough Trade Announce A.Swayze & The Ghosts' Debut Single SUDDENLY On Vinyl Out 3/29
by BWW News Desk - February 19, 2019
A.Swayze & the Ghosts is an exhilarating new garage-punk band from Hobart, the capital of Tasmania, the island located just below Australia. They are comprised of lead singer Andrew Swayze, alongside high school friends Hendrik Wipprecht (guitar), Zackary Blain (drums) and Ben Simms (bass). They wil... (
more...
)

The Rubens' Hit Single NEVER EVER (feat Sarah), Certified Platinum
by BWW News Desk - September 19, 2018
It is Ivy League Records' privilege to announce that The Rubens' hit single 'Never Ever (feat Sarah)', from their third album LO LA RU, has reached Platinum sales (70,000+) in Australia!... (
more...
)

The Teskey Brothers Sign To Ivy League Records
by BWW News Desk - July 31, 2018
It is with great excitement that Ivy League Records announce the signing of The Teskey Brothers, the latest addition to the Australian label's stellar roster of artists.... (
more...
)

BET Networks & Paramount Players Announce Top Ten PROJECT CRE8 Semifinalists
by TV News Desk - July 18, 2018
BET Networks and Paramount Players announced the top ten semifinalists of its nationwide competition,"PROJECT CRE8" that will give one aspiring, undiscovered filmmaker the potential opportunity to produce a feature film with a million-dollar budget. The search kicked-off at the Sundance Festival and... (
more...
)