| | |
| --- | --- |
| BIO: . . . one of the new young lions of the tenor saxophone." -- Roy Haynes, drummer ". . . brilliant and assured . . ." -- Peter Watrous, The New York Times " A nice person and a great musician . . ." -- Bill Cosby Don Braden is a musician of the highest caliber. Having spent years as the saxophonist with greats like Betty Carter, Wynton Marsalis, Freddie Hubbard and Roy Haynes, he has developed an extensive knowledge of every aspect of jazz performance. He is an imaginative, technically excellent, soulful saxophonist, and his harmonic and rhythmic sophistication give him a unique approach to improvising as well as composing and arranging. Most important of all: he has a beautiful sound, and he swings! All this combines with his joyous yet disciplined personality to make him one of the most important young musicians working today... Born in Cincinnati, Ohio on November 20, 1963, and raised in Louisville, Kentucky, Braden's first exposure to music came from his parents' record collection, and from radio. Although there were no musicians in his family, he showed a strong interest in music early on. At age 13, he started playing tenor sax in middle school band class, and two years later, joined his first professional band -- influenced by and performing the music of "contemporary jazz" groups, like The Crusaders. After being introduced to acoustic jazz in high school by educator Jamey Aebersold, Braden went on to be chosen first chair for the McDonald's All-American High School Jazz Band and the McDonald's All-American High School Marching Band, and to receive a Yamaha Instrument Award. After his acceptance to Harvard University in 1981, Braden divided his time between studying engineering and performing at jazz clubs around the Boston/Cambridge area. While there, he studied briefly with local saxophone heavyweights Jerry Bergonzi and Bill Pierce. He also began composing more seriously during this time, writing and arranging pieces for several Harvard-based dance, film and music projects as well as for his own quartet... In 1984, Braden moved to New York City where his first gigs were with the Harper Brothers Quintet and with organist Dr. Lonnie Smith, and then with Betty Carter. After touring with the Wynton Marsalis Quintet for over seven months, he recorded with Betty Carter on her Grammy Award-winning album, "Look What I Got" (Verve-Polygram). Following gigs in Europe, Japan and the Americas with Tony Williams, Roy Haynes, and many others, Braden was a member of the Freddie Hubbard Quintet from 1989 to 1991. Since 1991 he has worked with Tom Harrell, the Mingus Big Band, Kenny Barron, J. J. Johnson, the Dizzy Gillespie All-Stars, the Carnegie Hall Jazz Band, and others, as well as with his own groups. Braden hasrelease his thirteenth CD as a leader, "Workin' - Live at Cecil's", featuring his burning Organic Trio, with rising star Kyle Koehler on the Hammond organ, and Bradens regular powerhouse drummer, Cecil Brooks III (who, incredibly, owns the club where the CD was recorded.) His previous CD, "The New Hang," adds the remarkable Conrad Herwig on trombone to the group. This band's repertoire includes a variety of sizzling original compositions, as well an burning version of Earth, Wind and Fire's Can't Hide Love and a swinging version of Chaka Khans classic Through the Fire. His eleventh CD as a leader, "Brighter Days", features Xavier Davis on piano, Dwayne Burno on bass, and Cecil Brooks III on drums. Bradens other CDs include "Don Braden Presents the Contemporary Standards Ensemble" (on the Double-Time Jazz label), features a new young-all-star band performing popular songs and originals from the latter third of the twentieth century. "The Fire Within", released on RCA Victor in March 1999, features his passionate playing and sophisticated writing in a quartet setting. The previous RCA Victor CD, "The Voice of the Saxophone" (co produced by Benny Golson), showcases an all-star octet and has, like all of his previous CDs, received excellent press and an abundance of radio airplay. Before that was "The Open Road" on the Double-Time Jazz label, and "Organic" (Sony BK-66873), which stayed in the Gavin Jazz national airplay chart top 5 for seven weeks and reached ..2! His other CDs include "The Time Is Now" (Criss Cross 1051), "Wish List" (Criss Cross 1069), "After Dark" (Criss Cross 1081), "Pay As You Earn" (Mons 2004, co-led with Joris Teepe), and "Landing Zone" (Landmark 1539). Braden's groups have included some of the most respected musicians today; among them: bassists Christian McBride & Joris Teepe, pianists Benny Green & Darrell Grant, drummers Carl Allen, Cecil Brooks III & Billy Hart, trumpeters Tom Harrell & Randy Brecker, trombonist Steve Turre, organists Jack McDuff & Larry Goldings, and guitarist Russell Malone. In addition to performing and composing for his own groups and CDs, Don Braden has composed for a number of important projects. He spent four years as co-music supervisor/composer for Bill Cosbys most recent CBS sitcom, Cosby, which is now in syndication. He also co-wrote the theme song for Cosbys current CBS cartoon series, Little Bill. Braden is also the proud recipient of a Doris Duke Foundation (in conjunction with Chamber Music America) Jazz composition grant, which will fund the creation of a new work for his Octet. Bradens educational endeavors are a very important part of his career. He is currently an adjunct instructor of jazz at William Paterson University, Music Director of the Litchfield Jazz Festival Summer Music School, and the Music Director of the New Jersey Performing Arts Centers Jazz for Teens program. He also recently singed on as part of the "New York Faculty" at the North Netherlands Conservatory, in Groningen, Netherlands. He endorses Julius Keilwerth saxophones, in conjunction with the major music retailer "The Music Group" (formerly Boosey & Hawkes.) He also endorses AMT Microphones, and Jamey Aebersold play-a-long products. As a saxophonist, composer, arranger, and teacher, Don Braden will continue to represent the highest levels of strength, creativity, discipline, joy, and soulfulness as he moves along the classic jazz path: to express a contemporary point of view in the powerful, spiritual, intelligent, and (most importantly) swinging jazz style. More information on Don Braden is available at www.DonBraden.com | |
Latest Articles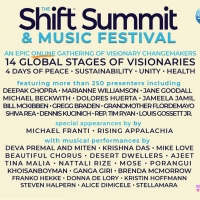 Deepak Chopra, Marianne Williamson, Jane Goodall and More to Take Part in THE SHIFT SUMMIT & MUSIC FESTIVAL
by BWW News Desk - September 08, 2020
The Shift Network has announced The Shift Summit & Music Festival, set to begin on September 18th and lead up to the International Day of Peace, September 21st, 2020. ...
Camille Thurman Heads To South Africa, India, And Italy
by BWW News Desk - September 13, 2019
Camille Thurman, the talented composer, multi-instrumentalist, and vocalist, continues to make waves as one of the most exciting figures in the world of jazz with new performance dates in the U.S. and abroad. The triple-threat artist embarks on her second exciting season as a saxophonist with the wo...

Krautrock Legends faUSt to Tour North America Summer 2018!
by BWW News Desk - June 12, 2018
German Krautrock legends faUSt will be embarking on their Vagabondages in North America tour in July 2018! faUSt is an experimental rock band which came out of the Hamburg music scene in the late sixties. Formed in Wümme in 1971, faUSt were the first band to have the term "krautrock" applied to thei...

Trumpeter and Big Band Leader Bill Warfield To Release FOR LEW Tribute Album in Honor of Mentor Lew Soloff
by BWW News Desk - February 07, 2018
Bill Warfield's career as a trumpeter was launched the moment he heard Lew Soloff's immortal solo on the Blood, Sweat & Tears hit 'Spinning Wheel.' 'It just completely knocked me out,' says Warfield, who was 18 at the time and gigging as a pianist, having given up hope of earning a living as a horn ...

Beach Boys Mike Love to Release Double Album 'Unleash the Love,' 11/17
by BWW News Desk - October 05, 2017
Legendary Rock and Roll Hall of Fame Inductee,Grammy Winner, New York Times Best-Selling Author, co-founder and chief lyricist of The Beach Boys,Mike Love, is set to release a special double album on November 17 through BMG....