Jeremy Irons and Lesley Manville-Led 'LONG DAY'S JOURNEY' Among BAM's 2018 Winter/Spring Season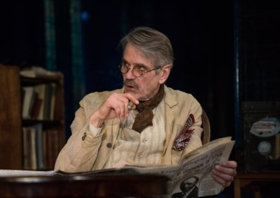 Joseph V. Melillo, executive producer of the Brooklyn Academy Of Music, today announced programming for the BAM 2018 Winter/Spring Season. The season runs from January 15 through June 23 and includes theater, dance, music, and other live events in the BAM Howard Gilman Opera House, BAM Harvey Theater, and BAM Fisher.
Melillo said, "BAM's Winter/Spring Season is one of global discoveries and triumphant returns. Qyrq Qyz, presented in partnership with the Aga Khan Music Institute, explores the little-known oral epic tradition of Central Asia from a feminist perspective while newly-minted Bessie-Award winner and DanceAfrica artistic director Abdel R. Salaam brings the complex history and dance tradition of South Africa to the BAM Howard Gilman Opera House stage. An exceptional array of theatrical experiences this season includes the return of the RSC with Sir Antony Sher's unmissable take on King Lear; Russia's Maly Drama Theatre with a revelatory Schiller production; and Sir Richard Eyre directing Long Day's Journey into Night with Lesley Manville and Jeremy Irons. With music from masters like Meredith Monk and Abdullah Ibrahim it is truly a season rich with resonant offerings that we look forward to sharing with our always adventurous audiences."
BAM President Katy Clark said, "This exceptional programming wouldn't be possible without the ongoing support of our season sponsor, Bloomberg Philanthropies. I would like to thank all of our generous sponsors and donors who continue to support BAM--from our work on the stage to our work in the classroom. We value your consistent dedication."
BAM 2018 Winter/Spring Season Highlights:
Music
Cellular Songs.............................Meredith Monk & Vocal Ensemble
Qyrq Qyz (Forty Girls).................Aga Khan Music Initiative, Saodat Ismailova, Dmitri Yanov-Yanovsky
The Jazz Epistles........................Abdullah Ibrahim & Ekaya
Theater
King Lear......................................Royal Shakespeare Company
Long Day's Journey into Night.....Eugene O'Neill, Bristol Old Vic, Sir Richard Eye
Love and Intrigue.........................Friedrich Schiller, Lev Dodin, Maly Drama Theatre
Dance
DanceAfrica 2018.........................Abdel R. Salaam
Additional programming
The 32nd Annual Brooklyn Tribute to Dr. Martin Luther King, Jr
Teknopolis
RaidoLoveFest
Everybooty....................................Curated by Sean B + Jason Roe
2018 Winter/Spring subscriptions go on sale December 12 (November 28 for BAM Members). Single tickets for all Winter/Spring shows go on sale January 16 (January 9 for BAM Members). To purchase tickets visit BAM.org or contact BAM Ticket Services at 718.636.4100.
---
Cellular Songs
Meredith Monk & Vocal Ensemble
Music and direction by Meredith Monk
Costume design and scenography by Yoshio Yabara Lighting design by Joe Levasseur
Sound design by Eli Walker
BAM Harvey Theater (651 Fulton Street)
Mar 14-17 at 7:30pm, Mar 18 at 3pm
Tickets: $25, 35, 45 (weekday); $30, 40, 50 (weekend) (Prices subject to change after Jan 8)
Master class: Meredith Monk & Vocal Ensemble With Ellen Fisher and Katie Geissinger
Co-presented by BAM and Mark Morris Dance Group Mar 7 at 10am
Mark Morris Dance Center (3 Lafayette Ave) For dance, music, and theater practitioners Price: $25
World Premiere
The iconoclastic New York artist Meredith Monk returns to BAM this season with her newest music-theater work, Cellular Songs. Pairing voice with movement, instrumentation, and a site specific video installation, Cellular Songs is a continuation of Monk's works that explore human beings' interdependent relationship with nature while seeking to evoke the ineffable. The work, at once playful and contemplative, draws inspiration from such cellular activity as layering, replication, division, and mutation, and looks to underlying systems in nature that can serve as a prototype for human behavior in our tumultuous world. Conjuring cycles of birth and death throughout, Monk once again reminds us of her vitality as an artist who cuts to the core of experience. Cellular Songs will be Monk's 11th production at BAM, which began with the 1976 presentation of Quarry. She most recently presented On Behalf of Nature (2014 Next Wave).
Meredith Monk is a composer, singer, director/choreographer and creator of new opera, music-theater works, films, and installations. Recognized as one of the most unique and influential artists of our time, she is a pioneer in what is now called "extended vocal technique" and "interdisciplinary performance". Monk creates works that thrive at the intersection of music and movement, image and object, light and sound in an effort to discover and weave together new modes of perception. Her groundbreaking exploration of the voice as an instrument, as an eloquent language in and of itself, expands the boundaries of musical composition, creating landscapes of sound that unearth feelings, energies, and memories for which there are no words. "Monk's many-sided art [is] rooted in her voice-a ruggedly beautiful, piercingly expressive, ever-changeable instrument." says The New Yorker. Celebrated internationally, her work has been presented at major venues throughout the world. In conjunction with her 50th Season of creating and performing, she was appointed the 2014-15 Richard and Barbara Debs Composer's Chair at Carnegie Hall. Among her many accolades, Monk recently received two of the highest honors bestowed to a living artist in the United States--the 2017 Dorothy and Lillian Gish Prize and a 2015 National Medal of Arts from President Barack Obama.
Commissioned by BAM
BAM and Aga Khan Music Initiative present
Qyrq Qyz (Forty Girls)
Directed by Saodat Ismailova Music by Dmitri Yanov-Yanovsky
Scenography and costumes by Kamilla Kurmanbekova Lighting design by Se?verine Rie?me
Produced by the Aga Khan Music Initiative
BAM Harvey Theater (651 Fulton St) Mar 23 & 24 at 7:30pm
Tickets: $25, 35, 45
(Prices subject to change after Jan 8)
New York Premiere
The matriarchal narrative of Gulaim-a teenage warrior who defended her clan from Eastern invaders with the help of qyrq qyz (forty girls), Amazons of Turkic legend-has endured for centuries in the male-dominated epic oral tradition of Central Asia. With Qyrq Qyz, a BAM debut for both the Aga Khan Music Initiative and acclaimed Uzbek filmmaker Saodat Ismailova (40 Days of Silence), the tale receives a multimedia retelling that harnesses both cutting-edge and traditional art forms. As a new generation of Turkic female bards sing Gulaim's legend-accompanying themselves on dutar (two-stringed lute), kyl-kiyak (two-stringed bowl fiddle), and jaw harp-Ismailova's mesmerizing multiscreen video, scored by acclaimed Tashkent-based composer Dmitri Yanov-Yanovsky, adds a powerful new dimension to an eternally engrossing ancient story.
The Aga Khan Music Initiative is an interregional music and arts education program with worldwide performance, outreach, mentoring, and artistic production activities. The Initiative was launched by His Highness the Aga Khan to support talented musicians and music educators working to preserve, transmit, and further develop their musical heritage in contemporary forms. The Music Initiative began its work in Central Asia, with projects in Kazakhstan, Kyrgyzstan, Tajikistan, and Afghanistan, and subsequently expanded its cultural development activities to include artistic communities and audiences in the Middle East and North Africa, South Asia, and West Africa.
King Lear
Royal Shakespeare Company By William Shakespeare
Directed by Gregory Doran Set design by Niki Turner Lighting design by Tim Mitchell Music by Ilona Sekacz
Sound design by Jonathan Ruddick Movement by Michael Ashcroft Fight Choreography by Bret Yount
US Premiere
BAM Harvey Theater (651 Fulton St.)
Apr 7, 10-14, 17-21, 24-28 at 7:30pm; Apr 21 & 28 at 1:30pm; Apr 8, 15, 22 & 29 at 3pm; (press previews Apr 11 & 12)
Tickets: $35, 75, 125 (weekday); $45, 85, 135 (weekend)
(Prices subject to change after Jan 8)
Master Class: Inside the Storm: An open workshop with the RSC With RSC Associate Director Anna Girvan and members of the company Co-presented by BAM and Mark Morris Dance Group
Apr 26 at 12pm, Mark Morris Dance Center (3 Lafayette Ave)
For inquisitive theater goers of all abilities
Tickets: $20
Visit BAM.org/master-classes for more information and to register
Master Class: Royal Shakespeare Company
With RSC Associate Director Anna Girvan and members of the company Co-presented by BAM and Mark Morris Dance Group
Apr 24 at 1pm, Mark Morris Dance Center (3 Lafayette Ave)
For emerging professional actors
Tickets: $25
Visit BAM.org/master-classes for more information and to register
The incomparable Sir Antony Sher and the legendary Royal Shakespeare Company return to BAM with their acclaimed new production of King Lear, presented at BAM in its US premiere. In this magnum opus within Shakespeare's canon of kings, Sher tackles the colossal role of Lear with his signature ferocity and power, personifying one of drama's most tragic falls from grace. RSC Artistic Director Gregory Doran stages the production amid stark, modern sets, allowing Shakespeare's language and Jacobean brutality to take center stage.
After ruling for many years and reaching the age of 80, the widowed King Lear announces his intention to divide his kingdom and the monarchy evenly among his three daughters. However, with hubris he misjudges their loyalty, soon finding himself stripped of all the trappings of state and power that had defined him-and descending into madness.
The Royal Shakespeare Company creates theater at its best, made in Stratford-upon-Avon and shared around the world. Everyone at the RSC-from actors to armorers, musicians to technicians-plays a part in creating the world seen on stage. All productions begin at their Stratford workshops and theaters, and they bring them to the widest possible audience through touring, residencies, live broadcasts and online activity. Wherever the audiences experience the RSC, they experience work made in Shakespeare's home town. They encourage everyone to enjoy a lifelong relationship with Shakespeare and live theater. Each year the RSC produces an inspirational artistic program, setting Shakespeare in context, alongside the work of his contemporaries and today's writers. They have trained generations of the very best theater makers and continue to nurture the talent of the future. The RSC reaches many thousands of children and young people annually through their educational work, transforming their experiences in the classroom, in performance, and online. They have always had a special relationship with America, welcoming more than 20,000 US visitors to Stratford each year and bringing productions and education programs there regularly.
Over the past three decades Gregory Doran has directed more than half the canon of Shakespeare's plays for the RSC and was officially appointed as the RSC's Artistic Director in 2012. He is an Honorary Fellow of the Shakespeare Birthplace Trust, an Honorary Senior Research Fellow of the Shakespeare Institute and holds honorary doctorates from Universities of Huddersfield, Nottingham, Bristol, Birmingham and Warwick. In 2012 he won the Sam Wanamaker Award, and from 2012-13 was the Humanitas Visiting Professor in Drama at Oxford University. In 2003 he earned an Olivier Award for Outstanding Achievement of the Year for his RSC Jacobeans Season.
The RSC Acting Companies are generously supported by The Gatsby Charitable Foundation and The Kovner Foundation
J.P. Morgan is the Lead Sponsor of King Lear
BAM and World Music Institute present
The Jazz Epistles
Featuring Abdullah Ibrahim & Ekaya With special guests
BAM Howard Gilman Opera House (30 Lafayette Ave) Apr 19 at 8pm
Tickets: $35, 40, 60
(Prices subject to change after Jan 8)
The Jazz Epistles were South Africa's first black jazz band, pioneering a new musical form influenced by bebop and traditional South African music. Inspired by Art Blakey's Jazz Messengers, the band formed after the Dollar Brand Trio from Capetown--which included pianist Abdullah Ibrahim, bassist Johnny Gertze, and drummer Makaya Ntshoko--combined talents with alto saxophonist Kippie Moeketsi, trumpeter Hugh Masekela, and trombonist Jonas Gwangwa. Their first and only album, Jazz Epistle, Verse 1, released in 1959, brought them international acclaim. Following the 1960 Sharpeville Massacre and the heightened oppression of the apartheid government, including the prohibition of jazz music, the members of the band emigrated to Europe and North America. Two of the members, Ibrahim and Masekela, would go on to become jazz stars in their own right.
In June 2016, Ibrahim and Masekela reunited for two sold-out concerts at the Emperor's Palace in Johannesburg, performing together in South Africa for the first time in over 50 years. The legends planned on touring the world together in tribute to The Jazz Epistles, but an illness forced Masekela to withdraw. The program will go forward with Abdullah Ibrahim & Ekaya (Ibrahim's band) and special guests presenting new arrangements of The Jazz Epistles original compositions--including "Blues for Huey," "Scullery Department," and "Dollars Moods"--along with Ibrahim's classic catalogue.
Abdullah Ibrahim, South Africa's most distinguished pianist and jazz pioneer, was born in 1934 in Cape Town. He began piano lessons at the age of seven and made his professional debut at fifteen, playing and later recording with such local groups as the Tuxedo Slickers. He was in the forefront of playing bebop with a Cape Town flavor and in 1958 founded the Dollar Brand Trio. His groundbreaking septet, The Jazz Epistles, formed in 1959--with saxophonist Kippie Moeketsi, trumpeter Hugh Masekela, trombonist Jonas Gwanga, bassist Johnny Gertze, and drummer Makaya Ntshoko--and recorded the first jazz album by South African musicians, Jazz Epistle Verse 1. Ibrahim has been the subject of several documentaries and has also composed scores for film, including the award-winning soundtrack for Claire Denis' Chocolat (1988), as well as for No Fear, No Die (1990) and Idrissa Ouedraogo's Tilai (1990). Ibrahim was also featured in the 2002 documentary Amandla: A Revolution in Four-Part Harmony, which depicted the struggle against apartheid. He has toured the world extensively, appearing at major concert halls, clubs and festivals as both a solo artist and with other renowned artists, notably Max Roach, Carlos Ward, and Randy Weston.
Long Day's Journey Into Night
Bristol Old Vic
By Eugene O'Neill
Directed by Sir Richard Eyre
Set & costume design by Rob Howell
Lighting design by Peter Mumford
Sound design by John Leonard
US Premiere
BAM Harvey Theater (651 Fulton St)
May 8-12, 15-19, 22-26 at 7:30pm; May 12, 19 & 26 at 2pm; May 13, 20 & 27 at 3pm (press previews May 10 & 11)
Tickets: $35, 75, 125 (weekday); $45, 85, 135 (weekend)
(Prices subject to change after Jan 8)
Talk: Bringing Home the Opioid Epidemic
With Margaret Talbot
May 18 at 6pm
BAM Fisher (Hillman Studio) Tickets: $15 ($7.50 for members)
Eugene O'Neill's Pulitzer Prize-winning, autobiographical family drama, Long Day's Journey Into Night, is widely regarded as one of the most powerful American plays of the 20th century. The acclaimed Bristol Old Vic production-which premiered in 2016 as the centerpiece of its 250th anniversary season-is helmed by award-winning theater and film director Richard Eyre (Ghosts, BAM 2015 Winter/Spring Season; Notes on a Scandal, Iris), and features unforgettable performances by stage and screen, Tony- and Oscar-winning actor Jeremy Irons (The Borgias, Brideshead Revisited, Reversal of Fortune, The Real Thing) and renowned stage and screen actress Lesley Manville (Ghosts, Another Year, Secrets and Lies).
Unfolding on a summer's day in 1912, Long Day's Journey Into Night offers an emotionally devastating look at the Tyrone family, including retired actor and alcoholic father James, his morphine-addicted wife Mary, and troubled adult sons Edmund and Jamie. Haunted by the past-yet unable to face the truth of their dilemmas-the family replays feelings of resentment, anger, love, and despair.
The cast includes Irons (James Tyrone), Manville (Mary Tyrone), Matthew Beard (Edmund Tyrone), Rory Keenan (James Tyrone, Jr.), and Jessica Regan (Cathleen). According to The Guardian, "Jeremy Irons and Lesley Manville shine with sexual passion and rage," and the Mail on Sunday calls it "an intense, electrifying production."
Long Day's Journey Into Night will have a West End season at Wyndham's Theatre (London) from January 27 to April 8. Following the BAM engagement, the production will travel to the Wallis Annenberg Center for the Performing Arts in Los Angeles from June 8 to July 1.
Sir Richard Eyre was director of the National Theatre from 1987-97. His most notable theater productions include Hamlet, with Jonathan Pryce at the Royal Court in 1980 and with Daniel Day-Lewis in 1989; Richard III with Ian McKellen; King Lear with Ian Holm; John Gabriel Borkman with Paul Scofield, Vanessa Redgrave and Eileen Atkins; and numerous new plays by David Hare, Tom Stoppard, Trevor Griffiths, Howard Brenton, Alan Bennett, and Nicholas Wright. He also directed the musical Mary Poppins in London and on Broadway. Eyre has received five Olivier Awards (including the Olivier Lifetime Achievement Award) and awards from the Directors' Guild of Great Britain, the South Bank Show, the Evening Standard, and the Critics' Circle. In 2013 he again won the Evening Standard Award for Best Director, for Ibsen's Ghosts starring Lesley Manville at the Almeida Theatre. The production transferred to the West End and to BAM (2015 Winter/Spring Season).
Bristol Old Vic is the longest continuously running theater in the UK, and celebrated its 250th anniversary in 2016. Under Artistic Director Tom Morris, the historic playhouse aims to inspire audiences with its own original productions, both at home and on tour, while nurturing the next generation of artists, whether through its 350-strong Young Company, its many outreach and educations projects, or its trailblazing artist development program, Bristol Ferment. Its funding supports experiment and innovation, allowing access to programs for those who would otherwise not encounter or afford them, and keeping an extraordinary heritage alive and animated.
DanceAfrica 2018
Artistic Director Abdel R. Salaam BAM/Restoration Dance Youth Ensemble Lighting design by Al Crawfod
Sound design by David Margolin Lawson
BAM Howard Gilman Opera House (30 Lafayette Ave)
May 25 at 7:30pm; May 26 at 2pm & 7pm; May 27 & 28 at 3pm Tickets: $25, 30, 40, 50, 60
(Prices are subject to change after Jan 8)
In 1977, dancer and choreographer Chuck Davis installed an "African village" in the BAM Lepercq Space for his dance engagement. No one anticipated his vision would evolve into DanceAfrica-BAM's longest continuous program and one of its most beloved. The nation's largest African dance festival returns with its traditional Memorial Day weekend extravaganza-featuring dance, music, art, film, and community events, including the beloved DanceAfrica outdoor bazaar. This year's DanceAfrica celebrates the rich cultural heritage of South Africa, featuring the Durban-based Siwela Sonke Dance Theater. Additional participating artists will be announced soon; please check BAM.org for updates.
Abdel R. Salaam is the executive artistic director/co-founder of Forces of Nature Dance Theatre (FONDT) founded in 1981. Born in Harlem, New York, Salaam is a critically acclaimed choreographer and served as a dancer, teacher, and performing artist on five continents throughout his 47-year career in the dance world. He has received numerous awards and fellowships for excellence in dance including from the National Endowment for the Arts, New England Foundation on the Arts, New York Foundation for the Arts, New York State Council for Arts, National Council for Arts and Culture, and Herbert H. Lehman College. Salaam and Forces of Nature Dance Theatre were honored with a 2017 Bessie for Outstanding Production for DanceAfrica's centerpiece performance, Healing Sevens. The company also received the 2013 Audelco Award for Dance Company of the Year. Salaam has served on the faculties of the American Dance Festival in the US and Seoul, Korea; Herbert H. Lehman College; Alvin Ailey American Dance Center; Restoration Youth Arts Academy; and Harlem Children's Zone. Inspired by Dr. Maulana Karenga, Salaam created Kwanzaa Regeneration Night Celebration in Harlem, now in its 36th year.
Love and Intrigue
By Friedrich Schiller
Maly Drama Theatre of St. Petersburg, Russia Directed and adapted by Lev Dodin
Design by Alexander Borovsky
Lighting design by Damir Ismagilov
Music by Ludwig van Beethoven
Additional text by Jean-Jacques Rousseau and Otto von Bismark
US Premiere
BAM Harvey Theater (651 Fulton St) Jun 6-9, 12-16 at 7:30pm; Jun 10 at 3pm Tickets: $30, 65, 80, 100 (weekdays); $35, 75, 90, 110 (weekend)
(Prices subject to change after Jan 8)
"The moment my work day is done I run to my attic room, open a book by Schiller, and dream and suffer and delight in pains sweeter then all worldly pleasures." -Fyodor Dostoevsky
Legendary director Lev Dodin (The Cherry Orchard, 2016 Winter/Spring; Three Sisters, 2012 Winter/Spring) and Russia's acclaimed Maly Drama Theatre bring a classic work by German poet, playwright, and philosopher Friedrich Schiller to vital new life. A Romeo and Juliet for the bourgeois age, Love and Intrigue- first performed in 1787-tells the story of Ferdinand, the son of a high-ranking courtier who upends his father's carefully laid plans and jeopardizes his fortuitous forthcoming marriage to one Lady Milford by falling in love with Louise Miller, the daughter of a middle-class musician. Courtly intrigue and class warfare ensue in this crisply paced, emotionally riveting, and ultimately timeless exploration of personal and political machinations. Danila Kozlovsky, Ksenia Rappoport, and Elizaveta Boyarskaya from 2016's Cherry Orchard production appear as Ferdinand, Lady Milford, and Louise Miller.
The legendary Maly Drama Theatre began against all odds in war-ravaged Leningrad in 1944, performing in relative obscurity until the mid-70s when current Artistic Director Lev Dodin and other well-known artists joined the company. Maly Drama grew in breadth and ambition to become an internationally acclaimed, multi- award-winning company famous for challenging theatrical boundaries with Dodin's thrillingly imaginative productions and accomplished ensemble of actors. Maly Drama Theatre made its BAM debut with Gaudeamus: The Construction Battalion as part of the 1994 Next Wave Festival. It has since appeared with Uncle Vanya in 2010, Three Sisters in 2012, and The Cherry Orchard in 2016.
Lev Dodin was born in Siberia in 1944. He studied theater, music, and cinema at Leningrad Institute for Theatre, graduating in 1966. Between 1966 and 1982 he served as a guest director of various Russian and European theater companies, including Leningrad Young Viewers' Theatre, Gorky Theater, MKhAT, Finnish National Theatre, Salzburg Festival, Florence Musical May festival, and Milan's La Scala. He began working with Maly Drama Theatre in 1975 and has been artistic director since 1983, garnering several international laurels. He is a professor at the St. Petersburg Academy of Theatrical Arts and chair of the directing department.
Supported by the Ministry of Culture of the Russian Federation.
The 32nd Annual Brooklyn Tribute to Dr. Martin Luther King, Jr.
Presented by BAM, Brooklyn Borough President Eric L. Adams, and Medgar Evers College of The City University of New York
Jan 15 at 10:30am
BAM Howard Gilman Opera House (30 Lafayette Ave) Free
Artists, activists, civic leaders, and community members come together for New York City's largest public celebration of Dr. Martin Luther King Jr.'s life and mission. Martha Redbone Roots Project and The Brooklyn Interdenominational Choir perform. Additional program information will be announced soon, including keynote speaker, musical guests, talks, BAMcafe? Live engagements, and the annual exhibition of student visual art, Picture the Dream.
Visit BAM.org/MLK for program updates.
Teknopolis
BAM Fisher (321 Ashland Pl) Feb 24-Mar 11
90-minute timed-entry sessions Ages 6+
TeknopolisTM, a three-week-long digital art installation experience for ages 6+, returns to the BAM Fisher after a sold out inaugural season with an ambitious new program designed to inspire creativity, connect with the future, and spark innovations through interaction with technology. The only digital arts playground of its kind in Brooklyn, TeknopolisTM dedicates an entire BAM facility to an interactive, multi-space digital arts showcase for both youth and adult audiences. Featuring local and international digital artists and technologists, the selected installations use technology to inspire the same exploratory and creative impulses we satisfy when we pick up a paintbrush, grab a musical instrument, or hear a beat that moves us. Compete details will be announced in January.
BAM presents
RadioLoveFest 2018
Mar 8-17
BAM (multiple venues) Produced by BAM
Media Sponsor WNYC Radio
For the fifth consecutive year, BAM presents RadioLoveFest-an array of beloved public radio programs and podcasts reimagined as theatrical events, live on stage. From storytelling to comedy to conversation, a vibrant cross-section of genres, formats, hosts, and guests are in residence in multiple BAM venues for six days over two weeks, featuring radio favorites and new discoveries. This year's program also features complementary music events as part of the BAMcafe? Live series. The RadioLoveFest line-up and ticket information will be announced on Jan 18.
BAM presents
Everybooty
Curated by Sean B + Jason Roe
BAM Fisher (321 Ashland Pl)
Jun 23, 9pm-2am (doors open at 8pm) Tickets: $25 in advance; $30 day-of
Everybooty, BAM's celebration of New York City Pride Month, returns for its sixth year at BAM Fisher on June 23. This all-inclusive, all-gender celebration of queer culture is equal parts dance party, arts happening, and community affirmation. Everybooty features musicians, dancers, visual artists, drag performers, DJs, and storytellers throughout the entire BAM Fisher building.
BAMcafé Live
BAMcafé Live features a diverse mix of free live music and performance in BAM's Lepercq Space on select Friday and Saturday nights. The curated series--featuring rock, jazz, R&B, world music, pop, and more from Brooklyn and beyond--has served as a career launchpad for artists like Antibalas and ETHEL and an intimate performance home for established artists like Vernon Reid. BAMcafé Live will take place on Jan 12- 13, Mar 9-10, Apr 20-21, and May 26. Artist lineup to be announced.
---
BAM Howard Gilman Opera House, BAM Rose Cinemas, and BAMcafé are located in the Peter Jay Sharp building at 30 Lafayette Avenue (between St Felix Street and Ashland Place) in the Fort Greene neighborhood of Brooklyn. BAM Harvey Theater is located two blocks from the main building at 651 Fulton Street (between Ashland and Rockwell Places). Both locations house Greenlight Bookstore at BAM kiosks. BAM Fisher, located at 321 Ashland Place, is the newest addition to the BAM campus and houses the Judith and Alan Fishman Space and Rita K. Hillman Studio. BAM Rose Cinemas is Brooklyn's only movie house dedicated to first-run independent and foreign film and repertory programming. BAMcafé, operated by Great Performances, offers varied light fare and bar service prior to BAM Howard Gilman Opera House evening performances. For ticket information, call BAM Ticket Services at 718.636.4100, or visit BAM.org.