| | |
| --- | --- |
| BIO: jazz singer/pianist/songwriter Guggenheim Fellowship in composition (first songwriter ever to win this award) 2003 Townsend Fellowship 2005 many recordings on Blue Note and Premonition Records now with CONCORD JAZZ! NEW ALBUM "SMASH" coming out January 2013 | |
Latest Articles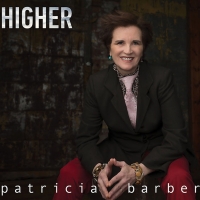 Patricia Barber Announces 2020 European Tour Dates
by TV News Desk - November 20, 2019
Internationally acclaimed American composer singer/pianist Patricia Barber raises the bar with her 2019 recording on ArtistShare, her first since the critically acclaimed Smash (Concord, 2013). Higher marks Barber's return with another form-shattering collection of original material.... (
more...
)

Additional Artists Announced For 2019 TD Vancouver International Jazz Festival
by BWW News Desk - April 08, 2019
Coastal Jazz & Blues Society announced today additional performances for the 34th annual TD Vancouver International Jazz Festival, taking place June 21 to July 1. The Festival lineup now includes headliner Herbie Hancock at the Queen Elizabeth Theatre on June 29 as well as genre-bending performances... (
more...
)

The Patricia Barber Trio HIGHER First Release in Six Years, Plus 2019 Tour
by BWW News Desk - March 01, 2019
Internationally acclaimed American composer singer/pianist Patricia Barber is back with a new recording on ArtistShare, her first since the critically celebrated Smash (Concord, 2013). Higher marks Barber's return with another form-shattering collection of original material.... (
more...
)

Monterey Jazz Festival Announces Allison Miller And Derrick Hodge As 2019 Artists-in-Residence
by BWW News Desk - October 22, 2018
Monterey Jazz Festival is proud to announce that drummer and composer Allison Miller and bassist, composer and producer Derrick Hodge have been selected as the 2019 Monterey Jazz Festival Artists-in-Residence and will work year-round with young musicians in performances and clinics at the 2019 Next ... (
more...
)