Latest Articles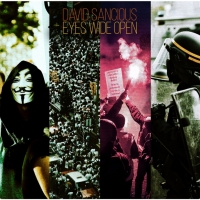 David Sancious New Album EYES WIDE OPEN Now Available
by TV News Desk - March 11, 2020
World-renowned performing and recording artist David Sancious, was an original member of Bruce Springsteen's E Street Band. He has toured and recorded with greats Peter Gabriel, Sting, Eric Clapton, Jeff Beck, Santana, Seal and an expansive list of A-level musicians. Sancious also wrote, produced an...

David Sancious Starts PledgeMusic Campaign For New Album 'Eyes Wide Open'
by TV News Desk - November 12, 2018
Long regarded as one of the premier musicians in the world, David Sancious was an original member of Bruce Springsteen's E Street Band, toured and recorded with Peter Gabriel, Sting, Seal, Eric Clapton, Jon Anderson and a long list of A-level musicians. He also created groundbreaking music with his ...

Vulfpeck's Cory Wong Announces New Album THE OPTIMIST Featuring Prince's Horn Section & Many More
by TV News Desk - June 27, 2018
Best known for his thrifty guitarwork in the midwestern funk ensemble Vulfpeck, Cory Wong is excited to announce the release of his sophomore solo record, The Optimist, due out August 17th, 2018. Pre-order is going on now: www.corywongmusic.com....

Jane Lynch, James Hunter, & More to Play Chicago's City Winery
by TV News Desk - April 24, 2018
City Winery Chicago, 1200 W. Randolph Street, announces holiday concerts with award-winning singer, actress, and comedian Jane Lynch ("Glee") and more. The following shows go on sale to the public on Thursday, April 26 at 2:00 p.m. All tickets will be available at citywinery.com/chicago....

84 Artists Awarded MacDowell Fellowships for Summer Residencies
by TV News Desk - April 23, 2018
The MacDowell Colony has awarded fellowships to 84 artists from 18 states and six countries, from Colorado to Virginia and from Portugal to Nigeria. They are working in seven disciplines, and 43 percent identify as culturally diverse while 56 percent are women. The fellowships are for upcoming summ...

Van Morrison Joins Forces with Jazz Organ Virtuoso Joey DeFrancesco on New Studio Album from Legacy Recordings
by BWW News Desk - March 07, 2018
Legacy Recordings, a division of Sony Music Entertainment, will release Van Morrison's new 39th studio album, You're Driving Me Crazy, a musical collaboration with Hammond organ virtuoso and trumpet master Joey DeFrancesco, on Friday, April 27....

TV One Premieres Black History Month Campaign and Programming Slate the Theme REPRESENTING THE DREAM
by BWW News Desk - February 07, 2018
TV One is celebrating Black History Month with a full slate of programming offerings that embody the theme, 'Represent the Dream.' The network also debuts a new short form video campaign featuring three-time Grammy Award and Academy Award winning artist, actor and social justice activist Common, whi...
bergenPAC presents SOUL ASYLUM & CRACKER, Classic Albums Live and Vic DiBitetto
by BWW News Desk - May 22, 2017
New show on sale at bergenPAC: Soul Asylum and Cracker, Sun., July 23, 8 p.m.; Classic Albums Live: Creedence Clearwater Revival – Chronicle: The 20 Greatest Hits, Thurs., Aug. 24, 8 p.m.; Classic Albums Live: Rush – 2112, Sat., Sept. 30, 8 p.m.; Vic DiBitetto, Sat., May 19, 8 p.m. Tickets go on sal...