Latest Articles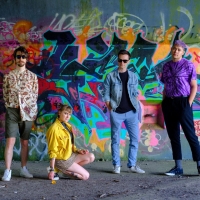 UV Rays Share 'Faster Now' Single On The 405, 'The Right Stuff' EP Out 8/9
by BWW News Desk - August 02, 2019
The 405 Today, Brooklyn-based indie rock band UV Rays share their new single 'Faster Now.' Yesterday, The 405 exclusively premiered the track with praise, calling it 'a shimmering new single that showcases the band's knack for earworm melodies and airtight grooves.' The band will be performing at So...

Haybaby Announces New Album 'They Get There'
by TV News Desk - April 17, 2019
Haybaby, the powerhouse trio fronted by vocalist/guitarist Leslie Wong, are returning with their new full-length They Get There, due out June 7 on Tiny Engines. The record finds the band confronting a range of forceful emotions, with songs addressing abusive relationships, violence against women, an...
Athens PopFest Announces Full Line Up
by BWW News Desk - July 11, 2016
The Athens Popfest returns in 2016 on August 10th - 13th at Little Kings Shuffle Club, the World Famous, and the Georgia Theatre....
Eureka California Announce Tour Dates; Debut Video for New Single
by BWW News Desk - March 04, 2016
Eureka California's going way too fast, and if they don't slow down they're gonna crash. Like peak Elvis Costello, they think if they keep the wisecracks and the puns coming fast enough they can avoid facing the truth—that death comes for everyone and nothing dies faster than dreams....