| | |
| --- | --- |
| BIO: A two-time Grammy award-winning artist, recipient of a Lifetime Achievement Award from the RI Council for the Humanities, Bill uses song and story to paint a vibrant and hilarious picture of growing up, schooling and family life. His work spans the generation gap, reminds us of our common humanity and challenges us to be our very best selves. A prolific author and recording artist, Bill is also a regular commentator for NPR's "All Things Considered" and featured on PBS. He joined the National Storytelling Network's Circle of Excellence in 2001 and tours nationwide as an author, performing artist and keynote speaker. Bill began singing and storytelling in 1975 while still in college. His work has influenced a generation of children, parents, performing artists and educators. Bill's songs are joyous, direct and honest, his stories are filled with the details of daily life – all told and sung from his slightly off-center point of view. "Humor is my weapon," says Harley of his award-winning recordings. A two-time Grammy winner, Bill's recordings have also garnered numerous other national awards including Parents' Choice, NAPPA (National Association of Parenting Publication Awards), ALA (American Library Association) and the highest honor from the Oppenheim Toy Portfolio for his concert DVD, "Yes to Running!" filmed in conjunction with Montana PBS. Bill's trademark wit and wisdom can also be found in his picture books and novels for children. His first novel, The Amazing Flight of Darius Frobisher was chosen by Bank Street School of Education as one of the best children's books of the year and his second novel, Night of the Spadefoot Toads was awarded the Green Earth Book Award as best environmental book of the year in the children's fiction category. His picture books, based on his songs, stories and poems also stand out as 'pick of the list' from ABA and a Storytelling Award Winner. An advocate for children and educators, Bill is currently at work on a book about the culture of schools. Touring nationally in theaters, schools, libraries, festivals and conferences, as a workshop leader, keynote and inspirational speaker, Bill's work affirms our commonality and reminds us to laugh out loud. In the car, the classroom, at home or on stage, "no one beats Harley for intelligent, polished children's entertainment – he's simply the best." Mothering Magazine | |
Latest Articles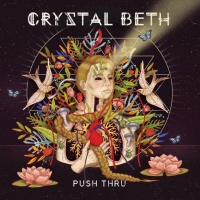 Crystal Beth Unleashes Her Debut Album PUSH THRU
by TV News Desk - October 02, 2019
Crystal Beth unleashes her first full-length studio record, PUSH THRU, a solo incarnation using wailing vocals, amplified clarinet, beat-boxing and electronics to weave a sonic universe all her own. The album will be released on Trey Gunn's 7D Media on October 18, 2019. Beth has been described as "w... (
more...
)

Foo Fighters' Cal Jam 18 Announces Pop-Up Event at Hollywood Palladium
by TV News Desk - August 17, 2018
Foo Fighters' Cal Jam 18 is right around the corner, and to celebrate the impending all day rock fest, they've announced a very special pop-up taking place Sunday, August 26th at the Hollywood Palladium from 3pm-7pm. The event will be all ages and free! Get your tailgate on early and enjoy exclusive... (
more...
)