Latest Articles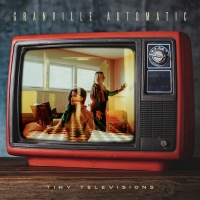 Granville Automatic Release New Record 'Tiny Televisions'
by TV News Desk - September 11, 2020
Granville Automatic have released their new record Tiny Televisions....

Jason Aldean, Jake Owen, Miranda Lambert To Headline 2019 Country Thunder Alberta
by TV News Desk - November 23, 2018
While America is celebrating Thanksgiving Day, Canadians are celebrating the announcement of Alberta's Country Thunder 2019 headliners. Canadian Music Hall of Fame member Terri Clark, once again, did the honors with our friends at Entertainment Tonight Canada in revealing the star-studded roster of ...

Pistol Annies New Album Debuts at Number One On Billboard Top Country Chart
by TV News Desk - November 12, 2018
Country supertrio PISTOL ANNIES' newly released third album INTERSTATE GOSPEL on RCA Records Nashville debuted this week at #1 on the Country Charts. Listen now on all streaming platforms and purchase the album HERE....

Granville Automatic Release New Album, 'Radio Hymns'
by BWW News Desk - November 02, 2018
From love and affairs to deception and murder, drugs and debauchery to war and ghosts, Nashville has it all. Today, Granville Automaticreleases their fourth studio album Radio Hymns, a 13-track concept record that explores Nashville's lesser-known history, including everything from city founder Timo...

Florida Georgia Line, Bebe Rexha, Kacey Musgraves, and More to Perform at the CMA AWARDS
by TV News Desk - October 24, 2018
Dierks Bentley with Brothers Osborne, Florida Georgia Line with Bebe Rexha, Kacey Musgraves, Pistol Annies, and Thomas Rhett have been added to the lineup of performers for "The 52nd Annual CMA Awards," hosted for the 11th consecutive year by Brad Paisley and Carrie Underwood. Country Music's Bigges...

Pistol Annies Drop STOP DROP AND ROLL ONE With Latest Release From Interstate Gospel
by BWW News Desk - October 12, 2018
Country supertrio PISTOL ANNIES have released "Stop Drop and Roll One" off their anxiously-awaited third album INTERSTATE GOSPEL, releasing Nov. 2 on RCA Records Nashville....

Miranda Lambert Celebrates Multi-Platinum Certifications
by BWW News Desk - October 01, 2018
Seven-time CMA Female Vocalist of the Year MIRANDA LAMBERT has added six multi-Platinum certifications to her repertoire, as albums REVOLUTION and CRAZY EX-GIRLFRIEND have been certified double-Platinum by the RIAA, along with singles "The House That Built Me" (3X Platinum), "Mama's Broken Heart" (3...

Wanda Jackson Announces New Music With Joan Jett Producing
by TV News Desk - July 17, 2018
Known for her energetic stage shows and pioneering presence as a female artist, the one-and-only Wanda Jackson - popularly known as the Queen of Rockabilly and the First Lady of Rock & Roll - has returned to Nashville to work on new music. Fellow female Rock n' Roll Hall of Fame member, Joan Jett, i...

THE LONG ROAD, A New Major UK Outdoor Country, Americana And Roots Festival, Announces Lineup
by TV News Desk - April 11, 2018
A major new greenfield music and lifestyle camping festival is set to bring the world-famous, inimitable sights and sounds of the country music scene to the UK in 2018. Taking place within the grounds of Stanford Hall in Leicestershire from September 7th – 9th 2018, The Long Road will present one of...

Grammy Nominated Singer/Songwriter Ashley Monroe Shares New Single WILD LOVE from Forthcoming Album
by TV News Desk - April 06, 2018
This 4/20, Grammy-nominated singer-songwriter Ashley Monroe will make her highly anticipated return with Sparrow, her fourth studio album and first with producer Dave Cobb. The album was recorded in Nashville's historic RCA Studio A while Ashley was pregnant with her first child. Today, Monroe relea...

Brandy Clark Announces 2018 North American Tour Dates
by BWW News Desk - January 11, 2018
Critically-acclaimed singer/songwriter Brandy Clark announces 2018 North American dates, which include tours with Dwight Yoakam and Sugarland....

Wade Bowen's 'Solid Ground' Pre-Order Live Now
by BWW News Desk - December 01, 2017
Country rocker Wade Bowen's upcoming album, SOLID GROUND (Feb. 9, 2018 / Thirty Tigers) is now available for pre-order....