Latest Articles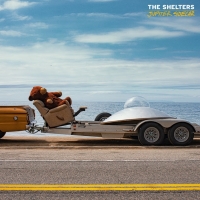 The Shelters Drop 'You're Different' Music Video
by TV News Desk - August 16, 2019
Southern California rock band The Shelters have shared the official video for their new single "You're Different." Directed by Allister Ann, the video is a surrealist homage to mid-century sci-fi cinema. Singer Chase Simpson explains, "We wanted to create a story that had the same fun and exciting e... (
more...
)

Twilight Fields Pays Homage To Bruce Cockburn's Wisdom Ahead Of New LP SONGS FROM THE AGE OF RUIN
by BWW News Desk - January 16, 2019
As a tribute to Canadian songwriter activist Bruce Cockburn and a reminder that these issues are just as relevant now as they were in 1984, when he released his 'Stealing Fire' album, Twilight Fields presents his own rendition of 'Lovers in a Dangerous Time'.... (
more...
)

Ronnie Milsap Announces US Tour Dates
by BWW News Desk - December 18, 2018
For an artist who started out playing DC's iconic Howard Theater and Atlanta's legendary Peacock, as well as getting his big break at Hollywood's famed Whiskey A Go Go, the only way to kick off one's 76th trip around the sun is to take it on the road. So Country Music Hall of Famer Ronnie Milsap wil... (
more...
)

BBMAK Announce New Album and Debut Christmas Video
by TV News Desk - December 17, 2018
BBMAK, Mark Barry, Christian Burns and Stephen McNally who recently reunited after a fifteen year hiatus have announced they are currently finishing work on a new album that will be released  April 26, 2019.  The as-yet-untitled album is the first new music from the pop group in over fifteen years. ... (
more...
)

Twilight Fields Presents DEMAGOGUE Off New 'Song from The Age of Ruin' LP
by BWW News Desk - December 06, 2018
Canada's Twilight Fields, the solo moniker of singer-songwriter Allister Thompson, has announced his new album 'Songs from the Age of Ruin', slated for release in early 2019. Ahead of this, he presents the first rather politically-charged single 'Demagogue', an expression of anti-populist sentiment.... (
more...
)

Kenny Chesney, Thomas Rhett Announced as Early Winners for the CMA Awards
by TV News Desk - November 14, 2018
Winners in the Musical Event of the Year and Music Video of the Year categories for "The 52nd Annual CMA Awards" were revealed live on 'Good Morning America' this morning. See the big reveal below! Kenny Chesney and David Lee Murphy won Musical Event of the Year for "Everything's Gonna Be Alright." ... (
more...
)

Grammy Award Winner John Paul White Confirms Solo Acoustic Fall Tour
by BWW News Desk - September 10, 2018
rammy Award winner John Paul White will embark on a series of special solo acoustic performances this fall, beginningOctober 6, at The Blue Door in Oklahoma City. The tour includes stops in Fort Worth,Los Angeles, San Francisco and Seattle. See below for the full itinerary. For tickets and more info... (
more...
)