Oklahoma! - 2019 - Broadway Tickets, News, Info & More
Oklahoma! returns to Broadway! Stripped down to reveal the darker psychological truths at its core, Daniel Fish's production tells a story of a community circling its wagons against an outsider, and the violence of the frontier that shaped America.
Over 75 years after Rodgers & Hammerstein reinvented the American musical, this is Oklahoma! as you've never seen or heard it before - reimagined for the 21st century.
Video preview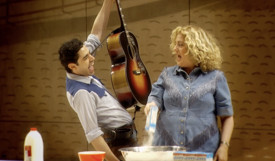 Photo preview
Schedule
Running Time: Two hours and 45 minutes, with one intermission
Featured Reviews For Oklahoma!
Review: A Smashing 'Oklahoma!' Is Reborn in the Land of Id - New York Times
What she does is a far cry from the same sequence as immortalized by Agnes de Mille, the show's legendary original choreographer. But on its own, radically reconceptualized terms, it achieves the same effect. As she gallops, slithers and crawls the length of the stage, casting wondering and seductive glances at the front row, Ms. Hamilton comes to seem like undiluted id incarnate, a force that has always been rippling beneath the surface here. She's as stimulating and frightening - and as fresh - as last night's fever dream. So is this astonishing show.
BWW Review: Director Daniel Fish Makes Sensational Broadway Debut Illuminating Contemporary Issues in Rodgers and Hammerstein's OKLAHOMA! - BroadwayWorld
Some of the finest Broadway musical revivals of this young century have been directed by Bartlett Sher, who has staged handsome, traditional-looking productions of SOUTH PACIFIC, THE KING AND I, FIDDLER ON THE ROOF and MY FAIR LADY that, with minimal revisions, interpret the material with a modern eye. While Daniel Fish's mounting of Oklahoma!, may seem like an extreme departure on the surface, it displays the same respect for the authors' work while drawing out what will connect with modern audiences. This is a sensational Broadway debut for an artist we'll hopefully be seeing more from in years to come.