Oklahoma! - 2019 - Broadway
Oklahoma! returns to Broadway! Stripped down to reveal the darker psychological truths at its core, Daniel Fish's production tells a story of a community circling its wagons against an outsider, and the violence of the frontier that shaped America.
Over 75 years after Rodgers & Hammerstein reinvented the American musical, this is Oklahoma! as you've never seen or heard it before - reimagined for the 21st century.
Video preview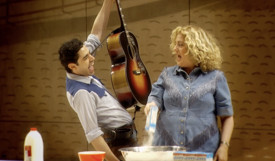 Photo preview
Schedule
Running Time: Two hours and 45 minutes, with one intermission
Featured Reviews For Oklahoma!
BUSINESSDeadline's Getting A Face-Lift With Redesign On Wednesday 'Oklahoma!' Review: Daniel Fish's Brash New Dive Into Old Territory - Deadline
With the score making an abrupt shift in style to something like the electric squall of Jimi Hendrix's "Star Spangled Banner," Oklahoma! rings out with a nod to the sublime, violent beauty Hendrix found in our national anthem. Is it so surprising Fish finds it on the plains?
Oklahoma! - TimeOut NY
Director Daniel Fish's bold, spare revival of Oklahoma! gives us the ranch but not the dressing. The musical's cast of 12 performs in modern clothing, mostly without microphones, with the audience seated on either side of the minimal stage. The house lights are often left up, letting us take in the homespun Western feel of Laura Jellinek's set: wooden risers, colorful banners, racks of guns on one wall. But sometimes the room goes pitch-black, as when Laurie (a wary, ungirlish Rebecca Naomi Jones) is alone with her would-be suitor, Jud (the lanky Patrick Vaill, tense with incel self-pity), or when Jud's rival, Curly (Damon Daunno), visits him in his creepy smokehouse. There are pockets of dark menace in the show's wide-open spaces.