Oklahoma! - 2019 - Broadway
Oklahoma! returns to Broadway! Stripped down to reveal the darker psychological truths at its core, Daniel Fish's production tells a story of a community circling its wagons against an outsider, and the violence of the frontier that shaped America.
Over 75 years after Rodgers & Hammerstein reinvented the American musical, this is Oklahoma! as you've never seen or heard it before - reimagined for the 21st century.
Video preview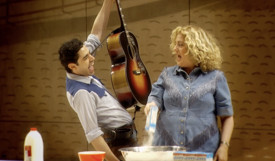 Photo preview
Schedule
Running Time: Two hours and 45 minutes, with one intermission
Featured Reviews For Oklahoma!
BWW Review: Director Daniel Fish Makes Sensational Broadway Debut Illuminating Contemporary Issues in Rodgers and Hammerstein's OKLAHOMA! - BroadwayWorld
Some of the finest Broadway musical revivals of this young century have been directed by Bartlett Sher, who has staged handsome, traditional-looking productions of SOUTH PACIFIC, THE KING AND I, FIDDLER ON THE ROOF and MY FAIR LADY that, with minimal revisions, interpret the material with a modern eye. While Daniel Fish's mounting of Oklahoma!, may seem like an extreme departure on the surface, it displays the same respect for the authors' work while drawing out what will connect with modern audiences. This is a sensational Broadway debut for an artist we'll hopefully be seeing more from in years to come.
'Oklahoma!' review: Entering a darker, deeper state - Newsday
This is not a piece of theater that allows you to sit back and be entertained. Fish demands almost as much from the people in the audience as he does from his cast, forcing them to really listen for lines delivered in near whispers, or reorient when the show is plunged into total blackness. Always a threat of violence lurks. "Country is changing, got to change with it," Curly says, not long before the rousing title song ends the show. But from the driven, verging on angry way it's sung, the message is clear. That change will come at a price.