Oklahoma! - 2019 - Broadway
Oklahoma! returns to Broadway! Stripped down to reveal the darker psychological truths at its core, Daniel Fish's production tells a story of a community circling its wagons against an outsider, and the violence of the frontier that shaped America.
Over 75 years after Rodgers & Hammerstein reinvented the American musical, this is Oklahoma! as you've never seen or heard it before - reimagined for the 21st century.
Video preview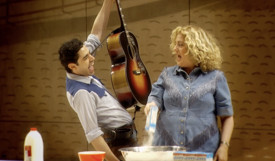 Photo preview
Schedule
Running Time: Two hours and 45 minutes, with one intermission
Featured Reviews For Oklahoma!
This 'Oklahoma!' on Broadway Is Dark and Different—Brilliantly So - Daily Beast
You won't leave feeling miserable, but neither will you be slapping your knees. But this production of Oklahoma! feels less "dark" than sensibly and successfully inquisitive. Fish and his cast ask reasoned questions of a musical that has contained all these questions in plain sight for many years-and in this Oklahoma! those questions are answered with vivid, pugnacious confidence.
Review: A distracted 'Oklahoma!' skims the emotional surface - Broadway News
The most welcome, and most stimulating, innovation is the fresh orchestrations, by Daniel Kluger, for a small band seated in a pit onstage. The instrumentation favors guitars, banjo and accordion, and while Broadway musicals usually feature more robust and varied orchestrations, Kluger's arrangements, and the terrific music-making, gives the show an authentic-feeling countrified flavor that makes the classic songs soar and leap with a new, spirited sound.