| | |
| --- | --- |
| BIO: Despite being the band that got the least press during the ska revival of the early '80s, the Selecter, while only recording one undeniably fine record, deserved better than they got. Hailing from Coventry, England, the same hometown as ska pals the Specials, the Selecter's secret weapon was lead singer Pauline Black, arguably the best lead singer of the ska revival, who gave the jumpy and jittery songs an edge that veered into haunting drama. Although they got off to a roaring start with their debut record, 1980's Too Much Pressure, the second record, Celebrate the Bullet, was a strained follow-up that led to the band's rapid demise. Black spent some time singing solo and eventually re-joined guitarist Neol Davis in a Selecter reunion in the early '90s that has seen them become dance club favorites. According to those attending Selecter shows, the vibe is strong and the music great. John Dougan, Rovi | |
Latest Tweets
| | |
| --- | --- |
| 7/31 @ 2:16 AM | TheSelecter - Lunchtime 1pm taken care of - today #paulineblack #theselecter will be co-curating #funkyfriday on @RobertElms… https://t.co/AjV2yF5ZqQ |
| | |
| --- | --- |
| 7/28 @ 9:57 AM | TheSelecter - Congratulations to the extraordinary sartorial tailoring duo, Sam and Shaka, of #ArtComesFirst, who have officiall… https://t.co/0AUWfx2NWb |
| | |
| --- | --- |
| 7/28 @ 7:16 AM | TheSelecter - Congratulations to Sam & Shaka on the launch of their website for Art Comes First! |
MORE TWEETS
Latest Articles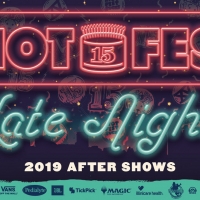 Riot Fest Announces 2019 Late Night After Shows
by TV News Desk - August 08, 2019
In celebration of its 15th birthday, Riot Fest has already announced an incredible festival lineup with limited $49.98 single-day tickets, featuring the likes of Blink-182, Slayer's final Chicago performance, and the rare opportunity to see the recently reunited Bikini Kill. Today they up the ante w...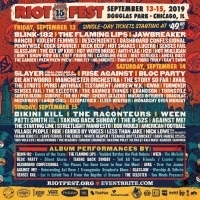 Riot Fest Announces 2019 Daily Lineup
by TV News Desk - July 24, 2019
Riot Fest has unveiled its daily lineup for the 2019 festival, with a very special deal: single-day tickets will be priced at $49.98 for a very limited time. 1-day and 2-day tickets are on sale now....

The Selecter Announces 40th Anniversary US Tour
by TV News Desk - May 08, 2019
UK 2-Tone trailblazers The Selecter have announced their40th Anniversary US Tour, kicking off in September at NYC's Gramercy Theatre. The band will play an extended, hit-rich set each night with additional fan-favorites and surprises spanning their entire catalog. They will also be joined for a few...

Solomun to Bring '+1' Ibiza Party to EXIT Festival
by TV News Desk - April 03, 2019
Last summer, global music juggernaut EXIT Festival displayed a true "Arenamagedon" in the colossal trenches of its spectacular stage mts Dance Arena, but this year's lineup promises even bigger edition! After Carl Cox announced his return to one of the planet's greatest open-air raves, he was quickl...

Watchet Festival 2019 Add Sophie Ellis-Bextor, Lightning Seeds & More
by BWW News Desk - March 01, 2019
WATCHET FESTIVAL are proud to announce two more incredible main stage acts for their already fantastic 2019 line up....

Jools Holland Announces 2019 UK Tour
by TV News Desk - January 29, 2019
Musical virtuoso Jools Holland and his distinguished Rhythm & Blues Orchestra have announced dates and special guests for their well-renowned autumn/winter UK tour for 2019. Tickets go on general sale this Friday 1 February at 10am and can be bought on Ticketmaster, See Tickets, Ticketline and Starg...

The Selecter Returns to North America this Month for West Coast Headline Tour
by BWW News Desk - October 15, 2018
The Selecter is excited to return to the US and hit the West Coast this fall for 11 shows with special guest DJ Rhoda Dakar. The band will be playing an extended, hit-rich set with additional live favorites and a few surprises. They will be joined for a few songs by Rhoda Dakar on vocals who will a...

The Selecter & The English Beat ft. Ranking Roger Announce US Dates This Fall!
by BWW News Desk - May 16, 2018
With runs in Australia, New Zealand, Scandinavia and Germany already complete, 2 Tone pioneers The Selecter and The English Beat Feat. Ranking Roger are excited to announce a North American leg of their co-headline tour, hitting the West Coast this Fall. Both bands will play full sets of their hit...
The Selecter Announces New LP 'Daylight'; Drops Single 'Frontline'
by BWW News Desk - July 13, 2017
The Selecter is excited to return to the US this August for a handful of headlining dates before joining Rancid and The Dropkick Murphys on a North American arena run including a performance at LA's It's Not Dead Festival with Buzzcocks...