Latest Articles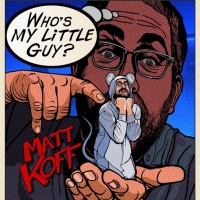 Announcing Emmy Winner Matt Koff's Debut Comedy Album 'WHO'S MY LITTLE GUY?'
by TV News Desk - September 18, 2019
On Friday, November 1st, Matt Koff will release his debut comedy album, Who's My Little Guy?. Fans know Matt from his writing on Comedy Central's The Daily Show with Trevor Noah and The Daily Show with Jon Stewart, for which he won an Emmy, as well as his stand-up appearances on Adam Devine's House ... (
more...
)

Bumbershoot Announces 2019 Lineup
by TV News Desk - June 03, 2019
Bumbershoot Music and Arts Festival is excited to announce its official 2019 lineup. Taking place over Labor Day weekend, Friday Aug. 30 through Sunday Sept. 1, the 49th annual Bumbershoot will feature a wide-ranging list of performers including music headliners The Lumineers, Tyler the Creator, REZ... (
more...
)

CMA Fest Announces Eric Church As Performer At Nissan Stadium
by BWW News Desk - May 28, 2019
 CMA Fest has just announced Eric Church as an additional performer at Nissan Stadium Friday, June 7. Church will take the stage at CMA Fest between shows on his highly successful Double Down Tour, where he made history Saturday night setting the new attendance record at Nissan Stadium with 56,521 p... (
more...
)

Initial Line Up Announced For 2019 San Francisco Comedy Festival, Tickets On Sale This Sunday
by BWW News Desk - November 16, 2018
SF Sketchfest presented by Audible announces the initial line up for the 18th annual San Francisco Comedy Festival January 10-27, 2019, featuring top comedic talent performing in venues across the city. Audiences can expect another outstanding year of programming and fun as SF Sketchfest will host m... (
more...
)

Adult Swim Festival Announces Additional Music and Comedy Acts
by TV News Desk - May 17, 2018
Debuting October 6-7th in Downtown Los Angeles, the first annual Adult Swim Festival has announced an additional 24 musical and comedy artists will join hip-hop powerhouse Run The Jewels for this one-of-a-kind fan experience. A cultural festival like no other, the weekend will feature all things Adu... (
more...
)

Boston Calling Music Festival Announces Its 2018 Food & Drink Lineup
by BWW News Desk - April 05, 2018
Boston Calling announces its largest food and drink lineup to date. With over 150 menu items to choose from this year, the festival rolls out a lineup of incredible new restaurants, chefs and food vendors alongside several returning favorites. Plenty of local and international craft beers and wines ... (
more...
)

PERSISTICON Announces 2018 Lineup
by TV News Desk - March 16, 2018
Performers for the 2018 PERSISTICON include Michelle Buteau, Ophira Eisenberg, Bridget Everett, Negin Farsad, Jo Firestone, Jaclyn Friedman, Jon Glaser, Murray Hill, Sally Kohn, Aparna Nancherla, Angie Pontani, and more to be announced.... (
more...
)