| | |
| --- | --- |
| BIO: Born: May 15, 1992 GRACE KELLY - MOOD CHANGES When it comes to saxophonist/vocalist/composer/lyricist/arranger Grace Kelly, people seem to be divided into two groups: those who marvel at her proficiency, creativity and ever-accelerating growth, and those who have yet to encounter the 16-year-old wunderkind. The ranks of the former category are growing by the day. Trumpeter and Jazz at Lincoln Center Artistic Director Wynton Marsalis was so impressed with Kelly's three-night stand as guest of the Jazz at Lincoln Center Orchestra in November that he has invited her to join the ensemble at the Kennedy Center's Eisenhower Theater in Washington, D.C. for an Martin Luther King, Jr. Day/Inauguration Eve concert on January 19, to be broadcast live on CNN. Harry Connick, Jr. heard Kelly in a master class on a December afternoon and brought her on stage to sit in with his band that night. This capped an already exceptional end of 2008 in which Kelly's appearance on NPR's Piano Jazz with Marian McPartland was syndicated nationally, The Boston Music Awards declared her the city's Outstanding Jazz Act, and local ABC affiliate WCVB-TV named her one of five Bostonians to Watch in 2009. To this astonishing list of kudos and credits, Kelly now adds Mood Changes, the fifth release on her Pazz Productions label. The album mixes six standards with four Kelly originals and features her working quintet (Jason Palmer, trumpet; Doug Johnson, piano; John Lockwood, basses; Jordan Perlson or Terri Lyne Carrington, drums), with guest appearances by guitarist Adam Rogers on two tracks and trombonist Hal Crook on one. "I'm just trying to listen to as much music as possible, which makes it hard for me to put together a CD about just one thing," Kelly says in explaining her inspiration for Mood Changes. "A year before the session, I wrote `Tender Madness,' which is slow and sad, and around the same time, when I was in a good mood, I wrote `Happy Theme Song.' At that point, I realized that a concept for my next album was taking shape. Two more originals, `101' and `Life Goes On,' extended the idea, as did the six standards." The album is a showcase for Kelly's multi-faceted talent. Alto saxophone, her primary instrument, is heard on seven of the tracks, but she also overdubs soprano sax behind her vocal on "Comes Love" and makes her debut on tenor on the original ballad "Tender Madness" and "It Might as Well Be Spring," where she also sings. "I started playing the sax because of Stan Getz," she explains, "and the tenor adds to my goal of creating different colors and moods." A third vocal track, "Life Goes On," indicates Kelly's incredible maturity as both composer and lyricist. "I'm a melody-first person, and usually find it a lot harder to write words, but as deeply philosophical as this piece is, it was written relatively quickly," she reports. An instrumental original, "101" (originally titled "Parenting 101" and meant to depict "parenting from a kid's point of view") has already received an ASCAP Foundation Young Jazz Composers Award (her second such citation) and a Down Beat Student Music Award for extended composition (one of four DB awards she garnered in 2008). Kelly's arrangements of two pop hits, Bill Withers' "Aint No Sunshine" and the Beatles' "Here, There and Everywhere," incorporate the distinctive concept of guest guitarist Adam Rogers; and her unique scoring of "I Want to Be Happy" in 7/4, including Hal Crook's trombone, finds her writing for three horns for the first time. The disc is completed by a quintet jam on "I'll Remember April." Kelly is particularly excited about the strides that Mood Changes reveals in her bandleading skills. "There's nothing like playing my own music with my own band," she acknowledges. "Everyone is so comfortable, yet I feel as if I'm getting pushed in every performance. At the same time, I realize more of what I want over the years, and more direction goes into the music. Every time we play is a complete adventure." Adventure has been the watchword for the teenaged phenom, who was born Grace Chung on May 15, 1992. (She became Grace Kelly after her mother divorced and remarried and her stepfather legally adopted Grace and her sister - and frequent lyricist - Christina.) The strong classical music background of her mother's family led Grace to begin piano lessons at age six, and she still does much of her composing at the piano as she sings wordlessly. Singing, dancing, writing songs and theater were also early passions, soon joined by a fascination with the recordings of Stan Getz and other jazz saxophonists that her parents played during Sunday brunches. She began to study the clarinet at her elementary school in the fourth grade, and began private saxophone lessons a few months later. Further inspiration was provided by Ann Hampton Callaway, who detected "the boundless spirit and imagination of a natural artist" when she met Kelly in 2002. Another early champion, middle school music teacher Ken Berman, was so inspired by the pre-teen's playing and writing that he insisted, "you have to record." What followed was her first disc, Dreaming. "The CD release took place on March 17, 2004, when I was 12," she recalls, "and as soon as I walked on stage, I realized that performing was my favorite thing to do." A growing list of triumphs and testimonials to Kelly's brilliance followed. Times Too (2005), a two-disc set, found her expanding her musical pallet while interpreting such classics as "Isfahan" and "`Round Midnight" with the gravitas of a veteran. The title track of her next disc, Every Road I Walked (2006), garnered the first of her ASCAP Foundation awards and an invitation to perform with the Boston Pops. When conductor Keith Lockhart asked her to play the composition at the concert with just a rhythm section, Kelly countered by suggesting that she write an arrangement for the full orchestra. "That experience taught me that anything is possible," she says. Now a teenager, Kelly continued to garner accolades from artists she revered, sitting in with the likes of Dave Brubeck, the late Frank Morgan and Phil Woods. ("I gave her my hat, that's how good she sounded," Woods enthused. "She's the first alto player to get one.") Perhaps her most intensive connection has been with Lee Konitz, who Kelly has studied with for the past three years. "The biggest lesson that Lee taught me has been spontaneity, from day one," she emphasizes, while Konitz has referred to Kelly as "all ears and all heart." Kelly asked Konitz to guest on two tracks for her fourth album, an invitation that led to the joint composition "GRACEfulLEE" and an entire disc of the same name. GRACEfulLEE, with the all-star support of guitarist Russell Malone, bassist Rufus Reid and drummer Matt Wilson, garnered a rare **** ½ review in Down Beat, and has been widely acclaimed as one of the best jazz recordings of 2008. Currently, Kelly is entering her second semester at Boston's Berklee College of Music. "I loved playing with the other kids in high school," she explains, "but many of my friends in the band were graduating seniors. So after I auditioned for Berklee and received a full scholarship, I got my GED and started college at 16. It's been great, playing all the time and just living music all day. I'm learning so much, like chromatic solfège, which has really changed my ears, and I'm playing all kinds of music. Playing in a group that focuses on the Yellowjackets has been great, and I can't wait to be in Terri Lyne Carrington's ensemble next semester." Without hesitation, Grace Kelly will tell you that her goal is "to stay in jazz but also do different things, bigger arrangements, like Stevie Wonder and George Benson." Her ambition has yet to outstrip her talent, and Mood Changes suggests that such a turn of events is unlikely in the foreseeable future. | |
Latest Articles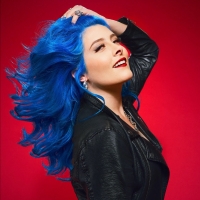 Diamante Returns With New Album 'American Dream'
by TV News Desk - April 05, 2021
With her sapphire hair, a show-stopping voice, runway-ready fashion swagger, and empowering message, the Boston-raised and Los Angeles-based Mexican-Italian-American siren brings a new (and blue) fire to rock and alternative music.  ...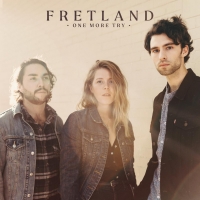 Fretland Shares New Song 'One More Try'
by TV News Desk - January 22, 2021
Today, Fretland released the song "One More Try" from their forthcoming sophomore album Could Have Loved You via Soundly Music due out on March 26. ...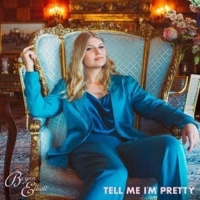 Brynn Elliott Returns With 'Tell Me I'm Pretty'
by TV News Desk - January 21, 2021
Atlantic Records/Big Yellow Dog Music recording artist Brynn Elliott has announced today's release of her new single....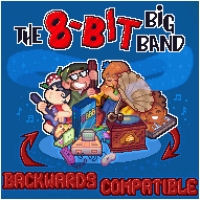 The 8-Bit Big Band's New Album BACKWARDS COMPATIBLE Is Now Available
by BWW News Desk - January 11, 2021
The 8-Bit Big Band, under the direction of Tony-nominee Charlie Rosen, has released their third full length album, Backwards Compatible. An exploration of the 'Great Video Game Songbook'', this electrifying new album features a symphonic orchestra made up of over 70 of New York City's finest musicia...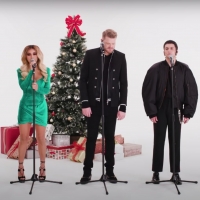 VIDEO: Pentatonix Perform 'Amazing Grace' on THE KELLY CLARKSON SHOW
by Stage Tube - December 10, 2020
It's a Pentatonix Christmas like no other! The Grammy-winning group stops by The Kelly Clarkson Show to share their mind-blowing performance of 'Amazing Grace' from their album 'We Need A Little Christmas.'...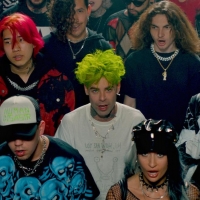 VIDEO: MOD SUN Premieres 'Karma' Music Video
by Stage Tube - November 12, 2020
Directed by Machine Gun Kelly....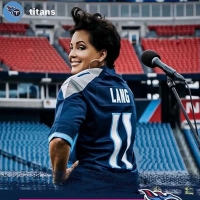 Kelly Lang Performs National Anthem At Nissan Stadium For Tennessee Titans VS. Buffalo Bills NFL Game
by TV News Desk - October 14, 2020
Singer/songwriter Kelly Lang did not fumble at the opportunity when asked to perform the National Anthem at the Tennessee Titans vs. Buffalo Bills NFL game on October 13th in honor of Breast Cancer Awareness month. ...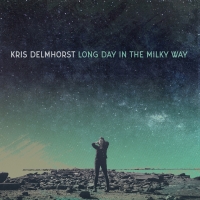 Kris Delmhorst Releases LONG DAY IN THE MILKY WAY on Vinyl
by TV News Desk - September 02, 2020
The songs of Kris Delmhorst transform like breath turning to mist on a cold, clear night; the inner made visible....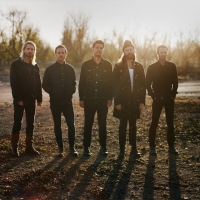 Delta Spirit Share New Single 'The Pressure'
by TV News Desk - September 01, 2020
Delta Spirit have shared their new single, 'The Pressure' the latest track to be taken from their upcoming album What Is There, out on September 11th via New West Records....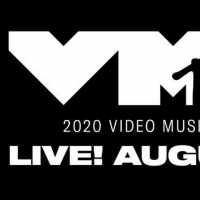 See the Complete List of 2020 MTV VMA AWARD Winners
by TV News Desk - August 31, 2020
Here is a complete list of winners from the 2020 MTV a?oeVMAs.'...