Latest Articles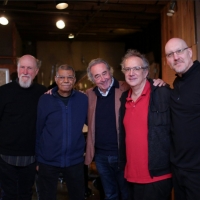 Franco Ambrosetti Leads All-Star Group on New Album
by TV News Desk - September 05, 2019
One of the most revered figures on the European jazz scene, Swiss trumpeter Franco Ambrosetti has maintained a strong affinity for the music since debuting as a leader in 1965 with A Jazz Portrait of Franco Ambrosetti. Now approaching his 78th birthday in December, Ambrosetti is still swinging after... (
more...
)

Bryn Roberts & Lage Lund's HIDE THE MOON AND STARS On 10/26
by BWW News Desk - September 13, 2018
Hide the Moon and the Stars, the sublime new duo recording from pianist Bryn Roberts and guitarist Lage Lund, isn't the kind of jazz album that needs to be read about before it can be understood and enjoyed. It didn't premiere as part of a postmodern opera or multimedia performance; there isn't an o... (
more...
)

NYC Musician's Union Local 802 Announces Winner of Four-Year $40,000 Emerging Artists Project Grant: The Roxy Coss Quintet!
by TV News Desk - April 02, 2018
The Associated Musicians of Greater New York, Local 802 AFM today announced that the Roxy Coss Quintet is the winner of the union's groundbreaking Emerging Artists Project (EAP). The four-year grant program, launched in partnership with Orchestra of St. Luke's (OSL), has been designed to provide sup... (
more...
)