Latest Articles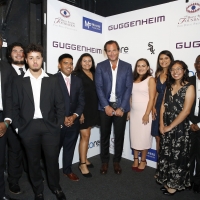 Photo Flash: Eva Longoria, Nicole Scherzinger, Will Arnett, and More Attend the Annual Summer Spectacular to Benefit the Brent Shapiro Foundation for Drug Prevention
by BWW News Desk - September 22, 2019
The Brent Shapiro Foundation for Drug Prevention celebrated its highly anticipated Summer Spectacular on Saturday, September 21st. The invitation-only gala marked the 14th year of the foundation. The foundation and its signature Brent's Club program seek to build strong educational and social commun... (
more...
)

Netflix's First-Ever Unscripted Music Series, WESTSIDE, is Streaming Now
by TV News Desk - November 09, 2018
Warner Bros. Records collaborated with Netflix for the exclusive music soundtrack of Westside, Netflix's first-ever unscripted music series. The series follows the lives of nine young artists struggling for success in today's high-pressure music industry. Today, the unscripted eight-episode series l... (
more...
)

VIDEO: Meet the Cast from Netflix's WESTSIDE
by Stage Tube - October 29, 2018
Nine talented musicians are offered the opportunity of a lifetime, but will they rise to the challenge or miss the mark? Meet the cast of Netflix's new unscripted series, Westside, premiering on Netflix Nov. 9.... (
more...
)

VIDEO: Sing to a Different Tune in the Trailer for Netflix's WESTSIDE
by Stage Tube - October 11, 2018
Westside offers an unscripted and deeply personal glimpse into the journeys of nine young L.A.-based musicians as they follow their dreams. Each episode sheds light on their creative processes and personal struggles, interspersing cinema verite-style documentary footage with beautifully produced mus... (
more...
)