Latest Articles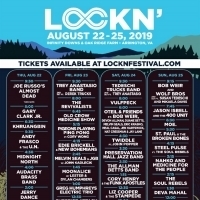 Lockn' Festival Announces New Artist Collaborations
by TV News Desk - July 19, 2019
LOCKN' is excited to unveil its annual assortment of unprecedented artist collaborations. In addition to its already remarkable 2019 lineup, this year's edition of the four-day multi-stage camping festival will boast an array of truly extraordinary onstage partnerships, once again affirming LOCKN' a... (
more...
)
Dierks Bentley, John Berry, Rosanne Cash, and More Commit to Heal The Music Day
by TV News Desk - July 15, 2019
The 47-year old step-father of a young country artist had been diagnosed with stage IV cancer and told there was nothing more that could be done. Music Health Alliance helped get him accepted into an out-of-state clinical trial, fill out and submit disability paperwork and find free housing near the... (
more...
)
BMI Announces The Participants For 2019 Conducting Workshop For Visual Media Composers
by BWW News Desk - July 10, 2019
BMI (Broadcast Music, Inc.) announced today the selected participants for its 22nd annual Conducting Workshop for Visual Media Composers, led by BMI Classic Contribution Award winner, conductor and composer Lucas Richman. Beginning August 13, the elite group will spend two weeks sharpening their con... (
more...
)
'Ann Arbor Blues Festival 1969' Will Feature Previous Unheard Live Recordings From Various Blues Legends
by TV News Desk - July 10, 2019
Third Man Records is excited to announce the release of ANN ARBOR BLUES FESTIVAL 1969, a 50th anniversary celebration collecting 24 previously unheard songs by such blues legends as Howlin' Wolf, Muddy Waters, B.B. King, James Cotton, Son House, Magic Sam, T-Bone Walker, Junior Wells, Big Mama Thorn... (
more...
)
Davina and the Vagabonds Set to Release 'Sugar Drops' on August 2
by TV News Desk - July 10, 2019
Davina and the Vagabonds have announced a brand new release date for their album SUGAR DROPS, the first album from the label Red House Records out August 2nd. Their track, 'I Can't Believe I Let You Go,' was just featured on Rolling Stone's '10 Best Country and Americana Songs to Hear Now.' Listen t... (
more...
)
Cardi B, Beyonce Among Winners at the 2019 BET AWARDS - Full List!
by TV News Desk - June 24, 2019
BET Networks honored a powerful and show-stopping lineup of artists, entertainers, cultural icons and inspiring humanitarians across more than 18 categories at the 19th Annual 'BET AWARDS.' The ceremony, hosted by actress and comedian Regina Hall, aired live on BET from the Microsoft Theater in Los ... (
more...
)
CMA Fest Delivers Epic Surprise Performances And Sold Out Crowds
by BWW Staff - June 10, 2019
Four straight days of sold-out shows and capacity crowds, as well as surprise performances and collaborations, made the 48th annual CMA Fest one for the record books. At Nissan Stadium, Lil Nas X created one of the festival's most talked-about moments Saturday night, joined by Billy Ray Cyrus and re... (
more...
)
Deborah Allen Surprised With Proclamation From Tennessee Governor Bill Lee Celebrating 40 Years In Music
by BWW Staff - June 10, 2019
Country music veteran Deborah Allen was surprised with a special presentation by T.G. Sheppard, Kelly Lang and WSM's Devon O'Day at Nashville's 3rd & Lindsley Wednesday night during the 6th annual Country For A Cause, benefiting Monroe Carell Jr's Children's Hospital at Vanderbilt. A proclamation fr... (
more...
)
Americana Husband/Wife Duo The Imaginaries Announce Debut Album
by BWW News Desk - June 10, 2019
Oklahoma husband / wife duo, The Imaginaries, Shane Henry (guitar, vocals) and Maggie McClure (keys, piano, vocals), recently finished recording their debut album, their first together as The Imaginaries, in famed Muscle Shoals, AL.  It serves as both an introduction to their music together and the ... (
more...
)
Recording Academy Announces Newly Elected National Officers
by TV News Desk - June 06, 2019
The Recording Academy announced today its newly elected National Officers of the Board of Trustees, voted upon at the organization's annual spring Board of Trustees meeting in May. Record producer Harvey Mason Jr. has been elected as the Chair of the Board of Trustees, and managing partner of Placem... (
more...
)
Parkening International Guitar Competition Names 2019 Winners
by BWW News Desk - June 04, 2019
After an exciting week of classical guitar performances, Christopher Parkening and Pepperdine University announced the winner of the fifth quadrennial Parkening International Guitar Competition. The competition, the world's preeminent guitar competition, took place from Tuesday, May 28 through Satur... (
more...
)