Latest Articles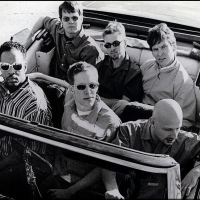 Galactic Share Music Video for 'Something's Wrong With This Picture'
by TV News Desk - June 04, 2020
Galactic are proud to share an updated version and new music video for their 1996 classic 'Something's Wrong With This Picture'....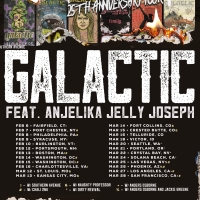 Galactic Announces 25th Anniversary Tour
by TV News Desk - November 05, 2019
Galactic are pleased to announce their 25th anniversary tour, a celebration they're excited to share with fans across the country as they look back on their storied history together as a band. Over the past quarter century, the renowned New Orleans group have released 10 studio albums, played countl...

'A Bowie Celebration' Tour Launches Overseas
by TV News Desk - January 14, 2019
Following last year's critically acclaimed tour, A BOWIE CELEBRATION: The David Bowie Alumni Tour has returned in 2019. It just launched last week in Europe--and will touch down in North America with 33 shows starting February 6 and wrapping March 22 (*see the tour dates below). Tickets are on sale ...

A BOWIE CELEBRATION Announces 2019 North American Tour
by TV News Desk - September 10, 2018
A BOWIE CELEBRATION: The David Bowie Alumni Tour featuring Mike Garson and fellow key alumni musicians of David Bowie's bands from across the decades has announced a 32-date North American winter tour for 2019....

CELEBRATING DAVID BOWIE Reveals Special Guests Ahead of Tour Kickoff This Saturday, February 10
by TV News Desk - February 07, 2018
In anticipation of this weekend's North American tour launch Saturday, February 10near Washington, D.C., CELEBRATING DAVID BOWIE is excited to reveal the initial list of special guest stars that will be joining the lineup throughout the tour's 27-date run, including Evan Rachel Wood, Joe Sumner, Mr ...

NYC Funk-Jam Band Gridline Release Debut Album 'Soul Brew'
by BWW News Desk - September 25, 2017
On Friday (9/22), New York City funk meets jam-band--GRIDLINE--released their debut full-length album, Soul Brew. Through an intent to record everything live to tape, GRIDLINE's Soul Brew recreates the essence of a live band; a sound they honed through countless late night sets performing at after-h...
Premiere Funktastic Second Single from GRIDLINE's Debut Album SOUL BREW
by BWW News Desk - August 25, 2017
New York City's favorite funktastic jam-band--GRIDLINE--release 'W.M.F.P.' as the second single from their debut album Soul Brew, due out September 22. Premiered today on Live Nation's up-and-coming blog, Ones To Watch, Maxamillion Polo says of the single: 'Despite "W.M.F.P." being only the second s...