Scoop: Coming Up on a New Episode of PINK COLLAR CRIMES on CBS - Today, September 8, 2018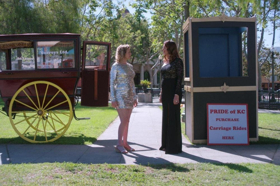 "Clash of the Carriages" - A friendly rivalry between two women vying for control of the lucrative horse-drawn carriage business on Kansas City's Country Club Plaza becomes increasingly nasty and ultimately descends into a murder-for-hire plot, on PINK COLLAR CRIMES, Saturday, Sept. 8 (8:00-9:00 PM, ET/PT) on the CBS Television Network.
PINK COLLAR CRIMES is an outrageous true-crime series inspired by a growing crime wave in the country: felonious females. These are the impossible-to-believe, often absurd, true stories about the most unexpected women - PTA moms, country-club chairwomen and more - who took big risks, pocketed big cash and then served hard time. Each episode includes insight and analysis from prosecutor, author, and television correspondent Marcia Clark.