| | |
| --- | --- |
| BIO: Hailing from Springfield, Missouri, Speakeasy quickly made a name for themselves in their home state.It's rock-solid, with undeniable attention paid to the groove, a rip-roaring harmonica, screaming guitar, three-part harmonies, and a rhythm section that simply makes you move. It's no surprise that Speakeasy is rapidly building a loyal fan-base across the nation. Considering the undeniable musical skill in the band, these guys could easily take themselves too seriously, but Speakeasy is not afraid of bringing outrageous fun into their shows. They're true performers. With frequent trips from the mountains of Colorado to the beaches of the Carolinas, non-stop touring has been a part of their lives for over 10 years. | |
Latest Articles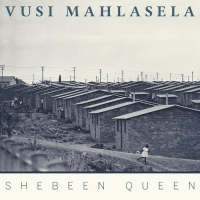 Vusi Mahlasela Announces New Live Album SHEBEEN QUEEN
by TV News Desk - July 14, 2020
Vusi Mahlasela, the legendary activist and singer-songwriter known as 'The Voice' in his native South Africa, will release a new live album of traditional township songs, Shebeen Queen, on August 14 on ATO Records....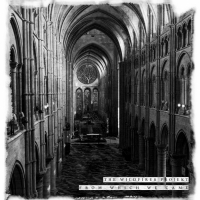 The Wildfires Projekt Announces New EP
by TV News Desk - February 12, 2020
Alternative/post hardcore outfit The Wildfires Projekt is excited to announce their forthcoming EP, From Which We Came. With the EP set to be released on April 7th, fans can expect new music soon. More information on The Wildfires Projekt can be found www.wildfiresprojekt.com....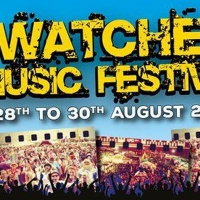 Sister Sledge, Shed 7 and More Announced for Watchet Festival 2020
by TV News Desk - February 12, 2020
WATCHET LIVE FESTIVAL is proud to announce not one but two Main Stage headliners for 2020....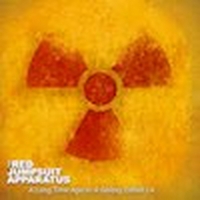 The Red Jumpsuit Apparatus to Release First New Single in 2 Years & Announce 2020 Tour Dates
by TV News Desk - January 28, 2020
The Red Jumpsuit Apparatus are kicking off 2020 with the release of their first original new music since 2018, a nod to their emo roots called "A Long Time Ago In A Galaxy Called LA." . The track will be available on all major streaming services on Friday, Jan. 31st and is the first song off their f...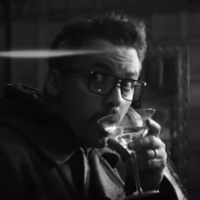 Atmosphere Releases New 'Love Each Other' Music Video
by TV News Desk - January 13, 2020
Today, Atmosphere drops a new music video for "Love Each Other," off the duo's new album, Whenever. Directed by Tomas Aksamit, the black and white visual follows Slug through the night at a Gatsby-esque speakeasy. Whenever, which caught the industry by surprise when it was released last month withou...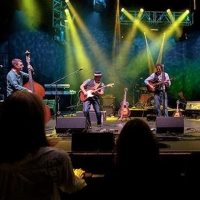 The MAC Hosts Second Annual Indoor Bluegrass Festival
by TV News Desk - December 17, 2019
Milford Arts Council, The MAC presents their second annual two-day indoor bluegrass festival called The Souped Up Bluegrass Bash on January 11 and 12, 2020. It's an indoor weekend music festival that'll warm the hearts of New Englanders, and a fantastic way to forget about the winter blues....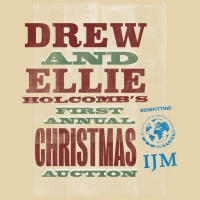 Drew & Ellie Holcomb Launch Online Auction to Benefit International Justice Mission
by TV News Desk - December 09, 2019
In the spirit of Christmas, last night Drew & Ellie Holcomb launched their First Annual Christmas Auction Benefitting International Justice Mission (IJM). The couple, who have been longtime friends and partners with the organization over their careers, announced the initiative on their socials via a...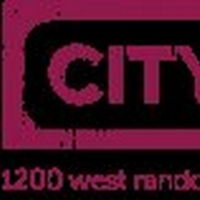 Fatoumata Diawara, Freddy Jones Band and More Will Perform at City Winery Chicago
by TV News Desk - November 19, 2019
City Winery Chicago, 1200 W. Randolph Street, announces Grammy-nominated Malian singer-songwriter Fatoumata Diawara, roots rock group Freddy Jones Band and more. The following shows go on sale to the public on Friday, November 22 at noon. Tickets will be available at citywinery.com/chicago....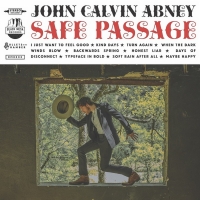 John Calvin Abney to Release Self-Produced LP 'Safe Passage' Next Friday
by TV News Desk - September 19, 2019
John Calvin Abney is set to return with his self-produced LP Safe Passage on Tulsa's Black Mesa Records next Friday, September 27. Originally announced via Wide Open Country with a premiere of lead single 'Turn Again,' Safe Passage follows 2018's Coyote, which Rolling Stone Country called "dreamy fo...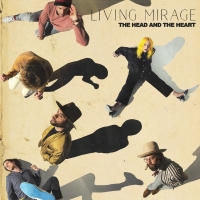 Front and Center Concert Series to Feature The Head and The Heart
by TV News Desk - August 30, 2019
Front and Center, the critically acclaimed concert series that kicked off its ninth season last month, announced that popular indie folk band The Head and The Heart is featured in its next episode on public television (check local listings). ...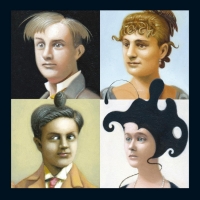 King Crimson To Release 5 Discs Of Live Music with AUDIO DIARY 2014 - 2018
by TV News Desk - August 19, 2019
Back in 1969, King Crimson made its reputation as a live band – initially with the hipsters, scene setters & other musicians who frequented the likes of the Speakeasy & The Marquee in London, then, more broadly, with a breakthrough gig to a vast mainstream audience as guests on the bill with The Rol...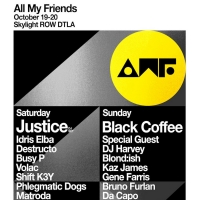 ALL MY FRIENDS Music Festival Announces JUSTICE, Black Coffee, Idris Elba and More
by TV News Desk - August 09, 2019
ALL MY FRIENDS—downtown Los Angeles premier 21+ music event happening at Skylight ROW DTLA October 19 & 20-- has announced it's line-up. Curated by founder Gary Richards aka producer and DJ DESTRUCTO, the two-day event will feature a variety of some of the most respected and engaging house music ar...