BIO:

BIOGRAPHY - Introduction "I'm a great model railway enthusiast and I'm building a huge layout over there in California so that takes up a little bit of time and football takes up a little bit of time. And then there's the Children and I like to go out with the lads two or three times a week and go completely mad and sometimes I get barnet done...it's still all my own hair, you know. Which is more than can be said for Elton. Bald bugger. And in between all that, I sometimes try to fit in a bit of music." young rod ....that's Roderick David Stewart in his own words. Born in Highgate, North London, on 10th January 1945. Rod's father Robert Joseph Stewart came from King's Port in Edinburgh, Scotland. Rod's mother, Elsie, came from Upper Holloway, North London. The Cockney girl fell for the Scot and the couple married in 1928. The Stewart clan began to appear afterwards. Rod's brothers Don and Bob and his sisters Mary and Peggy were all born in Scotland. However the family moved to London to 507 Archway Road, Highgate where after a gap of eight years, young Roddy was born. This means that Rod is the only member of the family to have been born in England, a misfortune which Rod has tended to overlook.... Thirty minutes before Roderick was born a big shock had hit the district in the shape of a German V2 rocket which made a direct hit on Highgate Police Station. Rod reflected years later: "I've always thought that I was very lucky because that bomb fell just a stone's throw from where I lived. I've sort of had a feeling that I nearly didn't make it." on the beachRod Stewart's childhood was conventional. He lived above the newsagent's shop in Archway Road in North London. The newsagent's shop was owned by the Stewarts themselves. As already mentionned, Roderick was the youngest of five so he was spoilt by his family but of course he was taught to respect his elders, especially his parents. He was mainly interested in football and model railways. He's never lost that passion over the years. He still enjoys to play with the model railway and football is still as important (or even more) to him than it was way back in the fifties. He was very much interested in the singer Al Jolson, an American Jewish baritone, who was very popular in the thirties. Rod's father and the two brothers were football fans. They even started a local team called the 'Highgate Redwings'. Al Jolson was Rod's great love and many times the Stewart family would regularly gather around the piano and sing Jolson's hits. When Rod became older, he started to read books about him and began to collect his records. He was very impressed by Jolson's performing style. Jolson died in 1953. He was Rod's strongest influence and that stayed with him throughout his life. Schooldays were spent at the William Grimshaw Secondary Modern School in Hornsey. Rod once said about school: " Horrific! Primary school, which is from age five to eleven, was just bearable because it was close to me home...I'm very close to me whole family. But when I went to Secondary Modern it was about five miles away and that was unbearable. I really wasn't good at school and I didn't like it, although I never missed a day. My favourite subject was probably history and I was very artistic, good at sketching. I was real cocky, and that obviously comes from insecurity. I was real aggressive, taking the piss out of people all the time". So, Rod felt that only playing football could be a way he could earn a living. He practised as much as possible and eventually signed apprentice papers with Brentford FC in West London. Robert Stewart was very pleased....however, the apprenticeship wasn't a holiday. Young Rodders was expected to get up early in the morning and much to his dismissal found himself cleaning the first team's boots most of the time. The training programme didn't appeal to him either and so after a few weeks, much to Robert Stewart's disappointment, he decided to leave the place and quit... on the beach
Latest Tweets
| | |
| --- | --- |
| 11/25 @ 7:01 AM | rodstewart - Tonight! Round 2 at @TheO2 🕺 See you soon, London! |
| | |
| --- | --- |
| 11/16 @ 12:24 AM | rodstewart - Kicking off my U.K tour today! Where am I seeing you? |
| | |
| --- | --- |
| 11/10 @ 11:04 AM | rodstewart - Delighted to announce my Australian tour next year, with the one and only @cyndilauper 🙏 Make sure you get tickets… https://t.co/U1FYz0Rkjn |
MORE TWEETS
Latest Articles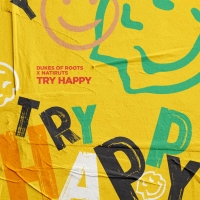 Dukes Of Roots & Natiruts Release 'Try Happy'
by Michael Major - December 02, 2022
Dukes Of Roots has released 'Try Happy' with Natiruts. The new song, produced by Sean "YoungPow" Diedrick and executive produced by Rod Walkey, was the first written and recorded for the upcoming Dukes Of Roots project. It was later revisited by LionChld to include the Brazilian reggae roots band an...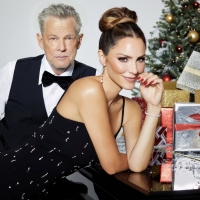 David Foster & Katharine McPhee Announce New Christmas Album
by Michael Major - October 28, 2022
David Foster and Katharine McPhee have not recorded together in 17 years. What better excuse to get back into the studio than Christmas. The two will release their first Christmas album together this Holiday season. The lead single, Jingle Bell Rock, is out now.  ...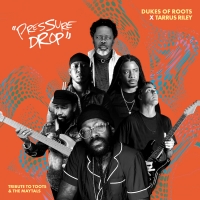 Dukes Of Roots Release A Tribute To Toots Hibbert With 'Pressure Drop' Ft. Tarrus Riley
by Chloe Rabinowitz - July 18, 2022
The Dukes of Roots announced their debut song, a cover of the renowned Toots and The Maytals, 'Pressure Drop' via Migration Records x YoungPow Productions! The new song released alongside the lyric video is a tribute to friendship, roots music and Toots Hibbert, featuring the legendary Tarrus Riley....
Mike & The Mechanics Announce April/May 2023 Tour Dates
by Michael Major - June 23, 2022
Mike & The Mechanics, who have sold over ten million records worldwide – announced their 'Refueled!' 2023 Tour – all the hits and a drop of Genesis. An epic run of 34 UK concerts in April/May, opening on April 12th at the Barbican, York and including the prestigious Royal Albert Hall on May 18th...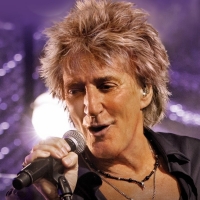 Rod Stewart Will Celebrate Father's Day With New Video for 'Touchline'
by Michael Major - June 16, 2022
Ahead of Father's Day, Sir Rod Stewart announces a very special show in Edinburgh on November 13th in honour of his late father. The show's venue will be confirmed imminently and the announcement comes ahead of a heartfelt video for his track 'Touchline'. Watch a teaser for the new visual now! Plus,...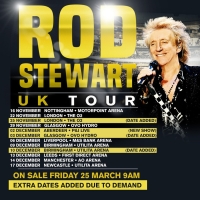 Rod Stewart Extends 2022 U.K. Arena Tour Due to Popular Demand
by Michael Major - March 21, 2022
International rock star Sir Rod Stewart CBE extends his U.K. 2022 Arena tour with additional shows in London, Glasgow and Birmingham and a new show in Aberdeen. Following the release of his 31st studio album THE TEARS OF HERCULES, Sir Rod Stewart will be taking his distinctive raspy vocals and massi...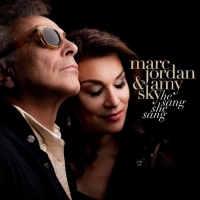 Marc Jordan & Amy Sky to Release Duets Album 'He Sang She Sang'
by Michael Major - March 15, 2022
In addition to enjoying hits and accolades all their own, the highly acclaimed singer/songwriters and producers have also penned songs for a teeming roster of A-list artists, including Rod Stewart, Diana Ross, Chicago, Olivia Newton-John, Heart, Reba McEntire, Joe Cocker, Bette Midler, Bonnie Raitt,...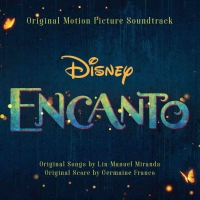 ENCANTO Original Motion Picture Soundtrack Maintains the #1 Position on the Billboard 200 Chart
by Michael Major - February 23, 2022
The soundtrack features eight original songs by Academy Award-nominated, Tony® and Grammy®-winning songwriter/composer Lin-Manuel Miranda ("Hamilton," "Moana") with an original score by Academy Award-nominated composer Germaine Franco maintains the No. 1 position on the Billboard 200 chart for the s...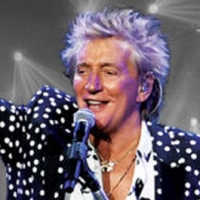 Rod Stewart Announces New North American Tour Dates
by Michael Major - February 16, 2022
Sir Rod Stewart, the legendary two-time Rock & Roll Hall of Fame inducted singer-songwriter today announced 19 newly added dates for his highly anticipated 2022 North American summer tour with special guests Cheap Trick. The 38-date tour will be Stewart's first in four years and features a night of ...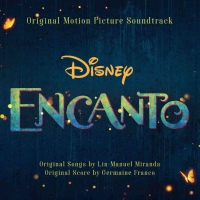 ENCANTO Soundtrack Remains at #1 on Billboard Charts for Fifth Week
by Michael Major - February 15, 2022
Seven songs from the Encanto soundtrack, all written by Lin-Manuel Miranda, are on the Hot 100: No. 1 - "We Don't Talk About Bruno," No. 10 - "Surface Pressure," No. 20 - "The Family Madrigal," No. 33, - "What Else Can I Do?," No. 41 - "Dos Oruguitas," No. 53 -"Waiting On a Miracle," and No. 71 -"Al...